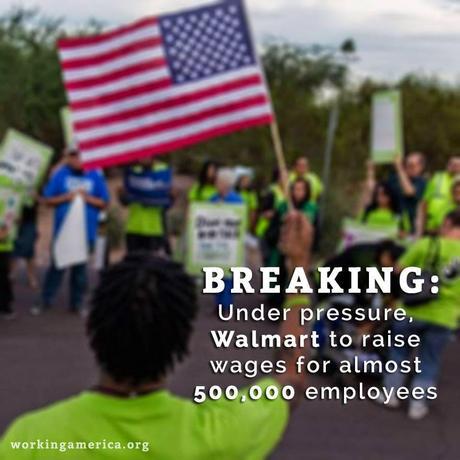 If you had any doubt that a giant corporation could be pressured into changing, then this should satisfy that doubt. After months of worker demonstrations, a couple of years of bad publicity (especially on social media), and two years of "sluggish" sales, Wal-Mart is crying "uncle". They have announced that they will be raising the starting wage to $9 an hour in April, and by February of next year, to $10 an hour. Here are the plans they announced to the Associated Press:


— Start raising entry level wages to at least $9 an hour in April and to at least $10 an hour by February of next year. That includes the less than 6,000 workers who make the federal minimum wage. Sam's Club locations will offer a starting hourly wage of at least $9.50 or higher in all markets, and at least $10.50 by next year.

— Raise the floor and ceiling of its pay range for each position in most stores. For example, the pay range for cashiers is $7.65 to $16. The new range will be $9.00 to $17.55.

—Raise the starting wage for some department managers to at least $13 an hour by this summer and at least $15 an hour by early next year.

— Give newly hired workers a $9 per hour training wage and when they successfully complete the six-month training program, raise it to $10 an hour. Those workers can pursue one of three career paths: hourly supervisor, a specialty path like working in a bakery or deli or expand their skills in their current role.

— Give hourly workers hands-on training in areas including teamwork, merchandising, retail fundamentals and communications. Store leaders like hourly supervisors will get refresher training on people leadership skills so that they can help workers grow and advance.

— Roll out a program that offers some workers fixed schedules so they can be able to choose the same hours each week. The program is being tested in Wichita, Kansas.

— Team up with its nonprofit, Walmart Foundation, to invest a total of $100 million spread over the next five years to support programs that help advance careers for entry level workers in the industry.

This is a huge improvement over what they are currently paying, but I still wish it was a little better. I tend to agree with the sentiments of Robert Reich about this. He said:

Walmart, America's largest employer, announced this morning it will increase wages for a half-million employees. By April, all of its U.S. workers will earn at least $9 an hour. This is a raise for about 40% of its work force, to at least $1.75 above the federal minimum wage. It will put about $1 billion more into the pockets of Walmart workers this year. By February 2016, current hourly workers will earn at least $10. Other big retailers will be under pressure to follow Walmart's lead. 

It's still not enough. It doesn't get Walmart workers to $15 an hour, and doesn't provide full-time hours and jobs. But it's progress. And it shows the power of all of us – Walmart's workers, increasing public pressure, and the growing movement pushing corporations to raise pay.


This does not mean we should stop the effort to raise the minimum wage in the United States -- but just the opposite. There are still millions of American workers working hard for a poverty wage. The number of low-wage workers is nearing 20% in this country, and as Wal-Mart's raises show, most companies (especially the giant corporations) have been lying when they say they cannot afford to pay a livable wage.
Personally, I would like to see the minimum wage raised to $15 an hour ($31,200 a year), but I could settle for a raise to $10.10 an hour ($21,008 a year) as long as it was then tied to the rate of inflation (so it doesn't immediately start losing that minimum amount of buying power).
As Senator Bernie Sanders (I-Vermont) has said -- No American willing to work hard at a full-time job should be paid a poverty wage.