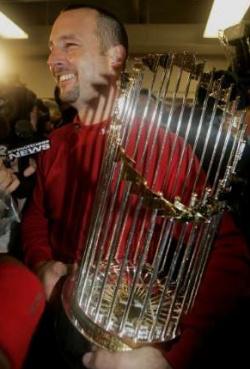 Tim Wakefield will announce his retirement later today in Ft. Myers at a news conference.
One of the classiest guys to ever wear a Red Sox uniform leaves the game after 19 seasons, 17 with the Red Sox, 200 wins (186 with the Sox), 256 strikeouts and a career 4.41 ERA. Wake did everything asked of him as a pitcher and more: starter, middle reliever, mopup man and closer. (He also had 22 saves) He didn't reach the Red Sox career record for wins, as he is third behind Cy Young and Roger Clemens. But that makes no difference really, as the Red Sox should honor the great Wakefield with a day in his honor and retire number 49.
Wake also leaves with two important things: two championship rings.
Thank you for 2004 and 2007, Wake. Enjoy your retirement. You've earned it.