New to little Indiana? Subscribe for free to my RSS feed. Thanks for stopping by!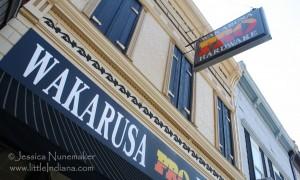 Wakarusa Pro Hardware in Wakarusa, Indiana
I can hear what you are thinking, "Wakarusa, Indiana? A Hardware Store? You want us to visit a hardware store?"
This isn't just a hardware store. Okay, it is just a hardware store, however–it's a neat one!
Wakarusa Pro Hardware Store
Since the business began, this building has been a hardware store. You know, back at the turn of the century.
That in itself is amazing but what makes it something you should make a point to go see is because of what is inside the building.
Drawers. There are drawers and drawers and more drawers. A whole entire wall of floor to ceiling drawers containing loose items and smaller packaged things.
How do you get to all those drawers? Well, that's what the tall, narrow, original to the building ladder is for!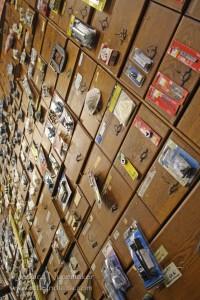 Wakarusa Pro Hardware in Wakarusa, Indiana
Up The Tall Ladder
The men at Wakarusa Pro Hardware asked me if I wanted to climb the ladder for a better shot.
Yes, the one hundred year old, super narrow, super tall, ladder.
little Indiana is afraid of heights. As in, knee knocking, can't move, afraid of anything more than a couple feet off the ground. Hubs offered to do it for me.
But–little Indiana has a passion for, well, little Indiana.
If I get a chance to do or see something that I know would wow all of you? Then, by golly, I have to try!
View At The Top
Each drawer has a story to tell. After one hundred years of use in this small Indiana town, there's many signs of life.
Some drawers have the item attached to the outside of the drawer. Others have black marker scrawled across the top for good measure.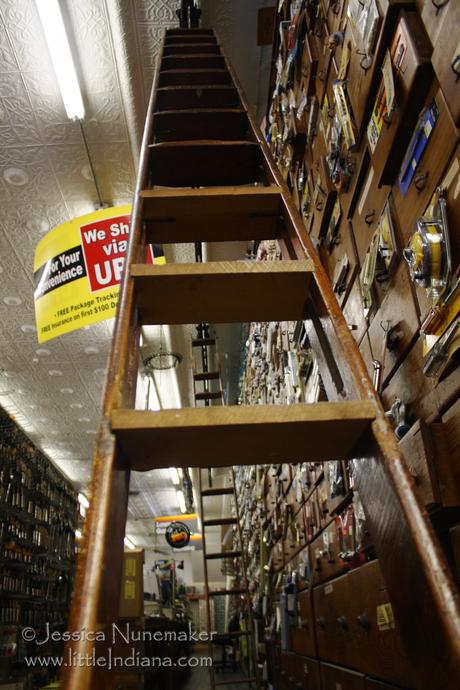 Wakarusa Pro Hardware in Wakarusa, Indiana: Up The Long Ladder
Masking tape and various colors of marker also hint at  the contents found therein.
Step Back in Time
While a hardware store isn't the place I'd normally go for browsing, in Wakarusa, Indiana? It becomes an attraction–and a remarkable piece of Indiana history.
See more Wakarusa, Indiana images and other pictures in Indiana on my Flickr photostream.
Wakarusa Pro Hardware Store
108 S. Elkhart St.
P.O. Box 382
Wakarusa, Indiana 46573
574.862.2775

View Larger Map
little Indiana: Where to Stay, Play, and Eat in Small Towns in Indiana. Discovering Indiana's best small towns! Now get little Indiana on your Kindle.
New! Offering affordable online advertising for your small Indiana business! little Indiana Businesses is the online presence that you've been looking for.