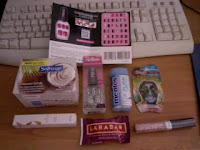 I received an array of goodies to try! I was super excited that I was chosen, and I was not disappointed when I received my first box! as you can see in my picture I was given an amazing assortment of fun things to try! (In Picture) imPRESS nails (Working Girl), Softsoap (Coconut Scrub), Garden Botanika (Lash Primer), Mentos Chewing Gum (Pure Fresh - Fresh Mint), NYC Liquid Lipshine (Nude York City), Montagne Jennesse Mud Pac (Anti Stress - Kelp & Seaweed), and Larabar (Cherry Pie).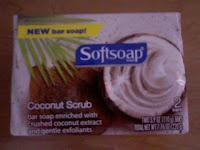 I love..when I say love.. I really do mean LOVE. Softsoap ..Anything! It's the only hand soap that I buy. It does an amazing job cleaning my family's hands, smells amazing, and doesn't cost more then $1.00-$5.00. There are ton's of different scents and products on the market, from hand soaps, to body washes, to bar soaps. From fruit, flower, and more exoitic scents, at a low cost. As much as I love my foaming hand soap I love the Softsoap bar soaps even more. They make me feel clean and leave a long lasting scent on my body which I ..Love.. I have gone through and tried alot of body washes, gels, bar soaps, oils, and creams on the market to not only get me clean, but to leave a long lasting scent on my body. And try after try I'm always disapointed. There has been a few that made me smell good in the shower but wore off after a few to 30 minutes..That's very disapointing. I love to smell good but don't always want to soak myself in perfume all the time. My mom introduced me to Softsoap bar soaps and I was hooked after that. I'm more of a Bar soap user then I am a body wash fan. (I do love body wash) but I like my good old fashioned bar soap too. The Softsoap body bar in watermellon smells amazing. I like floral scents but I'm always on the lookout for fruit scents because that's what my Husband like's, and I like to smell good for him.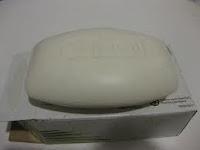 So any chance that I get I look for newer fruit smelling scents. That's why I was so excited when I was sent the new Softsoap bar soap in the scent of Coconut Scrub (Have not had the chance to try this yet) .. I loved..loved.. the scent of this bar soap and was amazed how clean and soft I felt. This bar soap is enriched with Crushed coconut extract and gentle exfoliants. I'm usually not a big (Exfoliant) bar soap person I usually like to take a wash cloth, sponge, or a loofah sponge and exfoliate, because exfoliant soaps tend to leave my skin overly dry. But I was very satisfied with it. You can find Softsoap on facebook -  Facebook.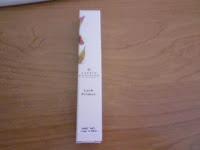 I love eyelash primers. I have used a few. Some worked, Some didn't. So I was excited to try the Lash Primer from Garden Botanika. I have always wanted to try products from this company. They have an amazing assortment of products from everyday beauty to seasonal products. I love their cosmetics and perfume lines. So I was thrilled to find out that I would finally be testing a product!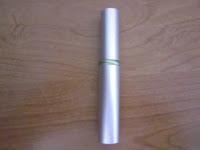 The first thing I noticed was the product container. It's simple but not boring packaing caught my eye right away. I hate boring products. I like fun and creative packaging's. It makes me want to keep comming back and using them insted of throwing them in my makeup conainers and getting bored with them after a few uses. I love eye candy packaging. I like the shimmery silver but the oval mind caught my eye as well. It makes me use the products more, withought being overly bored with it.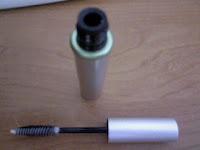 This eyelash Primer was one that I have never tried before. I have used the single applicant that looks like a eyeliner that lines the eyelash base. This Lash primer was differnt from the rest. It application base is in form of a mascara brush. It was so much easier then the regular line and go. It had more of a ease of use just like applying mascara. I loved it! it wasn't messy, didn't get into my eyes and I could see exactly where I was applying the product. The other primers, and lash conditioners I have used had a awful smell. I couldn't stand applying most of the products on my eyes for that fact, Rather they worked or not! But The Garden Botanika didn't have an awful chemical smell which I loved. You can find Garden Botanika on facebook - Facebook.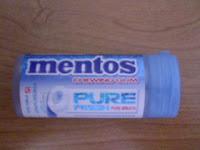 YUM! ..Is the first thing that come's to mind when I think of the Mentos Chewing gum. Yummy! No one likes bad breath. Or at least I hope they don't! My husband is a gum freak. He makes me pack at least 3 packs in my purse, and that's not including breath mints and sprays. I hate bad breath and I think you should take care of your mouth for many other reasons besides bad breath. But when you can't exactly brush your teeth what's better then a breath mint.. I was excited for my husband and I to try these for the first time. I love Mentos .. well.. anything! and I have been wanting to try these for awhile. Yum! again! These were a instant hit! These had so much flavor and coolness that hits your mouth the instant you start chewing. Mmm. I have to admit. I had morning breath when I tried these..Yeah I know..Ick. But what better way to try out a breath freshing product then when you have skank mouth. All I tasted and smelled was fresh mint the minutes I started chewing. It was like I just brushed my teeth and used mouth wash. My husband was pleased with his piece too. I would recomend these to anyone. You can find mentos on facebook - mentos.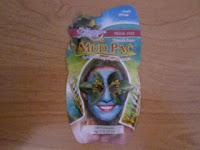 I love Montagne Jeunesse! I have been using their products since I was a (PRE-Teen) now being at the age of 28..Going on 29. I know my way around Montagne Jeunesse. You can find this product at your local walmart in it's own shelving for $1.00-$3.00 and a little goes ALONG ways.. This product is AMAZING. The mud mask makes your skin feel like heaven while on and off of your skin. There are tons of different varieties of mud mask, peel off's, pore strips, and more. I recently discovered the mens products and got a couple of masks and a nose pore strip for my husband and he was amazed how clean, and fresh his skin felt after using them. The mud Pac's are easier, and cheaper way to get a salon, and spa day. I love at home spa days. And Montagne Jeunesse is my go to product for my face. The products smell amazing. and It declogs my pores and gives my face a soft glowing feel and touch. If you have never used these products before you are missing out! there are tons of varities for your needs. They make great stocking stuffers, or simple gifts for a birthday party gift bag stuffer. I recived the Anti-Stress in Kelp & Seaweed and I loved it. I have been sick and needing a skin detox. the Mud goes on easy and washes right off making my skin feel as good as new. Step 1. Cleanse your face with water and soap. Step 2. Apply to whole face and neck. Step 3. Relax (Wait 10-15 minutes) step 4. Rinse. Your skin will feel like it took a vacation in heaven. You can find Montagne Jeunesse on facebook, and twitter - Facebook - Twitter.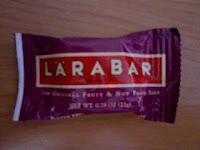 Larabar in Cherry Pie. Yummy! These little fruit and nut food bars are like heaven in a plastic package. They are healthy little deserts. and Pure happyness. I have tried the Chocolate brownie Larabar and they are amazing little energy bars. I'm not a HUGE health nut but I try to watch what I eat. I'm not big on the whole health food bars because they taste like chalk. But these little bars are delicious and a long ways from chalk tasting.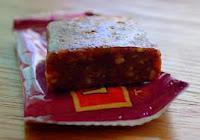 They are full of energy and will keep you on your toe's rather you are a mom with little ones, a jogger, a runner, or just like to watch what you eat.  These are perfect little take me alongs where ever you go, for a snack when you need energy. They taste just like there names, rather it be cherry pie, or chocolate chip brownie. You will be satisified with the flavor. Larabars are Gluten free - Dairy free - Soy Free - Non -GMO - Vegan and Kosher. It's a little bit of sunshine for everyone. And taste great!