Hello Lovely Friends…   How are you gearing up for the New Year Parties? If you have any makeup queries or if you want any suggestions for your New Year Makeup Plans, please drop me an email or comment below. I will definitely respond and would love to help you out with suggestions and pictorials.   Coming to Today's post, I want to review the VOV Metallic Nail Enamel in shade M-16 today.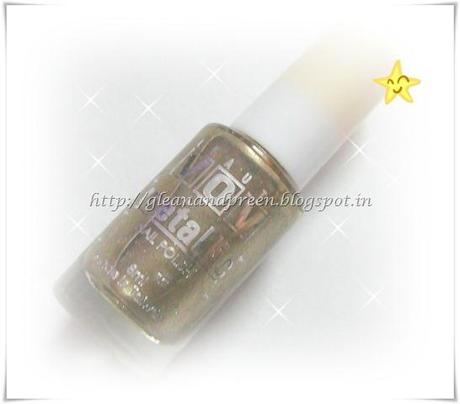 Metallic Nails have been in my wish-list since long and when I saw the VOV Metallic Nail Enamels in The Beautyholic Store, I assumed these would give me the metallic foil nails that I have been eyeing. I grabbed it immediately but was disappointed as it didn't give me the finish I was hoping for. But, nonetheless the purchase was worth the price for it gives a subtle golden bling  to nails which I love to use as a top coat on different colors.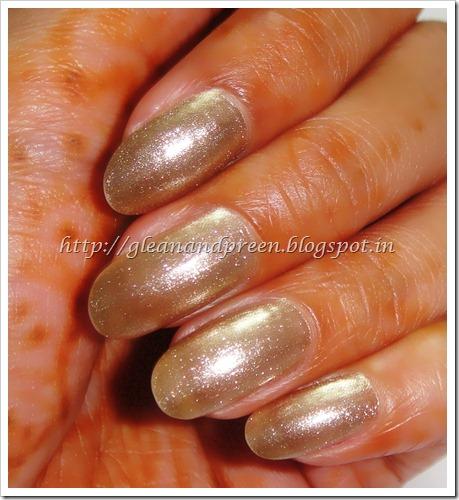 If you are looking for easy to do yet glimmery shimmery nails for the New Year Eve, then this kind of nail color is all what you will be needing for the eve.
Price: 80 INR for 8ml.
Shelf Life: Couldn't find it on the bottle.
Look & Feel
Package: Comes in a sturdy cylindrical bottle. It's neat and nice.
    Applicator: A round brush is provided which is convenient to use but nothing comparable to the flat brushes that gives easy application reaching all the corners of the nails.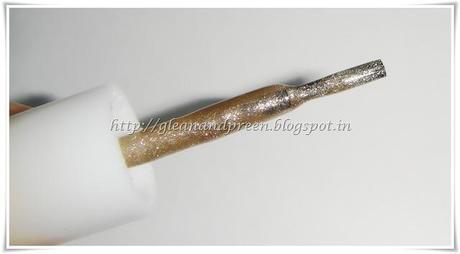 Fragrance: The alcoholic fragrance can be noticed only when smelled close. So, I am happy because I really dislike when my nails smell like spirit or alcohol.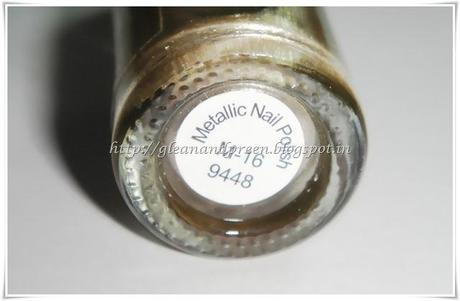 Shade: M-16. A sheer blingy golden shade.
Texture: It has a very good consistency to give smooth application.
VOV Metallic Nail Enamel Effects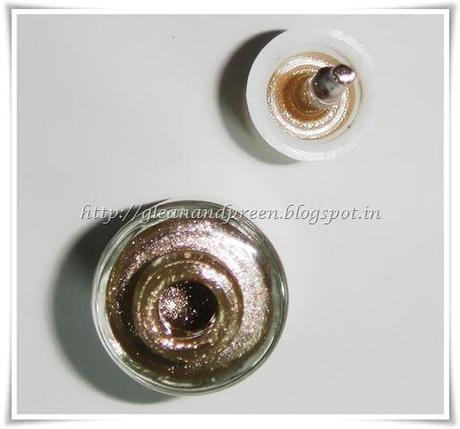 Drying Time? Just 1 minute for each coat.
Coats required?  If you want opaque color, you would definitely need 4 coats.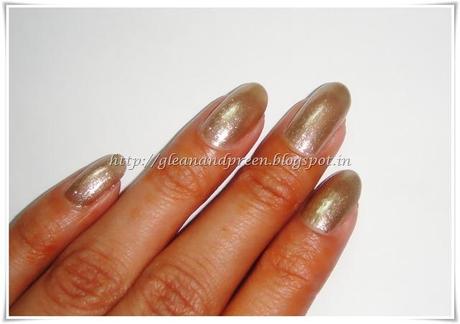 Finish? 'Glimmer', 'Bling' and 'Shimmer' are the only terms I can use to describe the finish.
Chipping Time? 4 days
Fading Time? 2 days.
Cost Efficient? It's a very affordable and a reasonable purchase.
Final Note: The quality of the polish is average but I am more impressed with the shade for it's versatility as a golden top coat and as an opaque base coat.
Dear Readers: Let me know your opinion about "VOV Metallic Nail Enamel" in the 'Will You Buy It' section and share your feedback about the review through comments.
Did you check out the Ongoing giveaway?
Win free VOV & Miss Claire Cosmetics, Bellissima Jewelry and Flipkart Shopping Vouchers
Hurry up it's ending on December 31st 2012
Click to Enter: http://gleanandpreen.blogspot.in/2012/11/sagaciously-beautiful-beautyholic-store.html