Last week,I mentioned about The Eneryshare project and that I have been championing The Environment Centre Swansea.
Here is what they have to say:
"The Environment Centre is an independent charity, whose focus is environmental information, education and activity in South West Wales. A group of local people set us up in 1994.We are very much part of our community with over 150 active members, a strong team of 30 + volunteers and over 5,000 visitors each year. We work to help local people put the environment and sustainability first.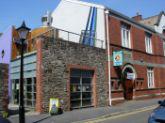 In 1995 we moved into a Georgian building in the Swansea Maritime Quarter. Since then we have worked to not only make Swansea a greener and more sustainable place, but also to improve the environmental performance of our building and use it to demonstrate eco-design to our community.
In 2011-12 we are aiming to enter another exciting stage in our development and lay the foundations for the Centre becoming carbon neutral. Energyshare funding would pay for a big part of this allowing us to make some huge strides in the right direction."
Please help The Environment Centre for a greener future. Voting only takes a few minutes plus you can win one of the fabulous River Cottage Veg Books that The Energyshare is giving away. Don't forget there are 5 to give every day.
This is a sponsered post.