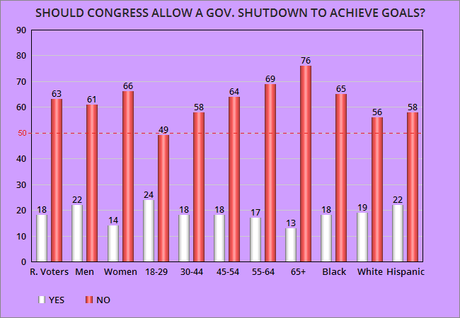 As the latest continuing resolution is about to run out, there is talk of a possible government shutdown. On the Republican side, the deficit hawks want huge cuts to the budget (so they can give the rich a huge tax cut), and on the Democratic side a solution to the dilemma of "Dreamers" is sought. Both sides are playing chicken with the budget, and there is currently a real chance of a government shutdown (with each side believing the other would be blamed for the shutdown).
But the American public is not having any of that nonsense. Voters say (by a 45 point gap) that they do not want to see a government shutdown. About 63% want compromise to avoid a shutdown. Only 18% think a shutdown would be worthwhile to accomplish policy goals.
Congress is already very unpopular, and I think a shutdown would just make them more unpopular (if that's possible). But the Republicans control both houses of Congress, so it's likely they would be blamed more.
The chart above uses information in a Politico / Morning Consult Poll -- done between December 1st and 3rd of a random national sample of 1,997 registered voters, with a 2 point margin of error.