Hi everyone,
Today I have a haul for you all! After sharing some of the great deals that were going to be available on Vogue's Online Shopping Night (VOSN), I couldn't resist taking advantage of the Clinique offer of free shipping on all orders PLUS a gift with purchase for the first 200 orders!
I was actually at Uni when the offers began at 12pm and was actually sneakily trying to put an order through during my tute but it wasn't successful! I tried quite a few times to enter the code to gain this GWP but it rejected it, saying the code was invalid, so I gave up!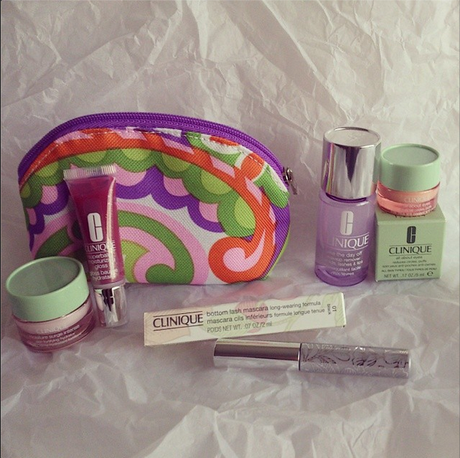 I wasn't going to put through an order after that as I came home quite late and assumed that the GWP would have already been gone as it was only available for the first 200 orders but I came to the conclusion that it was much more easier to purchase my beloved Clinique Bottom Lash Mascara online as I didn't think I was going to have a chance to visit a Clinique Counter anytime soon because of my busy Uni schedule. As with all purchases made on the Clinique website, they also offer 2 samples at checkout and paired with the free shipping, I thought why not?! and put an order in at 8pm!
When my order was delivered, I was really excited to see that I had somehow qualified for the GWP on the night! The gift with purchase included the Clinique Makeup Bag, Moisture Surge Intense and Superbalm Moisturizing Gloss. Along with that, I also received the 2 samples I chose at checkout which were the Take The Day Off Makeup Remover & All About Eyes! With of course, my order of the Bottom Lash Mascara!
I think it was such a great deal that for only $28 (the cost of the mascara), I was able to receive a great GWP and 2 other samples which are of a great size!
The one thing I don't like about certain samples is that they're too small in volume to properly be able to test and see if it does actually make a difference and work for you so I really appreciate the sizes of the Clinique samples!
Did you take advantage of any of the deals on VOSN? Leave a comment below!
Like this post?
Follow me on Bloglovin'!
Like my Facebook Page
Follow me on Twitter
Follow me on Instagram
That's all for now,
triedandtestedblogger XOXO
P.S Dont forget to enter my 1st Blogiversary Joint Giveaway! Open Internationally!