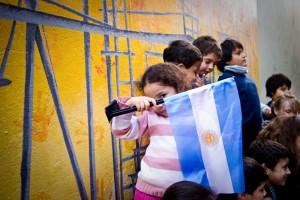 Despite being a more developed country, Argentina has faced a lot of hardships since the crisis of 2001. With this recent rise in poverty, organizations and NGOs have been trying to improve the quality of life for the people in Buenos Aires. Expanish has partnered with many of these NGOs and volunteer organizations and there is always a need for more volunteers to assist them!
How to participate in the Expanish Volunteer program:
Well, first, all volunteers are required to take at least 2 weeks of intensive Spanish classes; this is to help volunteers adjust to the vocabulary and accent that is unique to Buenos Aires. Volunteers are always welcome to take more than 2 weeks of classes before starting, or they can also continue take classes during their time volunteering.
Commitment:
On average, you will be working about 15 hours per week, for at least 2 weeks, alongside other Argentines and foreigners. If you do decide to volunteer, it is a commitment, so you will need to be punctual and enthusiastic! This program starts every Monday and the commute is on average one hour. Before you get started, there will be an orientation and you will be taken to your volunteer site and introduced to the coordinator. While you will be able to make a work schedule with your coordinator, the schedule is generally in the morning or the afternoon.
Volunteer Placement:
Overall, there are 8 different volunteer placement areas that you can choose from based on your interests. Before you get started, you will take a survey that will help place you into one of these areas. In this survey you will be able to tell us which site most interests you, and based on your Spanish level, your personal and professional background, your goals, and the length of your time with us, we will place you into the program best suited for you!
If you're interested in taking Spanish in Buenos Aires while also giving back to the community, this is a great opportunity! The volunteer program also allows you to practice your Spanish outside the classroom! To learn more about the program, to sign up, or to see prices go click here. The different volunteer areas are listed below:
Working with Underprivileged Youth (beginner level)
Possible tasks: games and sports, prepping meals and snacks, helping with after-school activities
Social Services (beginner level)
Possible tasks: prepping meals and helping in community kitchens, help with a specific community group (single mothers, unemployed, etc.), administrative tasks
Tutoring and Academic Support (high-intermediate level)
Possible tasks: help with homework, tutoring, organize educational workshop
Teaching English (beginner level)
Possible tasks: lesson planning and preparing, lead English conversation classes, assist local teachers
Volunteer with Senior Citizens (high-beginner level)
Possible tasks: reading aloud to senior citizens, participating in games and activities, prepping meals and tasks
Fundraising (beginner level)
Possible tasks: Assistant in event coordination, help with community outreach, organize and classify donations
Environmental Volunteering (high-beginner level)
Possible tasks: work in community garden, help give environmental workshops, animal and plant conservation
Helping People with Disabilities (high-beginner)
Possible tasks: educational workshops, games and recreational activities, assist in reintegration