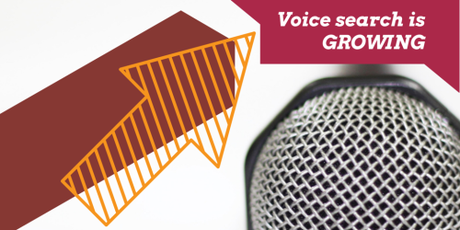 Language is what sets us apart from other species, so machines getting as good as humans at understanding the spoken word really sets a high water mark in the field of artificial intelligence. This is what excites us as engineers and scientists. As a business, we're thrilled to see marketplace stats accurately reflect laboratory progress. Here are some of those numbers:
Over two years, Google's word error rates have gone from 25% to 8%.

Major search engines are seeing as much as 10% of their traffic coming from voice.
Over the past year, Google voice search use more than doubled.
In a survey of U.S. smartphone users, 55% of teens and 41% of adults use voice search every day.
Search experts predict that, within five years, 50% of queries will be on speech and images.
Consumers have been told for forty years that voice was "just around the corner" – and now, it's finally arrived! We've trained ourselves to communicate with machines via keywords and touch-pads – which, even after all these years, still feels pretty unnatural. Very soon, asking your device a question will be just as easy as asking a knowledgeable person standing right next to you.
Interested in training machines on knowledge specific to your business? Let MindMeld crawl your site, create a dedicated knowledge graph, and learn to parse and respond to domain-specific voice queries. Sign up for an account today.