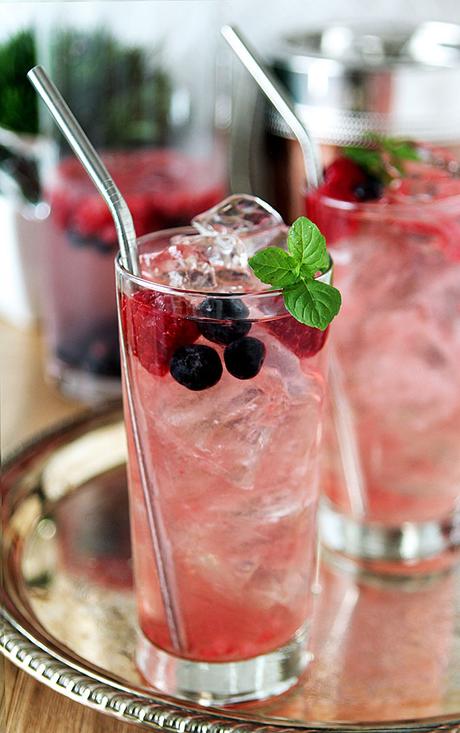 We might have colder weather stick around longer than most of the country but it seems that all of a sudden it's gone in a flash and we're in the middle of Summer. And heat. Now...don't get me wrong, I'm so not complaining. Even at our hottest the lower humidity index makes it bearable even at 95 degrees but it doesn't mean it's not hot and it sure doesn't mean we won't enjoy something as refreshing as this Vodka Spritzer with Raspberries and Blueberries.
This is one light, cold and super refreshing cocktail. Other than some vodka and a bit of simple syrup, the other ingredients are all fruit and citrus and while I loved this cocktail I also love that I can serve it to friends who might prefer watching their calories and just as importantly to those who are maintaining a Gluten Free diet.
While some might tell you that once a grain is fermented and made into a spirit that it loses it gluten characteristics but I am not going to be the person to test that on friends I care about. Potato vodka to the rescue! The potatoes used in Blue Ice Vodka come from the richest potato-growing region in North America, where high-altitudes, warm days and cool nights, and light volcanic soil produce high quality potatoes with excellent taste and character.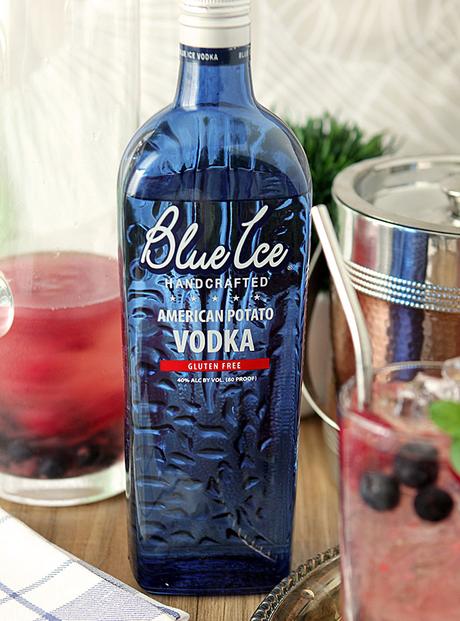 The water in Blue Ice Vodka imparts unparalleled smoothness reflecting its origin in the Teton Mountains, one of the last few remaining pristine water sources in America. The water gathers in the Snake River Aquifer, where it naturally filters through hundreds of feet of porous volcanic rock before reaching the 200 -foot aquifer. This is the sole water source for Blue Ice Vodka.
A nice vodka with a crisp mild bit and a really smooth characteristic if tried alone. It has a slightly sweet smell but more noticeably none of the sharp rubbing alcohol smells that some other vodkas seem to have. Overall I really like it; just a good honest vodka and perfect for this simple cocktail where it is the star with a hint of fruit and lime. The only negative I could discern was that this cocktail was so easy to drink that a warning might have to be included! Hot summer days and a vodka spritzer are meant to be married!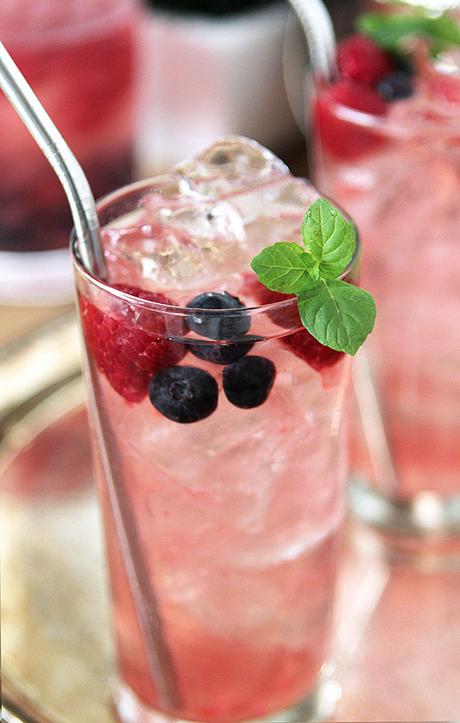 My recipe makes enough for four cocktails but it's also easily doubled; I promise you are not going to stop at one. This Vodka Spritzer with Raspberries and Blueberries is so simple, so refreshing, so summer! Cheers!
Serves 4 Cocktails
5 minPrep Time
2 minCook Time
7 minTotal Time

Save Recipe
Ingredients
1/2 cup of vodka, chilled
Juice of two limes
2 Tbsp simple syrup (half water, half sugar, boil til sugar melts and then cool before using)
1/2 cup raspberries
1/2 cup blueberries
1/2 liter club soda, chilled
Raspberries and Blueberries for garnish.
Instructions
Combine all ingredients but the club soda in a pitcher and gently muddle. Add chilled club soda and gently stir.
Fill glasses with ice and using a strainer, pour the drink into the glasses.
Garnish with blueberries, raspberries and a sprig of mint.
Notes
http://www.creative-culinary.com/vodka-spritzer-raspberries-blueberries/