Today, I'd like to have a bit of a rant about Vodafone and 3G service in the West Country. A few weeks before Christmas, I finally succumbed and upgraded my old Nokia model to a smart phone. To be precise; I ignored the wave of the big 'i' in Apple and went instead with for the Samsung Galaxy SII; an apparent rival for the iPhone 4S. Samsung's SIII has been available for a little while now, along with Apple's iPhone 5. I spent £200 on my model and that was in a refurbished state from en eBay seller… I do believe it works out cheaper in the long run (my monthly sim-only contract costs just £10.50) and I can't imagine that the very latest models leave any of its predecessors in a permanent state of redundancy.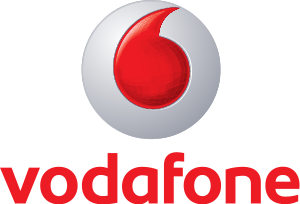 Vodafone Logo (Photo credit: Wikipedia)
Having a smart phone allows me to keep up to date with the online world in an instant. Facebook, Twitter, WordPress and, although I still prefers my laptop for sending e-mails and messages, I can browse various web sites and forums without having to load up another item and then wait for that to connect. I never thought I'd have so many apps on a phone like this and I've occasionally found myself uploading photos to both Twitter and Facebook, without having to go through the hassle of plugging the USB lead in to my laptop.
All of this is only truly possible with a reliable connection to the world-wide-web, of course. This, however, is where I've become a bit unstuck…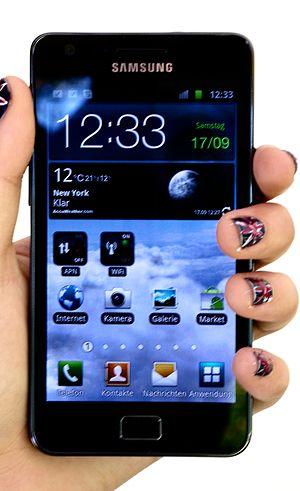 English: Samsung Galaxy SII i9100 Deutsch: Samsung Galaxy SII i9100 (Photo credit: Wikipedia)
When I'm at home, all is fine. Our broadband supply is accessible through a wi-fi connection, thanks to the router we installed a few years ago, when mom and I both got each other laptops for Christmas. It's when I'm away from home that I run in to trouble – or, should I say; blank pages and never-ending loading cycles. I thought 3G was supposed to be the future, even though Kevin Bacon is proclaiming 4G to be even more…
Sometimes, I see a 'G' on my display at home. At work, I might even see an 'H' or an 'E'. I'm still not sure exactly what any of this mean but, I do know that I'm not getting '3G'. I had the same trouble with my previous phone but always put that down to the handset. Searching the internet revealed that others have had the same trouble and, having spoken to Vodafone, one of their first suggestions was to try a new sim-card. My previous was only a year old but, when I purchased that deal, it was only for the texts and phone calls; I wasn't asking for any data allowance.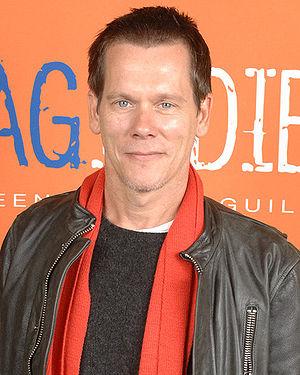 English: Kevin Bacon. (Photo credit: Wikipedia)
My replacement sim-card arrived earlier this week and, in an instant, I took the old one out and made the switch, before heading online to follow instructions for the activation. Actually, before doing any of that; I made the cautious decision to create a back up of everything on the phone, using my laptop. As it turned out though, all the essential stuff was saved to the SII's memory anyway.
A day later and, sadly, I'd made no progress. I contacted Vodafone once more and they suggested that it must be an issue with regards to the strength of signals in my area. Even though, after a post code check, they confirmed that there were currently no known faults at either my home or work address. They warned me that I might have trouble at one site near the center of Bristol that I occasionally visit. I was very close to that on Friday night, where I was able to receive an 'H+' signal… I could load and refresh my Facebook news feed,  check my e-mails and even do a bit of touch-screen shopping (browsing, that is; not buying).
Vodafone have also suggested that it could be a fault with my phone. I've doubled-checked my connection settings though and, as I had the same issue with my previous model (a dumb-phone?), I find that hard to believe, even if it was a second-hand purchase. They've suggested sending me a repair pack anyway. If it wasn't for the forty-eight hours delay in responding to e-mails then, I might have moved past all of this by now! That is the one thing that bothers me most about their service; you hit the reply button and your message is directed straight back to the main server. You're in direct conversation with no-one in particular. If I didn't dislike phoning large companies, I'd try giving them a call, if only to dispel my suspicions that I'd be directed straight to a call center in India…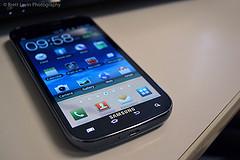 Samsung Galaxy S II (Photo credit: Brett Levin Photography)
Perhaps I shouldn't be aiming this rant at Vodafone then, as much as those who are responsible for maintaining the 3G network. As the world moves forward and technology advances though, I guess it's inevitably going to reach its breaking point.
I have eleven-months to run on my current deal and I won't be able to upgrade that until November at the earliest. But still, I can't help wondering; would I be any better off on a different network? I've been with Vodafone since I was fifteen (that's almost thirteen years, if you really want to know – yes, close to half my life).