Hi everyone,
I have been featuring a lot of VLCC products and would be doing so in future as well. I have also loving most of them as they are a budget friendly. This brand is well known not only in India but abroad as well. You can find them in London, Singapore and Dubai as well. Today I shall be reviewing VLCC Anti Tan Facial Kit in this post. Indians are easily prone to tanning and hence anti tanning products are big business in India. The aim of these products is not to make you fair but to get back your natural color before getting tanned. I have used this kit and I am here to tell you more about it. Read on to know more....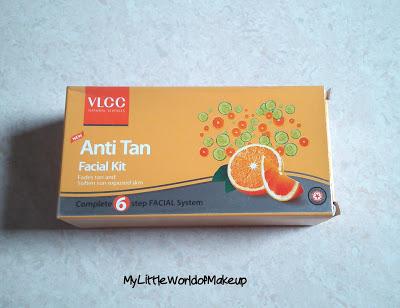 VLCC Anti Tan Facial Kit Review
Price of the kit: Rs.250/- It contains 6 products which are 10g each in quantity. You can buy the kit online HEREApart from this VLCC products are easily available at VLCC outlets and all major beauty stores.Ingredients of each product (click on the pic):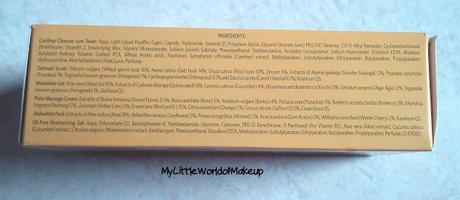 VLCC Anti Tan Facial Kit Review
About the kit as mentioned by the brand:
Pistachios, nutmeg, oatmeal and cucumber are not just nutritious snacks for your diet; together they can form a super skin care regime that can give you a healthy, youthful complexion. Recognizing the benefits of these natural ingredients, VLCC has blended them with other plant-derivates like Aloe Vera and Wintercherry extracts to create this effective face treatment that gently fades tan and heals and softens sun-damaged skin.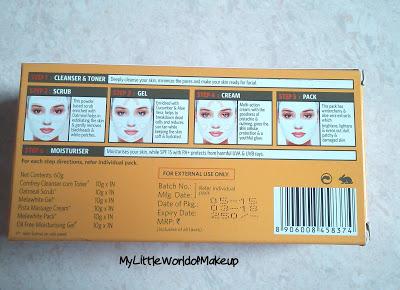 VLCC Anti Tan Facial Kit Review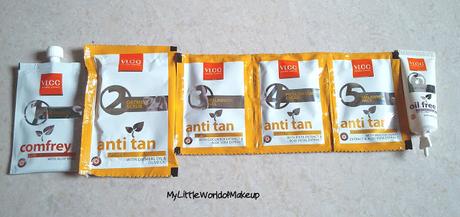 VLCC Anti Tan Facial Kit Review
The kit is orangey yellow in color. There are 6 steps to this facial and how to do it is mentioned on each pack and even on the cardboard box it comes in which is very helpful. All the ingredients are mentioned which is also a plus point. Although it is a one time use kit it can be used 2 -3 times depending from person to person.
So let us see the 6 products and the 6 steps involved in the facial:
1.  Comfrey Cleanser cum Toner
Begin with a cleanser. The cleanser comes in a sachet with a screw cap to it which I like so that it can be reused and does not create a mess. The cleanser is milky white in color and does a good job of cleansing the skin of dirt and grime. It has a mild fragrance which is not bothersome.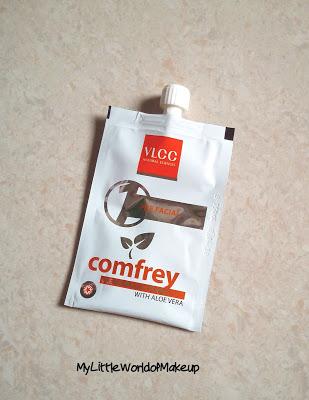 VLCC Anti Tan Facial Kit Review
 2. Oatmeal Scrub
Next step is the Scrub.Scrubbing is an essential part of any facial. This one contains oatmeal and not very abrasive and gentle. You can mix with rose water if you have oily skin or milk if you have dry skin. Water can also be used if you do not have anything. It does a good job of exfoliating the skin and getting rid of dead cells from the skin.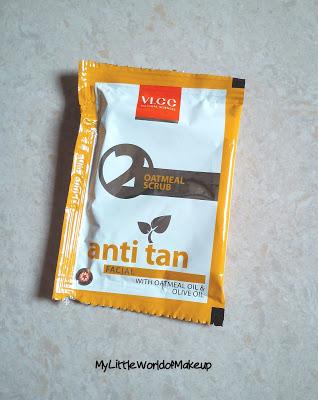 VLCC Anti Tan Facial Kit Review
3.  Melawhite Gel
Next step is applying a face gel. It is enriched with Cucumber and Aloe Vera which helps to breakdown dead cells and reduces sun tan while keeping the skin soft & hydrated. The gel is colorless and on application may feel a little tacky but seeps in the skin in no time. It has a mild fragrance which is tolerable.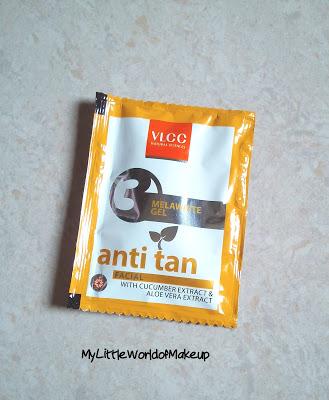 VLCC Anti Tan Facial Kit Review
 4.
Pista Massage Cream
Next step is massaging the face with Pista Massage Cream which is a multi action cream with the goodness of pistachio & nutmeg. It is green in color and gives the skin cellular protection and a youthful glow. Now if  have oily skin like me best is to use a small amount or your skin will feel greasy.Once the massage is done best is to wipe it off and move on to the next step.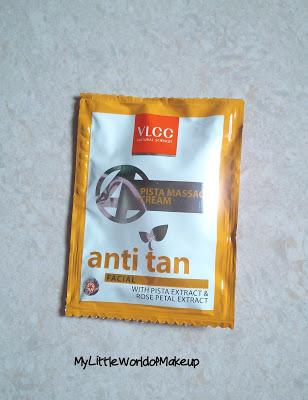 VLCC Anti Tan Facial Kit Review
5.
Melawhite Pack
The next step is face pack. This pack has wintercherry and aloe vera extracts which brightens, lightens and evens out dull, patchy and damaged skin.Again use water,milk or rose water whichever is available and suits your skin type.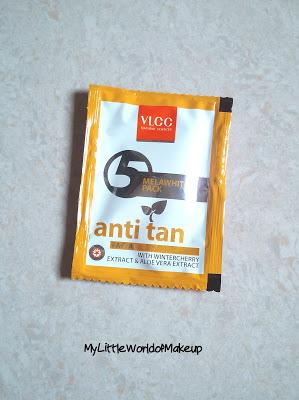 VLCC Anti Tan Facial Kit Review
6.
Oil Free Moisturizing Gel
The last step is applying a moisturizing gel to seal and lock in all the moisture. The gel is faint yellow in color and has SPF 15 PA+ which helps in protection against UVA and UVB rays.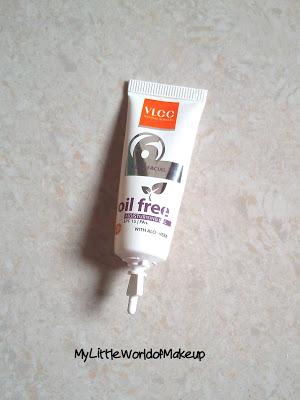 VLCC Anti Tan Facial Kit Review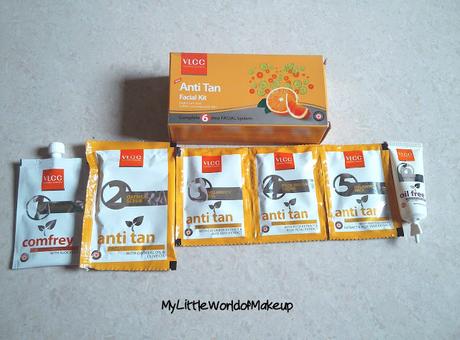 VLCC Anti Tan Facial Kit Review
My final thoughts:
This kit is amazing for the price and works very well in my opinion. It works for all skin types. If you are prone to tanning a facial like this is a must once in a month. It helps in reducing the tan but remember unlike any product in the market its effects won't last forever, you need to regularly use it. Most important part is that you need to use a good quality sunscreen because it definitely helps in sun protection and delays tanning of the skin. I have reviewed VLCC Matte Look Sunscreen with SPF 30 PA+++ on the blog you can check them out HERE 
You can also check my reviews on other VLCC products HEREProduct rating: 4.3/5

I hope this review was helpful to all those reading. I do recommend this product. Comment below and let me know have you tried the 
VLCC Anti Tan Facial Kit before
????
Until next time.. Take care xoxo

P.S: PR Sample**