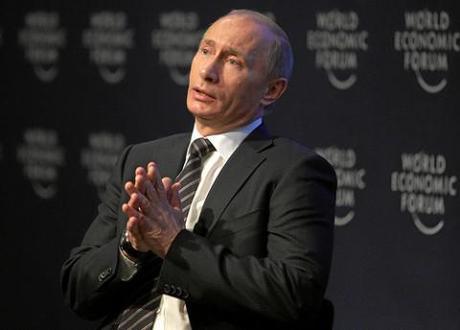 Vladimir Putin. Photocredit: World Economic Forum http://www.flickr.com/photos/worldeconomicforum/3488070937/sizes/m/in/photostream/
Vladimir Putin, Russia's Prime Minister, got his election campaign into gear yesterday. Putin (a former KGB agent) didn't get on his soapbox, though – he got on his bike. Motorbike, that is, and a Harley-Davidson to boot. Putin hasn't yet said if he will run for President though; he might leave it to the current incumbent, Dmitri Medvedev. His party is hoping to secure a two-thirds vote in the Duma (the Russian Parliament) in upcoming elections on December 4th.
The bike stunt was pulled at a festival in the town of Novorossiysk, near the Black Sea, in front of a baying crowd of bikers. The festival was to mark the city's liberation from the Nazis.
According to Reuters, Putin told the assembled throng: "I want to talk to you, brothers. It is cool that you do not forget the heroes of the past. Boys, girls you are great. Not only are you having fun while riding your bikes but you are also combining it with patriotic deeds."
Alpha Dog! Euronews said it was a "typical show of machismo", leading a group of bikers called the "Night Wolves". Putin spoke about bringing together the different ethnicities of Russia. The bike ride has made him worthy of his nickname – Alpha Dog. The site also noted that several protestors had been arrested, saying the election will be a "sham".
Night Wolves! The National Postnoted that "he rode along as the hard-rock anthem of the "Night Wolves" biker club blared in the background. Club leader Alexander Zaldostanov, nicknamed 'Surgeon,' is one of Putin's friends."
Girls, girls, girls. Wired's blog said that the rally's soundtrack is "more like a Russian cover of something from Metallica's '91 Black Album". The aesthetics, however, are "all Crüe, down to the nighttime sunglasses, bandannas, leathers and choppers. If Putin's choice of a motorized trike costs him any street cred, not a single Night Wolf is going to tell it to the ex-KGB dude who takes time off from running Russia to shoot Siberian tigers." We recommend "mashing up the Harley ride with the " 'Girls, Girls, Girls' video? … After all, Putin's also fond of impromptu stripping."