Hey everyone,
How is your week going on so far? Mine is just ok feeling sick lately but then cannot relax for too long. Anyways today I shall be reviewing a body lotion I am liking at the moment called Vivel Cell Renew Fortify + Repair Body Lotion. I have 2 of these and won them in a contest held by Vivel itself on some other blogs. Since I have been using it for a while hence it was about time I shared my thought on it/ Read on to know more...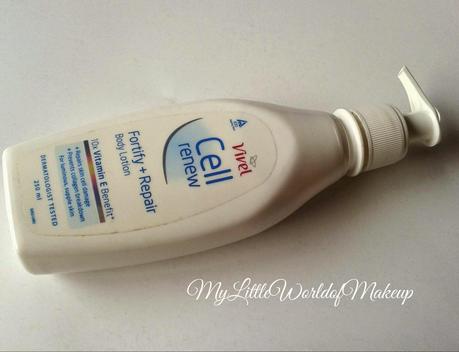 Ingredients and what the brand says: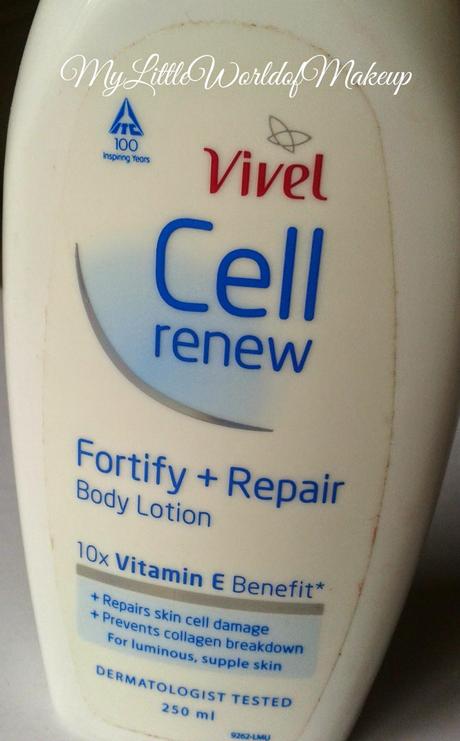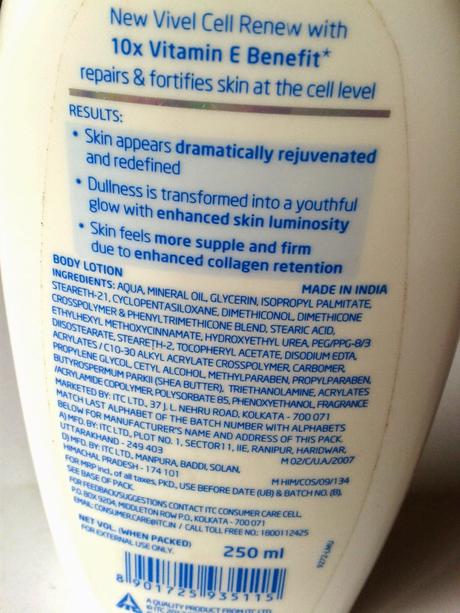 Price: Rs. 199/- for 250 ml. You can buy it here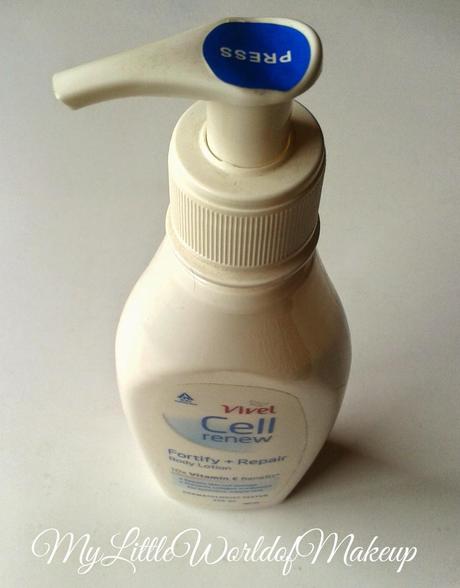 The Lotion comes in a tall slender plastic bottle with a pump dispenser which I absolutely love. It makes life so easy to pump the required lotion and does not create a mess. All the information including the ingredients list is printed at the back of the bottle and easy to comprehend. The lotion does not leak or create a mess hence it is travel friendly. I like the packaging and for the price is very apt.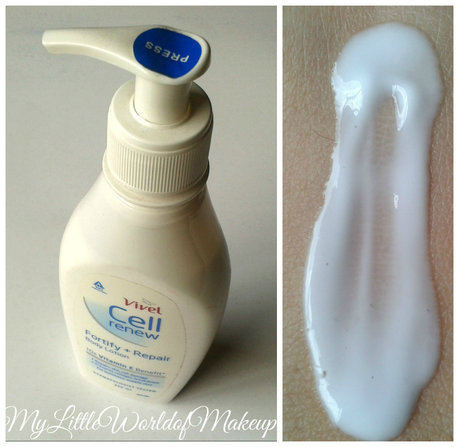 Coming to what I think- the lotion smells lovely hard to describe the scent but smells delicious and sweet. The smell is not overpowering at all and stays on for quite sometime. The lotion is milky white in color and not greasy at all which I love. My hands are not that dry but my feet are. Hence I would say that it works well for my hands but for the legs I do need a generous amount and my legs stay hydrated for more than 3 hours. This lotion may not be meant for extremely dry skin beauties. I have oily to combination skin. This works well as a body lotion for me and for the price it is a steal. One bottle will last you a long time. I usually apply after shower and before going to bed.I definitely feel the softness in my skin after using this body lotion.
The Good:
Inexpensive.
Easily available.
Decent packaging.
Has a pump dispenser.
Ingredients mentioned.
Make skin soft and supple.
Smells sweet and nice but not overpowering.
Not greasy.
Keeps skin soft for 3 to 4 hours.
Pump dispenser.
Travel friendly.
The not so Good:
Contains parabens.
Might not be suitable for extremely dry skin.
Rating: 4.2/5
I think for the price, quantity and the fact that it makes my skin soft I highly recommend this to everyone except for dry skin beauties. There is nothing much to dislike in this lotion and hence a must try.I hope my review was helpful to all those reading. Please leave a comment below as to what you have to say. New visitors can leave me their blog links for me to check out.Thanks for reading.. xoxo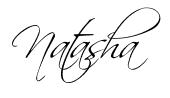 P.S: This is not a PR Sample**