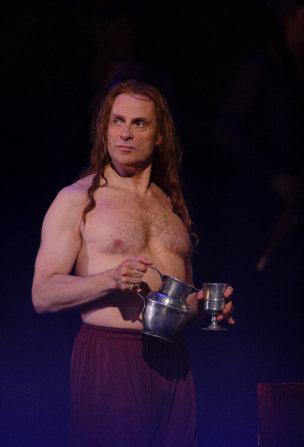 Keenlyside as Don Giovanni.
Photo (c) Catherine Ashmore
I confess I approached the DVD of Francesca Zambello's 
Don Giovanni
 for Covent Garden with some skepticism. For one thing, I wasn't sure how Zambello would handle a work of Don Giovanni's density. For another, I had trouble imagining Simon Keenlyside's assumption of the Don. Keenlyside is an accomplished and intelligent musician whom I've been moved by in a number of roles... as thoroughly nice, if not actually self-sacrificingly noble characters. My skepticism, however, proved unjustified. It takes a little time for Zambello's directorial perspective to become clear, but the story that she has Mozart's opera tell is an interesting one, with the three women as joint protagonists with the Don himself. (This works surprisingly well.) And Keenlyside, in addition to singing with elegance and gusto, created a thoroughly amoral Don: cunning and exuberant, and boundless in sensual appetites (until the curtain calls, when he gave his Leporello an impromptu bear hug and helped the frail Sir Charles Mackerras on a step created by the sets. Niceness will out!) That said: the production may judge Don Giovanni too charitably, and I may judge the production itself too charitably, having been recently
bored
and
bored again
by Michael Grandage's kitschy creation for the Met. These caveats in place, I must say that I thoroughly enjoyed it. More subtle visual cues could have helped put across more precise ideas, but the casting was very fine, Mackerras' conducting was a joy, and the singers were admirably committed to portrayals of their characters specific to Zambello's concept.
In the first tableau of this production, Donna Anna is going to bed. The walls of her father's house close her in, and feminine virtue (so fragile a thing!) is safe: the Commendatore and Don Ottavio shake hands on it, and retire. Under the forbidding walls, however--under the very statue of the Blessed Virgin, who alone accomplished the duties of her sex while escaping its curse!--Leporello waits. When Don Giovanni appears, he is clad in mephistophelian red and completely consumed with the thought of his own safety. He is charismatic, sadistic, a trifle fey; he kisses the dying Commendatore and lies down with him, seeking perhaps the unfamiliar sensation of awe. Morally bankrupt is the society which must look to such a man for liberation. Perhaps the chief merit of Zambello's production, however, is that the Don's relationships with the opera's three women are markedly different, determined not only by his character, but--perhaps evenly more strongly--by the characters of the women themselves.
Donna Anna is a woman who has learned very well the role she will be expected to perform for the rest of her life, and who is beginning to fear and resent its constraints. Having found the temporary escape of pleasure with Don Giovanni, she is let down by his selfishness, and spends the rest of the opera looking for a way out using the means open to her alone. Marina Poplavskaya gave a performance stronger than I expected. There were some intonation problems, but she tackled Donna Anna's challenging music with steely determination. Ramon Vargas was excellent as Don Ottavio, displaying his customarily nuanced musicianship, and unusually nuanced acting, giving the hapless Ottavio both intelligence and character growth. Joyce DiDonato's Elvira appears in a pearl-gray dress, carrying a rifle like a latter-day Artemis with her bow. She is incandescent with fury. But we have the strongest possible proof that she actually loved Don Giovanni: she still does. And he, seeing this as a weakness, does not hesitate to use it against her. DiDonato sang with both agility and expressiveness, infusing her tone with nuances of sensuality and outraged tenderness. (Not for a minute do I believe that this Elvira ends up in a cloister. Intriguingly, she and Donna Anna disguise themselves as men to infiltrate Don Giovanni's house.) Zerlina is, in many ways, the heroine of the piece, who works to forge a true partnership with Masetto and crosses class boundaries to console and advise the other women. It helps that she is the fantastic Miah Persson. Persson's intelligent dramatic and musical choices made Zerlina charming without being saccharine. When we meet her, she and Masetto are being feted with a charivari; it is she who pulls Don Giovanni on to the bed. But what Don Giovanni actually desires (rather than what he promises) she wants no part of. The moment where Don Giovanni violates his own sole creed, "Viva la liberta!" by seeking to violate her is the catalyst of his downfall. The cast is rounded out by Robert Gleadow, a solid and notably serious Masetto; Erik Halfvarson, a genuinely frightening Commendatore; and Kyle Ketelsen as an excellent Leporello, moving as well as witty, held in thrall by the threat of his master's violence. Although finally conquered (in that rarity, a genuinely frightening final scene) Keenlyside's Don Giovanni ends up in an afterworld where the pleasures of the flesh are gratified rather than punished. Equally mysteriously, the final tableau suggests that the characters have succeeded in creating a clean slate for their shared futures (gone is the prison-like set, and gone are the color-coded costumes.) Is Don Giovanni perhaps the unworthy catalyst of reform, and the women its agents? I'd like to think so, anyway. And I'd like to watch the DVD again.
Zerlina and Don Giovanni: