We passed through some beautiful areas of France on our way to Switzerland. Including some gorgeous views from on top of what is effectively a mountain (or not, mine and Boon's definition of such things, are very different) and then under a mountain, via a 5km tunnel.
Driving into Switzerland, the first thing you'll need to pick up is a Vignette. Which is a legally required road tax, it is valid for 12 months and will set you back €33.

As soon as we crossed the into Switzerland we went through the old border checkpoint, if you already have a Vignette attached to your windscreen one of the guards will wave you straight through.
We didn't have one, so we were directed to the right, where a friendly, English-speaking guard explained that we could buy a Vignette directly from him. Unfortunately we didn't have enough cash on us, so we drove over to the office and paid by card.  The whole process, was quick, easy and over in less than 10 minutes.
As Basel is around a three-minute drive from the border, buying the Vignette was rather frustrating (but, as it is valid for 12 months, we have decided to put it to good use, with further travels into Switzerland during the year).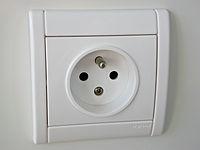 Once we arrived in our hotel, it became apparent that the European plugs and adapters we had bought with us didn't fit into the plug sockets.  Even though our guidebook said that the standard EU adapters should be fine.  Since coming home and doing more research it seems that the more modern plugs in Switzerland require a specific adapter.
I was a little surprised at how expensive Basel was, I'd heard that Switzerland was pricey,but I wasn't expecting it to be quite so expensive  .  The good news is that everywhere we visited took cards and most of them actually gave us the option to pay in Euros rather than Swiss Francs, which was really helpful.
If you are heading to Basel, I would suggest having a wander around the Old Town and visiting the Cathedral.
Have you been to Switzerland… any suggestions for people visiting for the first time?