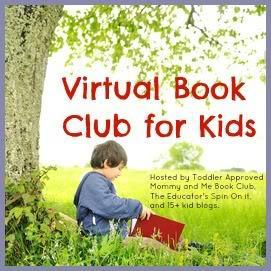 This month's author is Julia Donaldson. She is one of our favorite authors. Defne loves Monkey Puzzle and  I wrote about it  in 2011, here. Recently we have been reading the book with Derin. We also have the audio version of it and  I like that Derin (38 months) has started to develop a concentration to sit still and listen to the story. Derin also loves role playing and it just occured to me that he would enjoy acting out the story.
So I set up a small world play area for him. He loves playing with the props and retelling the story or just playing with them while I read the book to him.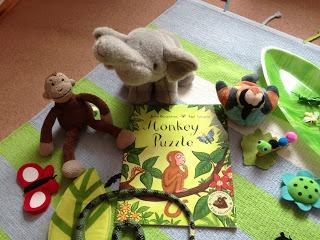 Acting out a story helps children develop their language and use their imagination. It also helps them to make a more personal connection to the book.
So, what are your kids' favorite Julia Donaldson book?
The Virtual Book Club is hosted by
Toddler Approved - Rainy Day Mum - Adventures in Reading with Kids - 3 Dinosaurs - Royal Baloo - The Educators' Spin On It - Inspiration Laboratories - Pleasantest Thing - Edventures with Kids - Two Big Two Little - Playing With Words 365 - Kitchen Counter Chronicles - Outlaw Mom - Mommy and Me Book Club - Crafty Moms Share - No Twiddle Twaddle - The Good Long Road - Ready. Set. Read 2 Me - Reading Confetti - Mama Smiles - Juggling with Kids- Mom to 2 Posh Lil Divas - Creekside Learning - Creative Family Fun - The Usual Mayhem - Teach Preschool - PlayDrMom - CraftoArt - Here Come the Girls - Being a Conscious Parent - Smiling like Sunshine - Crayon Freckles - Train Up a Child - Smile Play Learn - Enchanted Homeschooling Mom - Coffee Cups and Crayons - Having Fun at Chelle's House- Love, Play, Learn - Juggling With Kids - Motherhood on a Dime - Growing Book By Book
- This Reading Mama - Fantastic Fun and Learning
 Thank you so much for stopping by!
 If you enjoyed this post, please join us on Facebook,Twitter,Pinterest and G+. Click on the buttons on the right handside to follow us on these platforms.