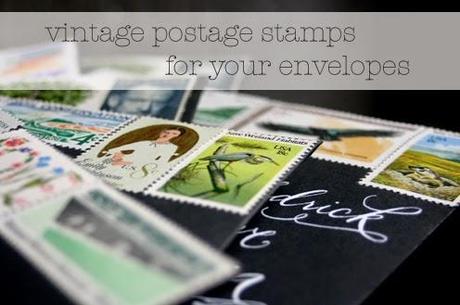 Adding vintage stamps to your envelopes is a popular tradition. Typically at least ONE of the wedding invitations that you receive this season may have featured this look. These stamps are typically coupled with hand lettering. That style of addressing obviously lends itself to the overall look in terms of a tactile, rustic, throw back piece. They are also functional in terms of working with colors and/or your overall theme.
Some quick facts...
1. Vintage stamps can add color to a somewhat simple and plain envelope.
I think the reason white and/or kraft envelopes look so nice with these stamps is because they can be pretty boring without them. They still look good on more dramatic colors, but the way lighter colored calligraphy lettering appears on these may create enough drama/interest without the stamps.
2. Since each one uses a different combination of stamps, each one becomes its own unique layout.
I love when no two envelopes look alike. It means everyone's becomes
that
much more special.
2. They are timeless. Tough for this look to feel "overused" or out of style.
I would recommend only using these with hand lettered envelopes though. Just completes the look/style.
3. These kinds of envelopes are usually guaranteed to be kept by its recipient.
Who would throw this treasure away?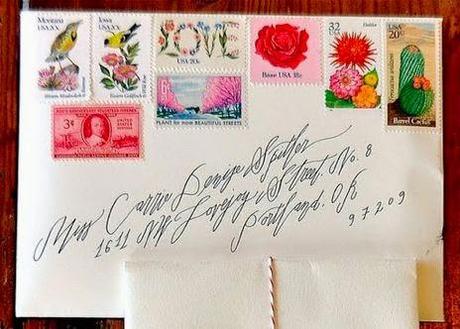 From 100 Layer Cake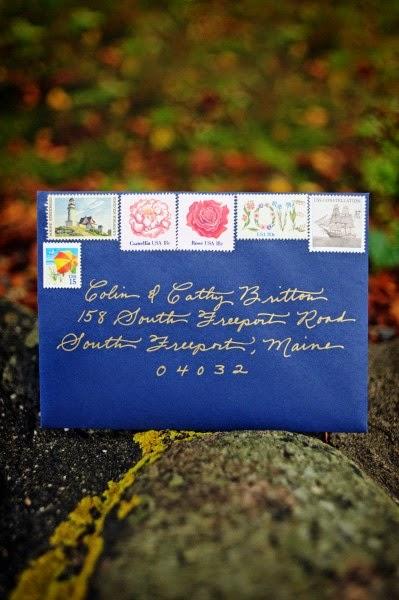 From Style Me Pretty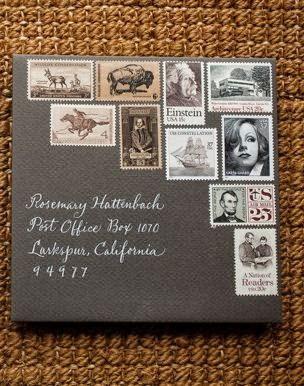 From Style Me Pretty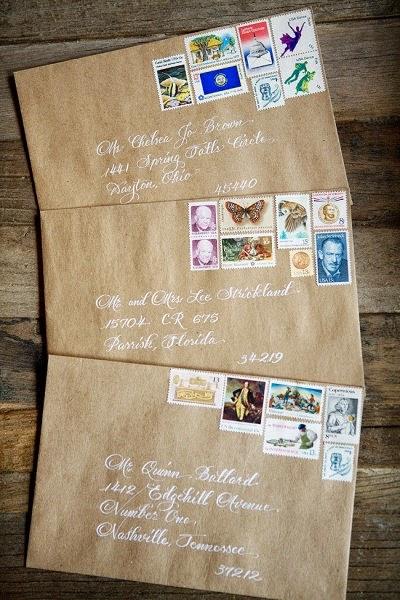 From Style Me Pretty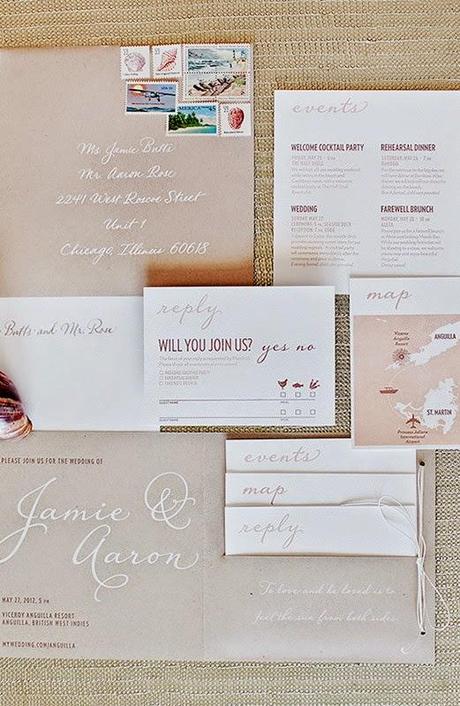 From CT-Designs
Vintage Stamp F.A.Q.
How to purchase?
Looks like both EBay and Etsy have SEVERAL listings. Unless you have time to do your own research and visit stamp conventions/or another direct source, expect to pay 2-3 times as much for this kind of postage. I have seen prices between $185.00 - $210.00 that will satisfy 100 invites. Meaning that you will be receiving roughly $.70 (typical 2 oz. invitation postage price) per invite. Zazzle also has a vintage line that looks like they could be mixed and matched for a nice look.
Will my invitations make it?
According to the Etsy listings I read, these stamps are within guidelines and they are also acknowledging the 2014 postage increase.
What should I look for?
Either go by color scheme or theme. Blues, reds, pinks, etc. or roses, tropical, flags, etc.
Will the meter stamps ruin my envelopes?
Ugly meter stamping WILL mar these envelopes. I would HIGHLY recommend that you have them hand canceled if at all possible.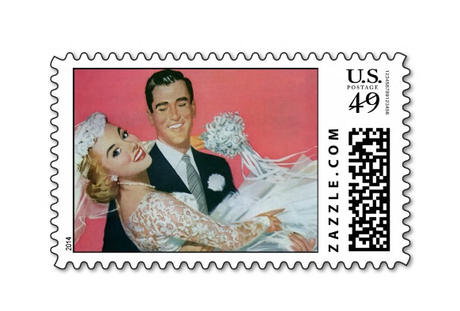 Zazzle Vintage Stamps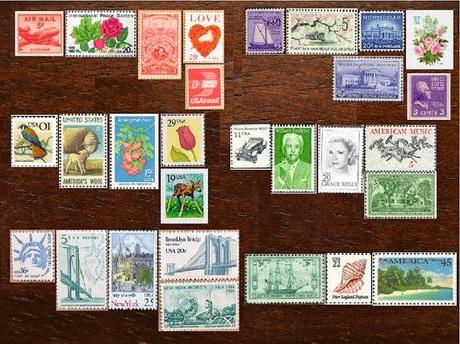 Etsy Shop Verde Studio
Many of these Etsy stamp dealers will select the proper color combination and/or theme for you when compiling your order.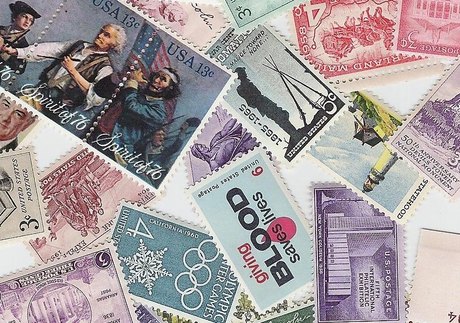 I loved what I found on Ebay... Lots of deals to be had here if you have time to do some hunting...
Photo credit: Title image from Lovely Morning