You will have seen from my blog that I have always worked with ethical companies and non-profits, and that includes cruelty free fashion and beauty companies (I managed the Leaping Bunny certification programme for non-animal tested beauty products).  So it will come as no surprise that when I decided to set up a vintage dress online shop that it would have to be fur free!

Some say wearing fur should be a personal 'choice', however, I will never be able to agree with this view point. If you have ever seen a live rabbit screaming in pain as the fur is ripped from its back, you might change your mind (if you haven't already). Fur is purely about vanity and I cannot see why anyone should have the 'choice' to inflict such horror on a living creature for any reason, let alone for the sake of a fur trim. There are in my opinion some choices that we should not be allowed to make because the impact and consequences are just too barbaric to countenance. If I came into your house and did the same thing to your cat or dog, I would be arrested for animal cruelty, so how can this being done on an industrial scale ever be justified? It cannot.
If you still think fur farming really 'can't be that terrible', then I suggest you take a look at some of the many videos on the web and educate yourself. Some say that the fur farming industry bodies prevent terrible things from happening, but sadly they are wrong. Having a 'bigger cage' to live in before you are ripped to shreds really isn't a step forward for animal protection, nor in my view is it a step forward for us as human beings.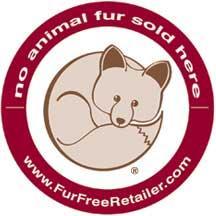 Frock & Stole Vintage – Certified by the Fur Free Retailer Program
So, if you like your vintage 'fur free', please do take a look at frockandstole.com which is also the first online vintage dress boutique to be certified by the Born Free USA Fur Free Retailer Program.