Recently, the charming blogger and my dear friend, Adrienne (of Rich Life on a Budget) , wrote a very motivating post about shopping second-hand first.  Many fashion/lifestyle  bloggers that I enjoy reading shop this way.  I am always truly amazed by what they find.  Personally, I have no qualms about buying from thrift stores or consignment shops.  I own many things that have been bought in this manner.  Shopping second-hand first just makes good sense to me.   After I read her post that morning, I decided to hit my local Goodwill on a whim.
Usually I hit the accessories and home goods…bags, shoes, scarves, vintage kitchen ware.  On this particular day I decided to scour through all the racks in the women's clothing.  The first amazing item I found (but did not buy) was a Dana Buchman blazer from the early 90s.  I was very tempted but it did not meet my wardrobe requirements.  My next find was this Charles Jourdan navy blue, wool skirt — Made in France: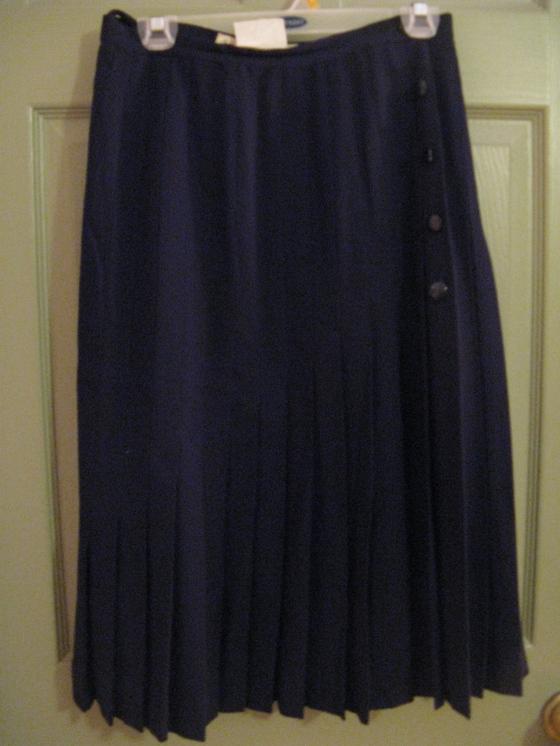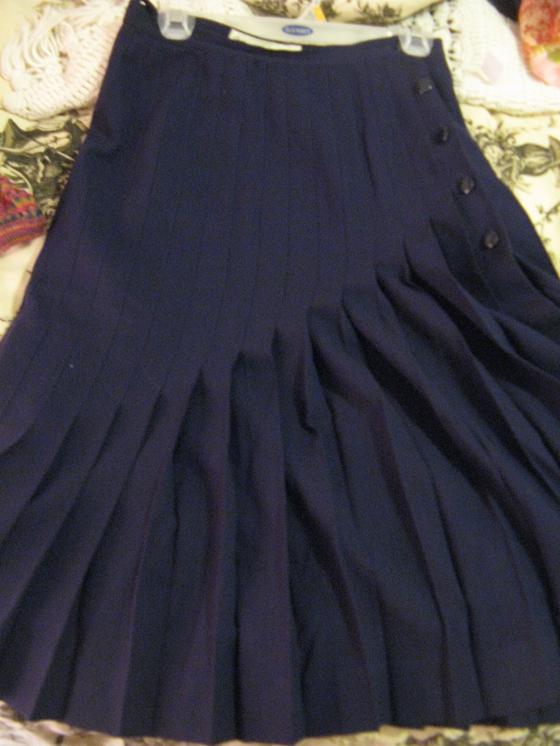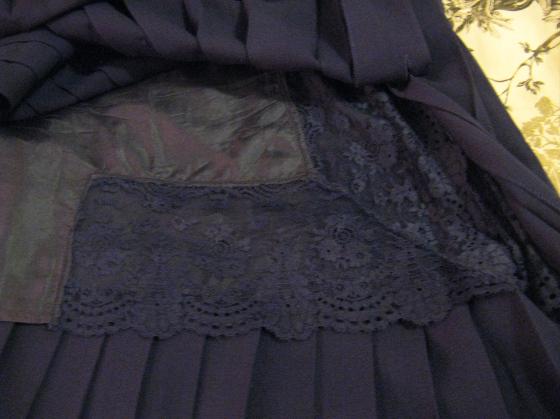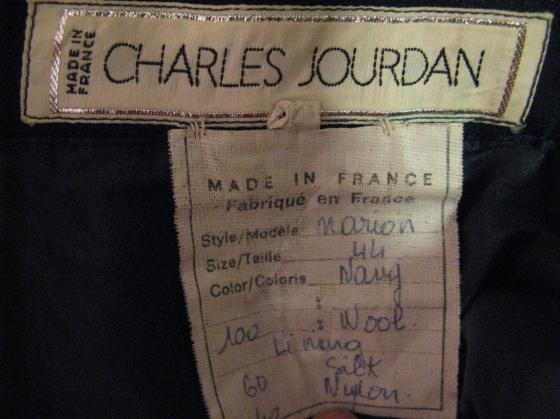 The details on this skirt are so interesting; the pleats, the buttons, the silk underslip, the hand-written tag.  Simply gorgeous.  I knew if it didn't fit me, it would be a great addition to my Etsy store.
Soon after, I moved on to the dresses rack.  I worked my way through piece by piece.  I actually saw this dress in my peripheral vision and thought, "Oh, I am coming up on something unique".  Little did I realize.  Check this out: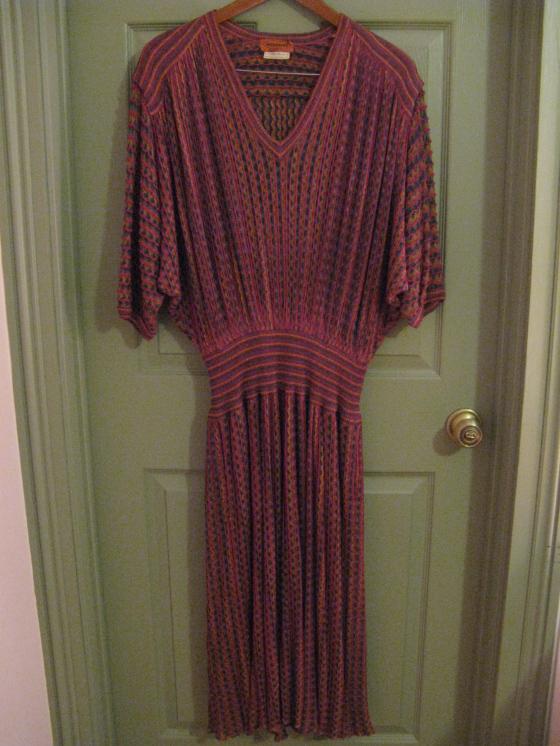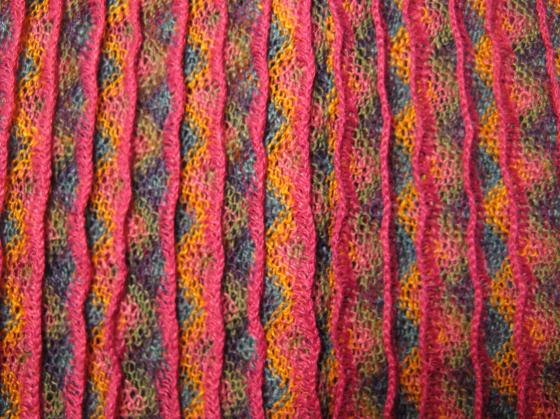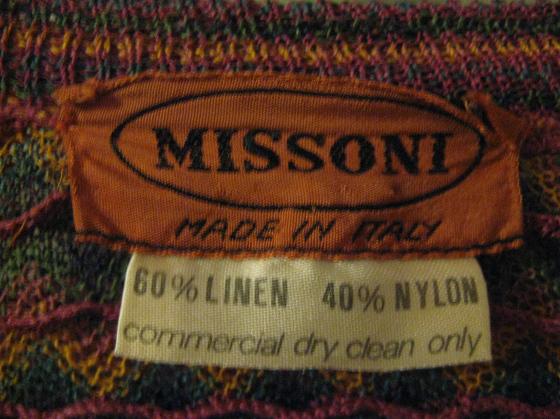 Missoni.  Circa early 1980s (thanks to the sleuth work of Jill from Everything Just So and Adrienne–who by the way was especially excited about this treasure).  The knit of this is beautiful.  The colors are what caught my eye before even getting to it on the rack.  They are splendid.  When I first saw the Missoni tag, I thought it was a Missoni for Target offering…why else would a Missoni be in my podunk Goodwill?  But goodness no.  It is a true, blue vintage Missoni dress. Found on that particular day because of Adrienne's post.  For those of you not overly familiar with Missoni (trust me, I was not…am not) a new Missoni (orange label) dress similar to this can retail between $1500 to $3000.  This find blows away any other "great deal" I have found while thrifting (even the Hermes scarf I found at a consignment store years ago for $6.00).
I thought about keeping the dress…it even fits.  But it is truly not my style and would only hang in the closet, looking like a rich, lost orphan.  While I love the Missoni knits that I see on others, when I have made the attempt to wear them (only via Target in the past), I didn't feel comfortable in them–it is too much color or pattern or something going on for me.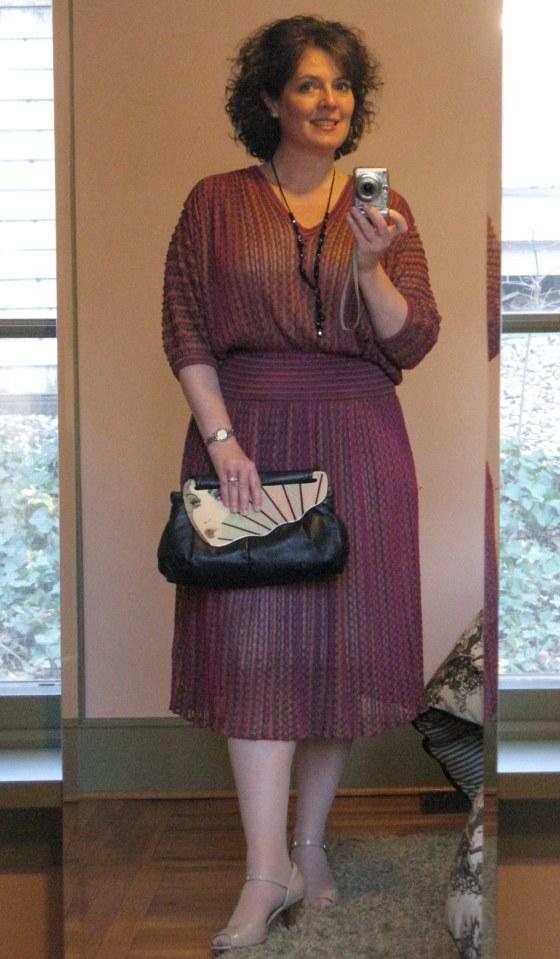 (Ummm…..no.)
 So this little gem of a dress will be in the Etsy store too by the first of next week.  And no.  It will not be listed for $9.99.  I will be putting a value on it that reflects its quality and history.    But it will still be a good deal for a Missoni.
What is the lesson?  Be open to shopping second-hand.  There are amazing deals to be found.  Plus it makes good sense for the pocketbook (a vintage one of course ; ) ) , the environment (re-using, recycling) and it is a boost for small businesses and supports the companies (like Goodwill) who give back to the community.
What is the best thrift item you have ever found?
~~Heather~~
P.S.  By the way, Adrienne is doing a lovely giveaway on her blog.  You should check it out, ladies.
P.P.S.  And I would like to thank Gabriala from Style Higher who also helped me authenticate the Missoni.  This woman knows her vintage couture and wears it well.