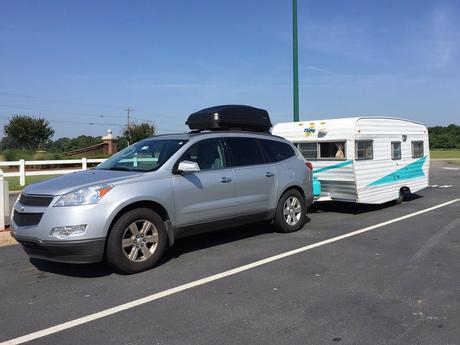 As you read in my latest series post - A Trip of Unfortunate Events, Glinda did not survive this last trip very well. She needs to go to the Vintage Camper Doctor so we decided to send her off to Second Chance Camper Restoration in Tampa, Florida, owned by Walter Sayers. You can also find them on Facebook I met Walter and his family at the vintage trailer rally I attended in March this year and had the chance to see many of his rebuilt trailers there in person. He took some time to look at Glinda and we talked over the next few months trying to determine a plan of action.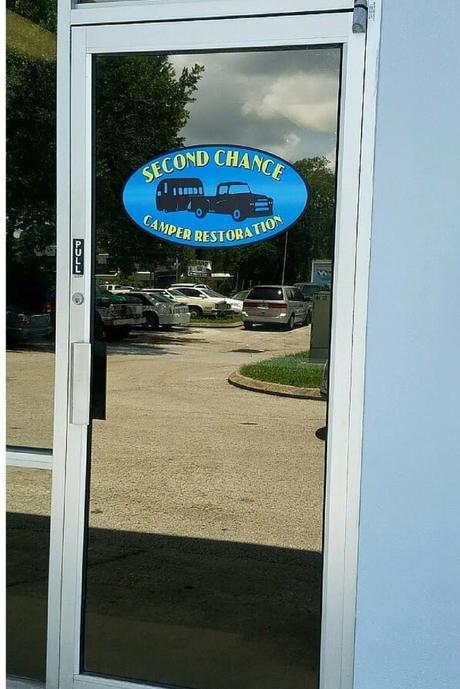 I'm a little nervous as my next trip is planned for September. That means we only have the summer for a complete rebuild. Walter assures me he can have this done in time! Beforehand, I have to clean her out completely since she is going to be gutted and get her over to Tampa. Of course, you know that I had to wait to get transmission and tires repaired before I could even drive to Tampa. I didn't even think I would get my car back in time and was making plans with my Dad to come get me and take us to Tampa. But it all worked out. (thanks anyway, Daddy)
All my paints, dishes, decorations, curtains, cushions, EVERYTHING has to be removed. As I started pulling it all out, we realize it's a good thing we are taking her in. She is really falling apart. Let me share some of the things going wrong. Grab a cup of coffee, I'm sharing a lot of photos in this post.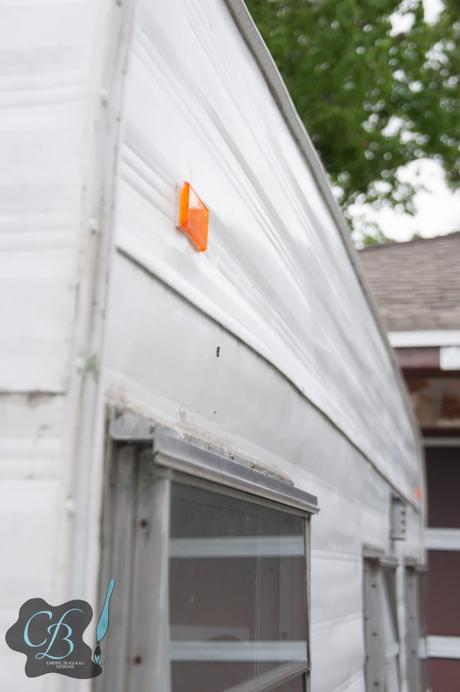 We've learned a lot since we first got Glinda and did the original renovation ourselves. We did enough to get buy and it the work might have lasted a little while longer if I hadn't put so many miles on her. We've learned now about springs on a trailer that would have helped a bit. We didn't have the skills to tear down the walls and replace framing and insulation inside. We knew how to patch things up. If you look closely in the photo above, you can see that the siding is bulging out over the window at that seam. Poor Glinda is bulging in a few places. Unfortunately, those are not womanly curves. Those are places where the framing has started rotting and the insulation and rotted wood are slumping down and packing in areas.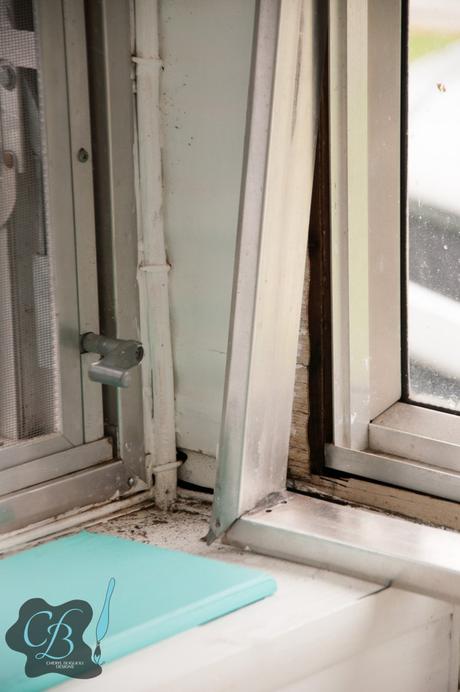 Here you can see a few things that are going wrong. One, you see all that dust on the shelf? That is debris that shakes out of the walls every time I travel down the road now. That is the rotting frame wood and insulation from inside the walls as well as some road grime in places. You also can see where the inside window frame has come loose. I put it back in so many times on this last trip, but unfortunately, there is no more worthy wood or wall to grip the nails to hold it in place once you wedge it around the windows. Of course you can also see the original interior wall behind that frame where it has warped and cracked from age and many previous water leaks even before we got her.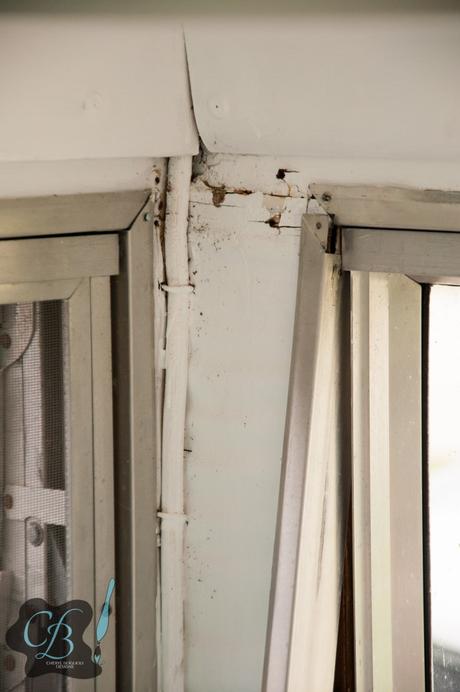 Here is the upper corner of that same window. You can see where my curtain rods were screwed in and I'm surprised they were even holding on anymore.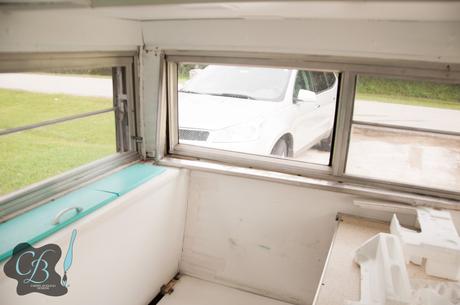 Here is a panned out view after trying to set frame back in window. Many stops on this last trip, I'd pull over to find inside frame on the table there. Oh, and don't miss the white Duct tape that is trying to keep the cracks together on that inner front wall so my cushions weren't snagging on them any more.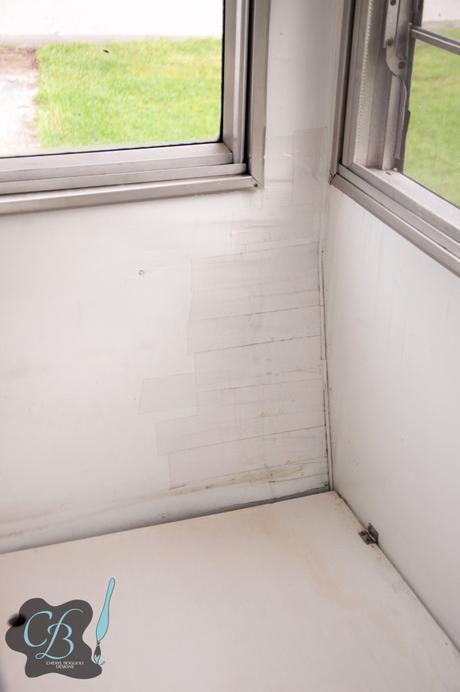 And more of the inconspicuous white Duct tape on the other side as well. This window also started leaking again and if those inner paneling walls get wet, they just start buckling and cracking immediately at this point. You can see some of the water spots now forming on this side.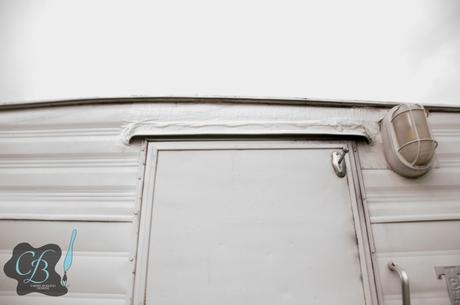 Oh, here is more white Duct tape on the outside too. Cracks over the door I'm sure were not helping with my door framing issue. We tried patching with Bondo, but each trip would crack it all over again and they were getting worse, so Duct tape to the rescue.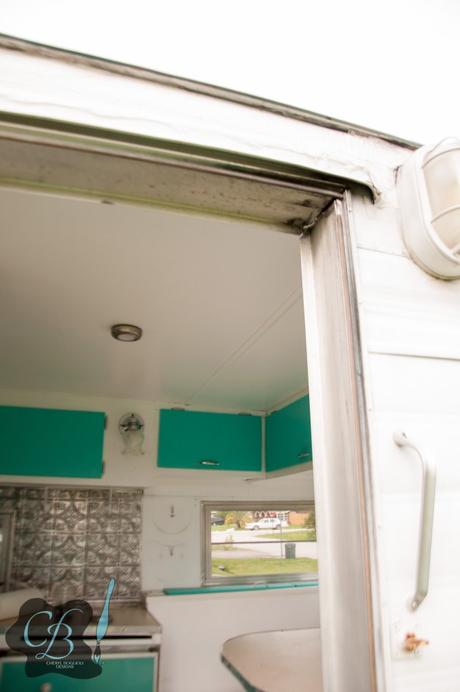 You can see in the upper right corner where the frame actually broke on this trip.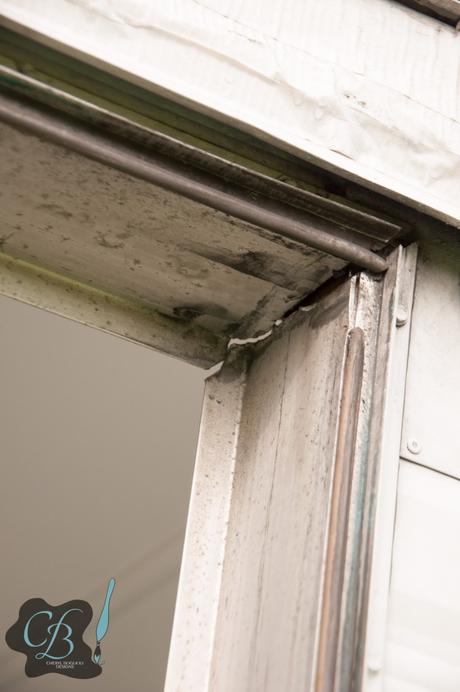 Here is a close up view for you! This will need to be welded.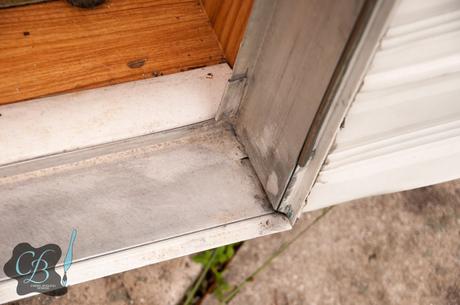 And the bottom of the door frame started separating as well. YOU can see that large crack forming.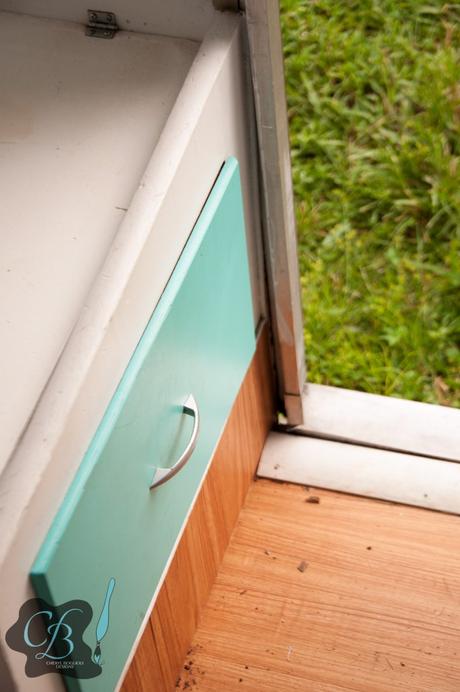 From the inside, you can see where the bottom part actually started coming away from the frame and you can see that little corner of light coming in from left side of the door frame floor?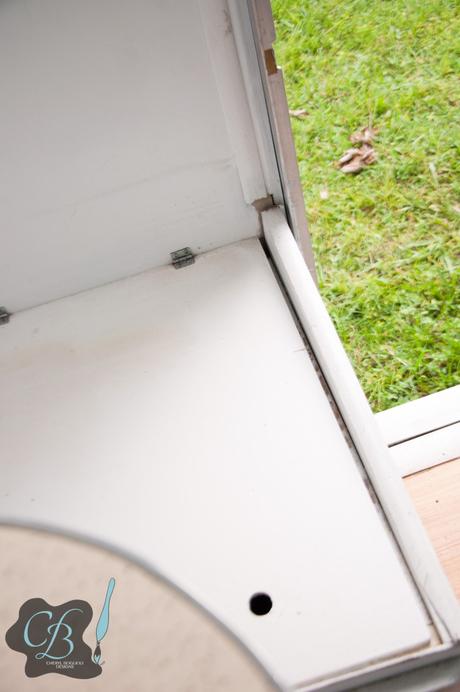 Which in turn caused my whole dinette to drop about 1 inch. You can see near the back where it no longer meets the trim because of said drop of floor.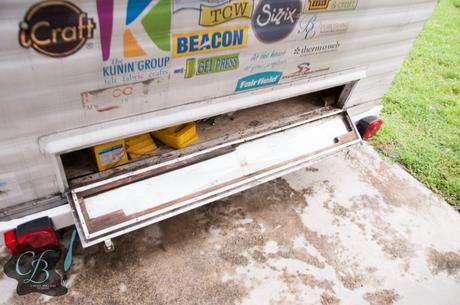 Trunk is definitely falling apart. Inside of truck door has totally rotted out.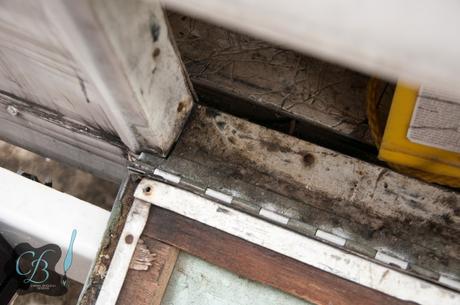 And when we peek inside, you can see where the back wall is literally separating from the frame and the screws and nails are coming out. Lots of road grime in the trunk.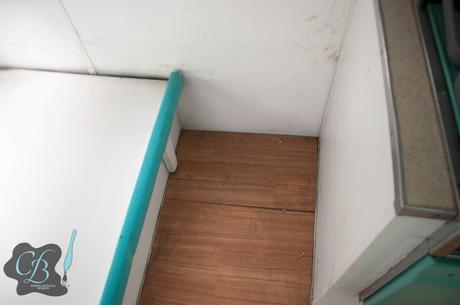 This is a view in the back looking down at the floor. You can see where the floor is separating. This is caused by outer wall moving away from frame.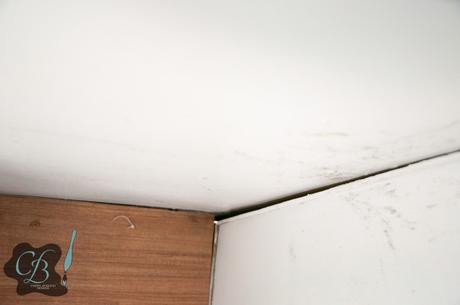 Zoom in and you can see where my kitchen counter is coming away from the wall and you can see daylight peeking in again. This was causing road grime to get in my bed and kitchen. Nasty!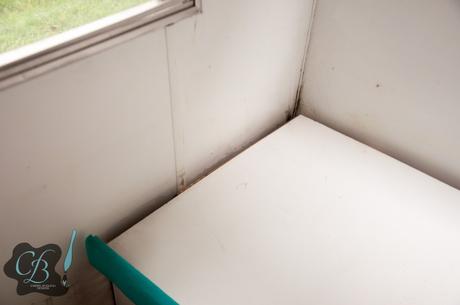 Bed used to sit flush against the wall. Are you starting to see why I was concerned a wall might just fall off going down the road?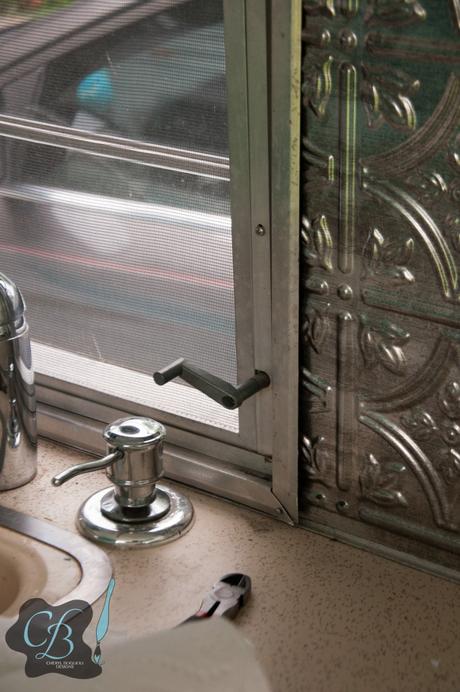 Another window frame coming out in the kitchen window.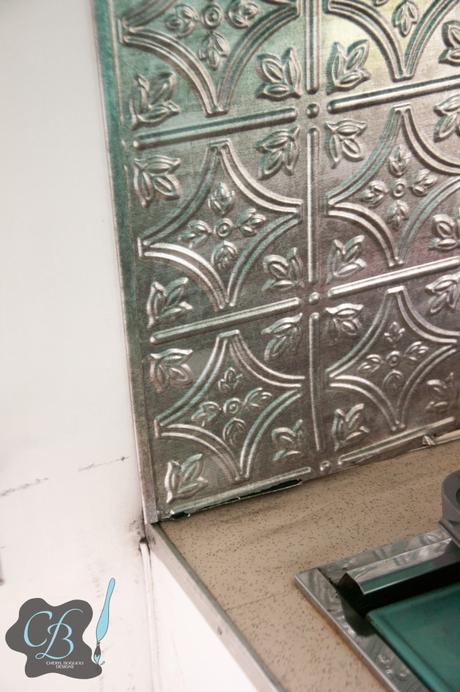 Cracks, cracks and more cracks. Bouncing around so much has caused the back wall to squish my faux tin backsplash there.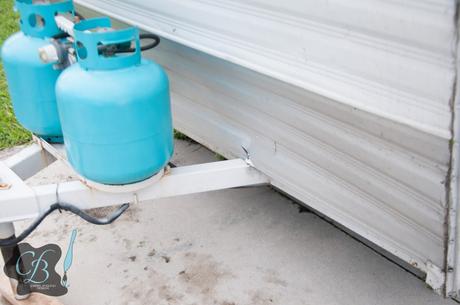 And we have more cracks in the front. Oh heck, I'm not even going to show you all the cracks on my poor girl. I'm ready to turn her over to Second Chance Restoration.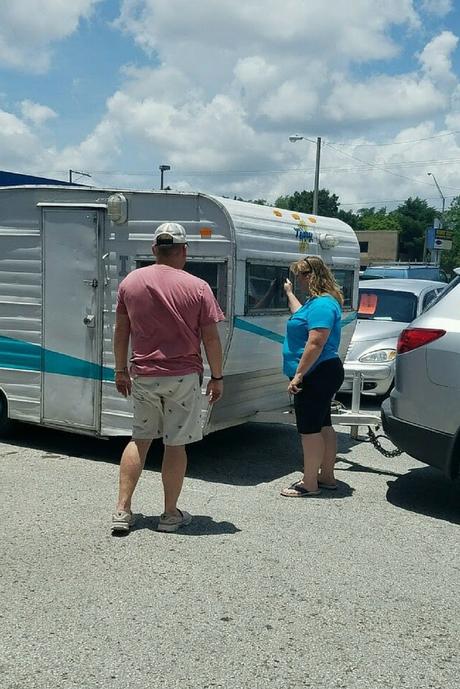 I met with Walter and he had another look at Glinda as I'm dropping her off. We talked about what I wanted to see and ideas he had to make Glinda even better. I definitely want to keep the dinette and gaucho the same dimensions because I already have those Custom Cushions. I'm past the point of worrying about keeping her original as I can't really afford that. I want a good trailer that will keep me safe on the road, relatively comfortable, and will last me another 45 years. Remember, Glinda's title claims she is a 1970, but vintage experts have said she's mid 60's so she's now older than I am! We will keep the windows and the same basic outline.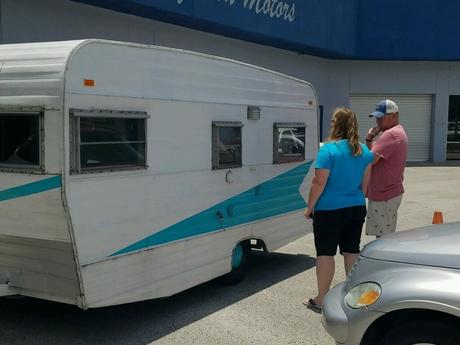 She's going to get all new hardware as far as electric and water hookup, new doorknobs and more. He says he can rebuild the trunk and make that access door larger! Yes, please. That would be so awesome.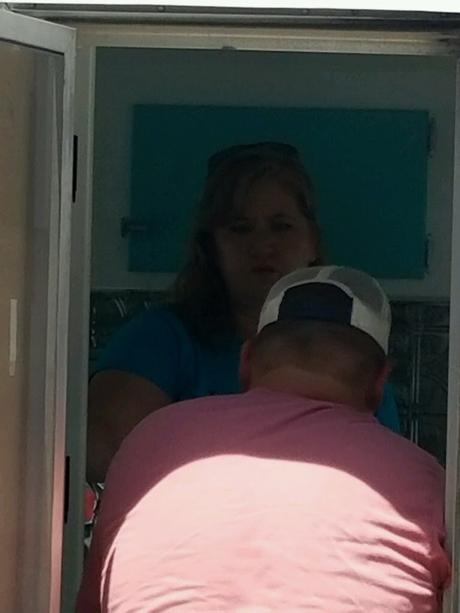 Looking inside, Walter even suggests that we raise the roofline about 4 inches to give me more standing room inside! Oh be still my heart! That would be AWESOME. I have to stoop in the back right now so that would be a huge bonus. He will even be rebuilding my cabinets and my table for me! Oh, and let's talk AC. He is going to build an AC into the upper closet above my where I store my IKEA Raskog cart! Oh my...AC? Yes!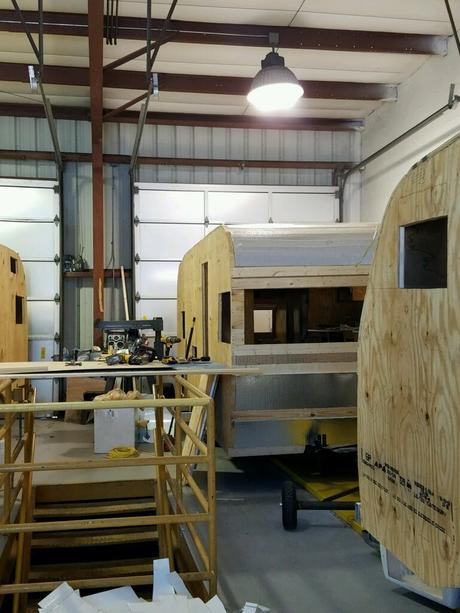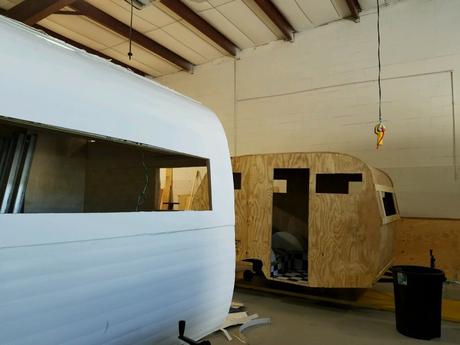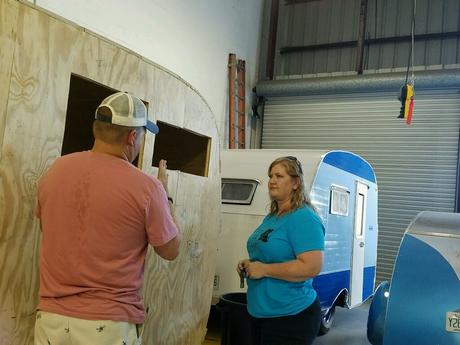 We get to take a peek inside his shop and see the beauties that he is currently working on. I'm so impressed. They look amazing. He explains how he is going to rebuild my walls with inner walls, all new framing and insulation as well as including a water barrier and outer wall before applying the new metal. This will be much more insulated than before and will be a sturdier trailer. The barrier will also better protect from any future leaks. That sounds wonderful.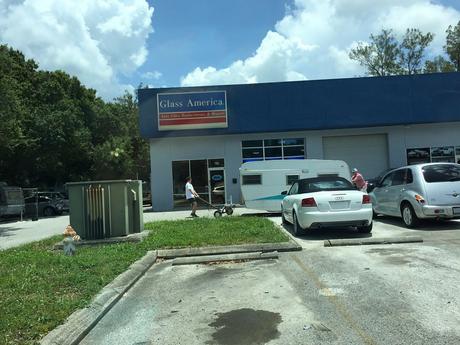 As I drove off and left Glinda, I have a lot of mixed feelings. I know she needs to be fixed. I'm excited about the new changes and can't wait to see what they do with her. But, I'm a little sad too. Dear hubby and I have learned a lot since we first brought her home. While we could now do a much better job than we did previously, we do not have the time it would take to do it right. We also do not have the skills that Second Chance Camper Restoration has at all. But we put a lot of love, sweat, and tears (we're not even going to discuss the money) into making Glinda what she became. She's been my little celebrity and traveling companion for the last couple of years. Much of what we built will be torn away. She'll have to be totally glamped back out again when I get her back and I'll be crunched for time to get it done before my next trip to the midwest. I feel like I'm leaving a kid at summer camp. I will try to get some updates and share them with you, but I should definitely have a brand new Glinda to share with you by the first of September!
In the meantime, I need to finish routing my trip for September and October. I'm heading back to Minnesota, Iowa, Illinois and stops along the way and back. If you have any stores along the route from Florida to Minnesota, let me know. I'd love to stop and visit and let's get painty together!