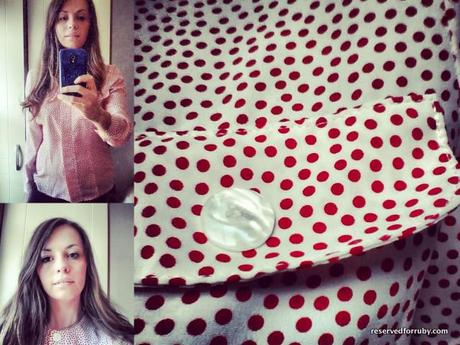 Annie And The Mannequins is a small online boutique who sell their amazing vintage collection on eBay and on the ASOS Marketplace. What I love most about vintage is, no one else has the same thing! This is part deux of my shopping spree that arrived in a pretty package yesterday.
The blouse has a silk feel but 100% polyester and it is cream in color covered in small red polka dots. I wore this with skinny blue jeans but I can imagine back in the 80's this was worn with a very long skirt. I would feel as though the outfit swallowed me up if I wore this with a long skirt! I am slowly starting to build my collection of vintage clothing from Chanel-esque jackets (can't quite afford the real Chanel) to blouses and silk scarves. It is unbelievable how many beautiful silk scarves which can be found in many vintage shops. 
I mentioned it before but I have to recommend, once again, Rockit, in Covent Garden which stocks a huge selection of silk scarves and I can't buy enough!
In "le Marais" district of Paris I found some amazing vintage shops but I didn't have as much time I would have liked to browse through the rails. I was on a mission to see every tourist attraction as it was my first time in Paris, however, next time I will focus on the vintage shops!