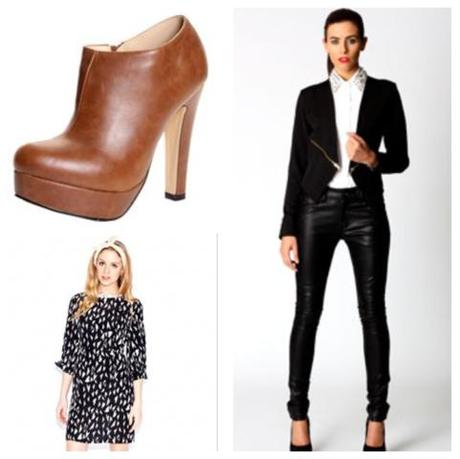 I decided to undertake quite a challenge..to find a complete outfit for £50 or under. I am known for my bargain hunting or "stumbling upon" as I prefer to call it

! Where better to piece together a complete outfit than boohoo.com. 

Alot of the time, I like to begin with a great pair of boots or shoes and work my way up. The boots I  selected are these beautiful tan ankle boots, at only £20. They really remind me of a pair boots that Mollie from the Saturdays wears. 

I teamed this with a beautiful monochrome heart print dress with a pearl neckline. The pearl neckline really stands and makes the dress look very classic. I can't believe this dress is only £10. The detail in the sleeves and neckline alone make it look more expensive. 

The black jacket will make the dress "dressier" for day or evening, and I would definitely wear this jacket with jeans and a tee to make it more casual. I cant live without a black blazer or jacket in my wardrobe, it is always something you will reach for in a rush. This is a steal at £20. 

The whole outfit comes to exactly £50 and the best thing is, each individual piece can be worn with multiple items in my wardrobe. The ankle boots are great with skinny jeans or jeggings. The dress with a chunky knit, tights and flats and the jacket with all my dresses and jeans. 

I am always in search of discount codes for ASOS, Boohoo, Oasis, Warehouse and Topshop online. If you haven't already checked it out, http://www.fashionvouchers.com/ have amazing offers and discount codes for Motel, Debehams, Boohoo, Boots and so many good online stories. By far one of the best discount sites for online fashion retailers.

Let me know what you think of my outfit for £50 below!