Vieux Carré Absinthe is very likely the best contribution Pennsylvania has ever made to New Orleans. Produced by Philadelphia Distilling, I have to say that this – beautifully designed and skillfully marketed – bottle has won our boozey hearts. While we haven't had the opportunity to sample a huge variety of absinthes this is the only one (so far – we do live in a pretty restricted state, booze-buying wise) that I really liked, aside from our friend and absintheur Colin's own private batch. We've heard that Vieux Carré might be considered a beginners-level introduction to absinthe, but you're going to love mixing with it anyway.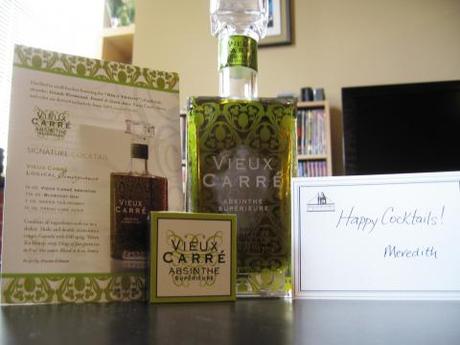 The care package we received from Philadelphia Distilling.
One thing that I think sets Vieux Carré apart is the finish. In other absinthes we've found that there's an earthier, slightly bitter end note, but Vieux Carré lacks that – making it so easy to drink and mix. It makes a great Death in the Afternoon, among other cocktails we'll post this week. And of course, because Vieux Carré neat is 120 proof, I like to draw it out and enjoy the flavors by adding two parts club soda to one part absinthe. Absinthe and soda isn't the most traditional way to enjoy Vieux Carré, but I think it's a great casual drink.
After investing in a $60-some bottle of liquor, some people might be put off by the sediment in the bottle. However, those are finely ground herbs and spices used in the post-distillation process, and sign that you have a well-crafted (as opposed to factory produced) absinthe. Besides which, it looks nice floating at the top of your louched absinthe.
If you find yourself with the extra cash and the desire to try something new, this is a way to add something special to your home bar. And don't worry, one bottle goes a long way.
DISCLAIMER: This is a product that we received, free, for the purpose of reviewing. If you would like us to review your products, you can contact us at [email protected]
Advertisement