As Ralph's been know to say on more than one occasion "it's not just about the bands" although in this case it is about the bands making some money from their music and videos!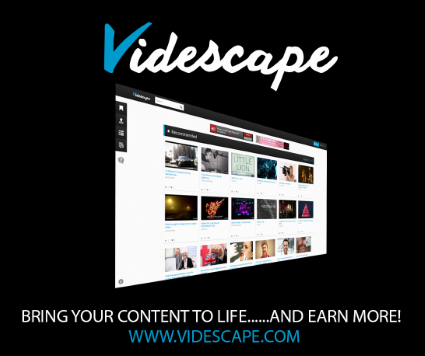 Up until now your best option for getting yourself noticed is YouTube, Vimeo or Vevo and their ilk however, there's a new kid on the block in the shape of
Videscape
. It's a brand spanking new video and audio streaming platform which should allow it's users to make substantially more money per view than similar streaming sites.
With that in mind Ralph's decided to have a go and put up a video himself as the minimum
Videscape
pay out is 1 cent per stream, which is massive compared to YouTube!
Ralph was so impressed he put his famous football video on Videscape but also asked Tom Oswald, CEO of the UK based site about its ethos and potential -
"Videscape was created to specifically give content creators a place to put their videos outside of YouTube. We want this site to host the latest in music, documentaries, how to videos, gaming, factual and contextual content and basically anything that is useful to people. We want the site to be where people go who are serious about their videos. Where they are recognised and rewarded accordingly for their work. We don't have huge amounts of video dating back over 10 years to drain our resources; We have been built from the ground up with the aim to finally make streaming a viable income, as streaming, both video and audio, is very much the future"
Excellent news as you can use video and audio to promote and share your music whether it's to existing fans or to gain new ones.  Is there a bigger chance of getting more views on VidEscape over YouTube? 
Tom Oswald went on to say -
"Consider this; your 3 minute video is going to get instantly lost in the 100 hours of video uploaded to YouTube every second, furthermore did you know that viral videos are actually 'seeded' to become viral? If you upload a music video to YouTube do you have the £100,000 you need to get it into the multi millions of views that are needed to get you even close to the leader board?….On our platform you won't be competing with major labels or major corporations which mean you won't be competing with 100's millions of views to get on our leader boards. What does this mean? A considerably higher chance of your video being seen by users of the platform, as VidEscape is a level playing field, not one that is skewed hugely in the favour of massivecorporates."