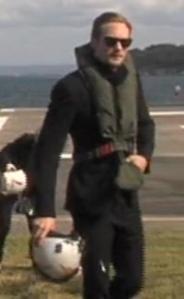 Alexander Skarsgard arrived on the scene in Japan to promote his movie, Battleship – along with his director, Peter Berg and his co-stars; Taylor Kitsch, Brooklyn Decker and Rihanna!
We have a couple of videos from this event to share with you! The first one shows him arriving in style in a helicopter! There's an interview with Brooklyn Decker and Rihanna. Plus, some video footage from the pictures we posted yesterday!
Unfortunately, we couldn't get the player to work for us, but you can watch this first one on this link: VIDS – Video – Battleship Stars Visit USS George Washington and Fleet Activities Yokosuka
Next on your viewing pleasure list, is a video from the Meet and Greet! Alex doesn't say anything in this video, but feel free to gaze at his yumminess as he switches microphones with Rihanna and then poses for pictures with one lucky Japanese fan!
Here's my

for what it's worth…
The first video: I found it amusing that Alex was the first one I spotted, just because he towers over everyone else!
The second video: I thought it was sweet of him to switch his microphone with Rihanna because hers didn't work.
What do you think? Share your thoughts below!
PS. We have added the first video (Alex arriving via helicopter) to our Vodpod account, meaning you can watch it on our Vodpod player in the footer of our site whenever you would like!