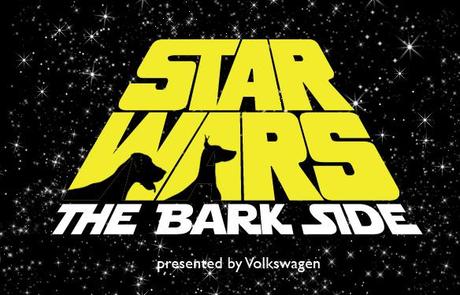 The Bark Side featuring 11 dogs barking to the tune of the Imperial March | Illustration: Haus Of Paws

Ever wonder what 
C3PO, Chewbacca, Darth Vader, 
Han Solo, Luke Skywalker, Obiwan Kenobi,
Princess Leia, R2D2, Stormtrooper, Yoda and an Ewok would be like if they were dogs?
 Get ready as the Pet World meets Star Wars in this 2012 viral Star Wars-themed commercial for Volkswagen, featuring 11 dogs barking to the theme of the Imperial March.
The resulting video is a remarkable achievement in canine history! See how these dogs carry the force to the Bark Side!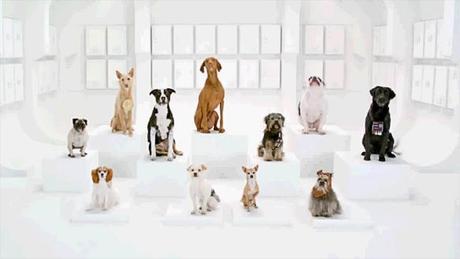 The cast of the Bark Side featuring 11 talented dogs barking to the tune of the Imperial March | YouTube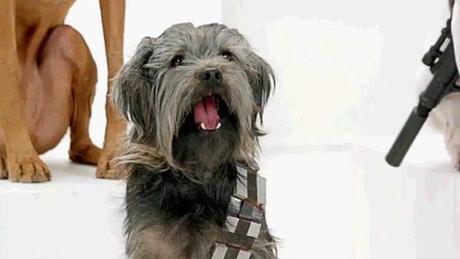 The Bark Side featuring a dog dressed as Chewbacca | YouTube
Could 11 dogs pull off
the cast and crew of Star Wars? In this intergalactic set that would do Lord Vader proud, we are treated to a stage full of dogs in what appears to be a set mimicking a spaceship. 
Each dog is suppose to resemble each character from the sci-fi film with a large iconic amulet around their neck. Recognize Darth Vader? He's the black dog on the 2nd row with the Darth Vader console strapped around his chest or C3PO? He's the yellow canine on the 3rd row on the left with a round, golden saucer around his neck. If you can spot Princess Leia you get exra points (hint: recognize the hairdo?)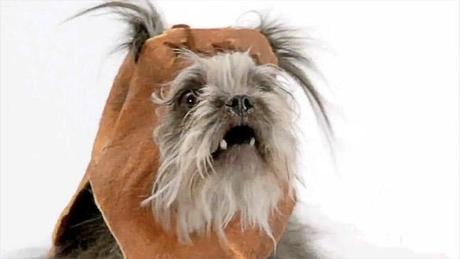 This adorable pooch plays an Ewok in the Bark Side | YouTube
As the dogs harmonize their K-9 vocals, each one touts out a unique bark that is tuned to resemble the theme to the Imperial March. At one point, you will even hear one dog belt out a Wookie roar. Their melodic rhythm is impeccably right on, like the sounds of ringing bells during the holidays - a unique experience you have to hear for yourself.
The ending features an Italian Greyhound walking across the screen dressed as an AT/AT (All Terrain Armored Transports) Imperial Walker, the large four-legged, armored vehicles that were seen on ice planet planet Hoth as featured in the film "The Empire Strikes Back." Volkswagen launched this commercial during the Superbowl game day in 2012 with a reported $7 million dollar per minute ad spend.
Also, see more dogs dressed in Star Wars costumes from our previous post.
VIDEO: The Bark Side featuring 11 dogs presented by Volkswagen.