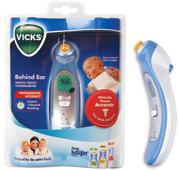 FEATURES OF THIS NEW, INNOVATIVE THERMOMETER INCLUDE:
Clinical Accuracy—Based upon professional standards.
Fast results—No need to wait to see if your child has a fever; get a reading in just one second.
No-fuss measurement—Requires just a touch.
Fever InSight®—Color-coded screen display makes it easy to understand the meaning of each temperature.
Memory system—Tracks and saves the last 8 measurements.
Easy-to-read—Designed with a large LCD display. Reads in °C and °F.
Built to last—Backed by a lifetime warranty under normal use.
Wow!  A 'behind the ear' thermometer that claims it's accurate and easy to use for both user and recipient.
I don't know about you, but, attempting to use a regular thermometer or even those in the ear thermometers on a rambunctious toddler gives me the willies!
When I learned I was getting this 'state of the art' brand new behind the ear thermometer
from Vicks
 as a Klout perk, I was very excited!!!
Unfortunately, upon receiving the thermometer, my excitement faded quickly.
After reading the directions, I tried it out on myself.  First attempt showed I had a fever of 101.2.  Hmmm, that's weird because I didn't FEEL bad.  Next attempts showed 101.3 and 101.1.  I double checked the instructions and tried the other side of my head and made sure I had the thermometer positioned correctly.  Those attempts where 101.4 and 101.2.
To make sure I really didn't have a temperature that high, I got out my oral thermometer.  That one read 98.1 (which is about my normal temperature).  Then, I got out my old in the ear thermometer.  According to that one, my temperature was 98.6.  So, obviously no temperature!
Undeterred, I tried the behind ear thermometer on my 14 year old son.  His average temperature was 101.1.  The average temperature of my 11 year old was 100.5.  Checking them with a regular mouth thermometer they were both 98.6.
So, while this looks like a mom's dream come true, in practice, it does not work!
Disclaimer:
I was given a free product or sample because I'm a Klout influencer.  I am under no obligation to receive the sample or talk about this company.  I get no additional benefits for talking about the product or company. This post written and property of Homeschool Circus and can be found at: www.upatdawnreadytowork.com.