New to little Indiana? Subscribe for free to my RSS feed. Thanks for stopping by!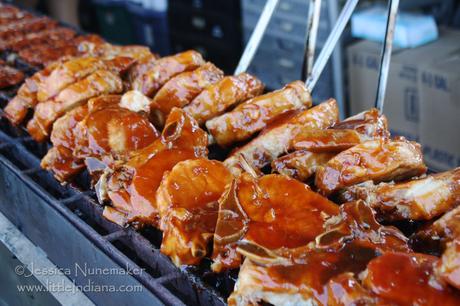 Vevay, Indiana: Swiss Wine Festival Food
Vevay, Indiana has an unusual heritage–they were the first commercial wine producers in the country.
So, how does Vevay pay homage to their beginnings? With the grand and well-planned Swiss Wine Festival that's fun for the whole family!
Swiss Wine Festival in Vevay, Indiana
You wouldn't think that wine and family would go hand in hand (or maybe you would) but in Vevay, Indiana? This small Indiana town has managed to build a festival that doesn't neglect any age group–or interest!
Fair food? Got it. Wine tasting pavilion? It's there. Beer garden? That too! Kiddie Carnival rides? Absolutely! River boat cruises? Yup. Fireworks? Amazing!
That is only the beginning!
Indiana Wine
In case you hadn't noticed, Indiana wine is really gaining a foothold in the wine industry. In other words? Indiana wine keeps winning awards!
I think there's a good reason for that–before the winery became synonymous with California, well, us Hoosiers were the ones stomping the grapes.
As the first commercial wine producer in the country, the population of little Vevay, Indiana temporarily explodes as folks roll in from across the state to enjoy this huge Southeast Indiana festival.
The Layout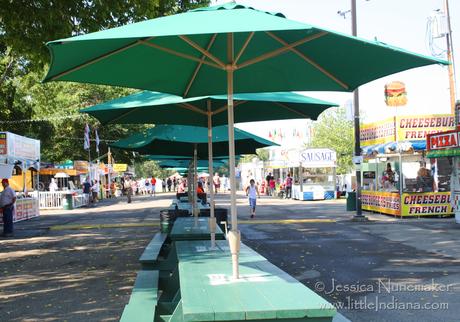 Vevay, Indiana: Swiss Wine Festival Food Vendors and Covered Seating
This festival was so organized! I mean, everything flowed together so well.
Right down the middle of the food area was the line of picnic tables with matching green umbrellas. It provided a nice shady spot to enjoy all that fair food.
There was even live music right there entertaining the crowd of munchers. The kids loved that! A bit of unexpected fun in the center of it all.
Things to Do at The Swiss Wine Festival
When not eating or shopping (there were even Indiana Amish goods up for grabs), you could check out one of the three stages.
Vevay had rotating acts and activities all listed in a nice, full-color brochure. Fancy!
There were a couple of competitions we thought were fun: The rock-throwing competition with three weights to choose from, the Swiss costume contest, and the grape stomp for kids and adults.
Swiss Wine Festival Tips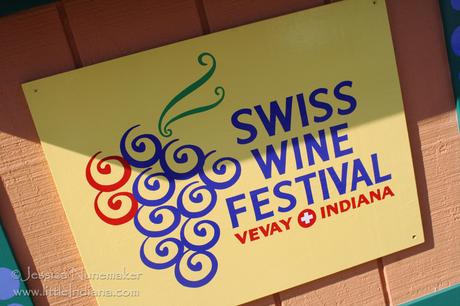 Vevay, Indiana: Swiss Wine Festival
With a festival this big and popular, I've got a few tips for you!
First–if you aren't there specifically to drink wine, make sure to check out the festival at the fairgrounds in the morning–just be aware that the parade may block your path.
You can beat the heat and have the booths mostly to yourself!
If you don't like to fight crowds or traffic, avoid the Swiss Wine Festival in the late afternoon.
Even though many downtown Vevay shops are closed, you will still find a few places open for business. Just know that the traffic increases as people make their way to and from the festival at this point.
Otherwise, make that the time you check out the riverboat or head for your place of lodging.
But if you are there to drink wine? Well, anytime is a good time!
Swiss Wine Festival Grape Stomp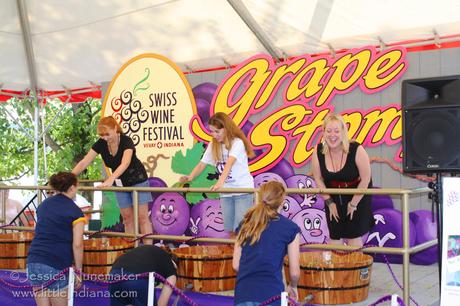 Vevay, Indiana: Swiss Wine Festival Media Celebrity Grape Stomp
little Indiana was invited to be a part of the 3rd Annual Media Celebrity Grape Stomp. I am happy to say that I placed third!
You'll have to keep watch for the dirt on that one. It's definitely something I never in a million years thought I would do.
It's a fantastic Indiana festival in a really great small town. We had a lot of fun and can't wait to go back!
Grape Fun
Thanks to Angie Satterfield and the Switzerland County Recreation, Tourism, and Convention Commission for hosting little Indiana! Opinions are mine and mine alone (as always).
See more Vevay, Indiana images and other pictures in Indiana on my Flickr photostream.
Vevay, Indiana in Switzerland County

View Larger Map
little Indiana: Where to Stay, Play, and Eat in Small Towns in Indiana. Discovering Indiana's best small towns! Now get little Indiana on your Kindle.
New! Offering affordable online advertising for your small Indiana business! little Indiana Businesses is the online presence that you've been looking for.