Convinced? If you are convinced that these are very moist and chocolaty Devil's food cupcakes, I hope that you will bake along this recipe with Joyce from
Kitchen Flavours, Lena from Frozen wings and me.
Isn't it nice if you can will enjoy these cupcakes like how we did? :) 1/2 cup (50g) natural unsweetened cocoa powder, preferably Dutch processed cocoa powder like
Here's the recipe that is from the book, Bon Appetit by Barbara Fairchild
(with my notes and slight modification in blue)
Makes 16-18 cupcakes
Valrhona
2 ounces or 60g high quality milk chocolate (such as Lindt or Perugina), chopped 1/2 cup canola oil or any healthful and neutral tasting oil like
(I used the dark chocolate with 40% cocoa)
1/2 cup boiling water
1/2 cup buttermilk or yogurt
1 cup (150g) cake flour
3/4 tsp baking soda or 1 tsp baking powder
1/2 tsp salt
2/3 cup (120g) dark brown sugar*
2 large eggs
1 tsp vanilla extract
* These cupcakes are not overly sweetened so please do not reduce these amount of sugars added. Alfa one brown rice oil
Frosting
4 ounces bittersweet or semisweet chocolate (do not exceed 61% cacao), chopped
2 ounces high quality milk chocolate (such Lindt or Perugina, chopped
(For both chocolates, I have used 180g dark chocolate with 40% cocoa)
2 tbsp heavy whipping cream (I didn't add this)
2 tbsp (1/4 stick or 30g) unsalted butter
1/2 cup sour cream
1 tsp vanilla extract (or 1/2 tsp paste)
1/4 cup (25g) powdered / icing sugar
Preheat oven to 350°F or 180°C. Line 16 standard (1/3-cup) muffin cups with paper liners. Combine cocoa powder and chocolate in medium bowl. Pour 1/2 cup boiling water over; whisk until smooth. Whisk in buttermilk or yogurt.
Whisk flour, baking soda or baking powder, and salt in another medium bowl to blend. Using electric mixer, beat brown sugar, oil, 1/2 cup sugar, eggs, and vanilla in large bowl until light and creamy, about 2 mins. Beat in flour mixture, alternating with chocolate mixture in 2 additions. Divide batter among paper liners.
Bake until tester inserted into center comes out with some crumbs attached, about 18 mins - I baked mine for only 15 mins. Cool in pans on cooling rack 10 mins. Transfer cupcakes to rack and cool completely.
Stir both chocolates, cream (I didn't add this), and butter in medium bowl over saucepan of simmering water until melted and smooth. Remove from over water. Whisk in sour cream and vanilla, then powdered / icing sugar. Let stand until thick enough to spread, about 10 mins.
Do ahead: Can be made 3 days ahead. Store frosted cupcakes airtight at room temperature.
I made only half the amount of the frosting to frost half of these cupcakes and made the other half later when required and I will tell you why later...
Happy Baking
Please support me and like me at Facebook...
For the cupcakes: For the frosting:
Here are our friends that have joined us for this bake-along. Please visit their blogs for more of their Devil's food cupcakes baking.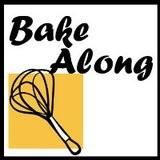 Please submit your details if you wish to link your post with this bake-along. This linking tool is open from 23 July to 1 Aug 2015.


For our next bake-along, we are baking Hokkaido Chiffon Cupcakes which is to be posted on 6 Aug 2015. Please bake-along with us! All you need to do is to bake your favourite Hokkaiddo chiffon cupcakes and link with us for the next 10 days.

Before linking with us, please make sure that: (1) Your post must be a current post. (2) Please mention Bake-Along in your post and link back to any of our hosts' Bake-Along post, (Joyce, Lena or Zoe). (3) Appreciate if you can display the Bake-Along badge in your post when linking up with us. Cheers!