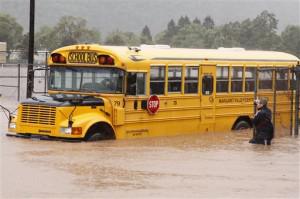 Students for across the state of Vermont have been stepping up to the fundraising plate the past couple of weeks to help those suffering from Hurricane Irene's damage. Strangely enough the devastation has actually had an empowering effect in the school sports community.
 In the aftermath of all the damage and heartache, the Vermont sporting community has tightly bonded, with just about everyone willing to lend a helping hand.

"I've been teaching at Harwood for 35 years," the school's cross country coach John Kerrigan said, "and never have I seen so much school spirit and sense of pride.

"It's one of the big positives that has come out of dealing with so much adversity," added Kerrigan, whose runners have spent hours shoveling mud out of basements and removing debris in hard-hit areas of the central Vermont school district
 School sports teams have had to play their scheduled games in alternate locations in order to continue the season. Other teams have had to travel three times the distance because of road detours but their grit and kindness are still showing through. The state has seen unprompted fundraising events for team rivals. The Fairfax football team raised money and school supplies for Woodstock before the football game between the teams.
 Essex School has officially adopted South Royalton in order to help them recover after a devastating loss to the school left them just with basketballs and uniforms. The acts of charity and help have been inspiring considering that these schools play in different divisions.
 Through the past couple of weeks after Irene schools have donated proceeds of raffle sales to other schools, waived admission fees to those bringing food donations for the cause and students and faculty lending time and effort to the clean up from the hurricane. Everybody has participated.
 "It's really nice to know we are helping. I can't even imagine if we lost everything and couldn't continue our season," said Amy Yandow, an Essex senior cheerleader and member of the leadership council. "We take sports as a privilege and we want to get it back to where it was for them."
 Sportsmanship has been learned on the field and these events are showing the students are prepared to put it into action in real life too!
 If you would like to help out for these issues or for your own school sports fundraisers contact us.