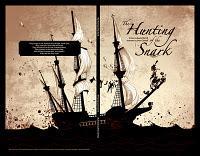 Picture of Ship by

The Hunting of the Snark by Lewis Carrol (1874)
Length: 291-307 in the Oxford Book of Narrative Verse. 
Genre: Nonsense Lyric Poem in a form of an adventure.
 Non Spoiler Summary
This story is a nod to all that travel is, where it is more fun to get lost than to stick to the route.  A blank map leads our way.
The hapless souls out at sea are searching for the snark and avoiding the Jubjub and Boojum that would mark certain discourteous disaster. Will they or will they not find their antediluvian Snark? 
Quote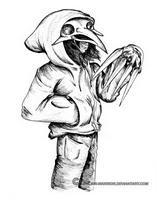 Drawn by A. Hylian Warrior
Other maps are such shapes, their islands and capes!
But we've got our brave Captain to thank'
(so the crew would protest) ' that he's bought us the best
A perfect and absolute blank!'
Writers Notes
Write the summation of a process in verse. How you solved a problem and then use numbers instead of words to add it all up.  Include enough technical words on your subject to seem like an expert.  But be obvious about making mistakes.
   The sums do not have to add up, this is a good way to show that you are off your rocker.   The man can't even divide by two, or add or subtract.  So this man is leading a bunch of crazies off the cliff.... into the unknown:
Two added to one - if that could be done'
It said ' with one's fingers and thmbs!"
See page 301 of the Oxford Collection of Verse.
Tidbits
Eight nonsense words from the "Jabberwocky" that do appear are bandersnatch, beamish, frumious, galumphing, jubjub, mimsiest (which appeared as mimsy in "Jabberwocky"), outgrabe and uffish. 
In the fantasy series A Song of Ice and Fire by George R.R. Martin, a character named Tyrion Lannister jokes about being afraid of Snarks, referring to them as imaginary monsters of childhood. The first instance occurs in the first book of the series, A Game of Thrones, and other instances occur throughout the series.
The Boojum tree, a bizarre kind of tree native to Baja California, was named after the Boojum in the poem