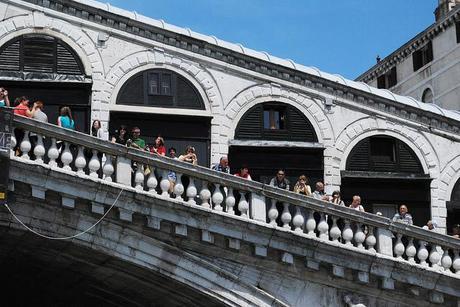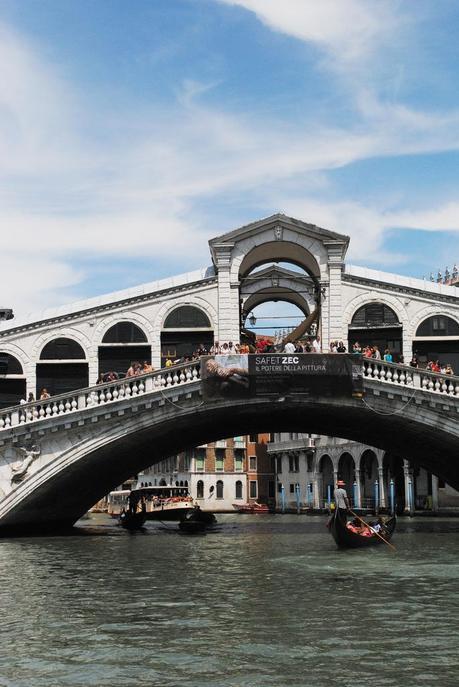 On one of our many walks, we strolled by the Venice Rialto Bridge and its wonderful day market full of shops, tourist stands and amazing food! This area of Venice has been a popular destination for ages. Where the now study Rialto stands today there have always been large bridges providing easy access on foot from one side the canal to the other.  Earlier wooden bridges actually collapsed under the weight of the shops and pedestrian traffic that passed through this waterway on a daily basis.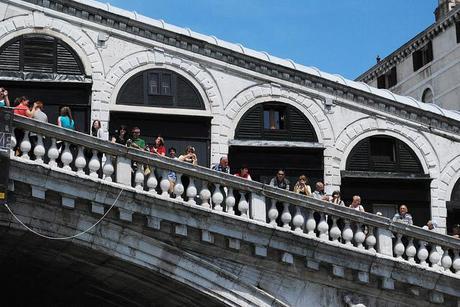 The new bridge that stands here today was built in 1588 by he architect, Antonio da Ponte ("Anthony of the Bridge,"). There was a large competition for the bridge and he won out, possibly becuase he presented a design that serviced people in godolas traveled underneath, the vendors on the bridge and the pedestrians who used it as a passageway. His main focus in his design was strength and structure. The bridge has three passage way and two different arcades on either side to provide shelter for the shops on the bridge. The bridge was so strong that it even withstood canon fire at one point duing its history.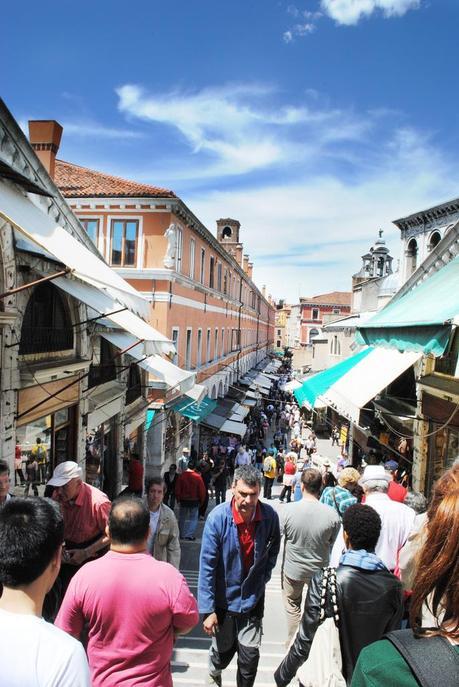 The center thoroughfare is where all the action is. Along the steps up and down the bridge you can find top quality jewelers, cafes, Murano glass shops, venetian mask sellers, and fine Burano linens. They are more expensive than other places in Venice but the atmosphere is amazing and there is a really jovial feeling as you listen to vendors bartering with their customers and vise versa.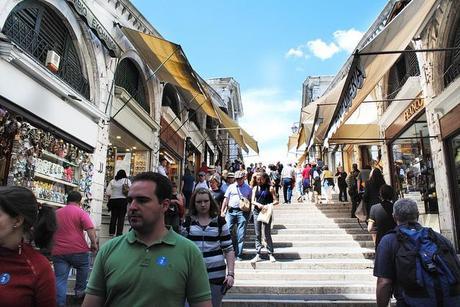 For a window shopper it is a fantasy. For me, the food was the major attraction. Plump Cannolis, colourful macaroons and shimmering, succulent gelato begged to be tasted as we pressed our noses up against the glass fronted shops.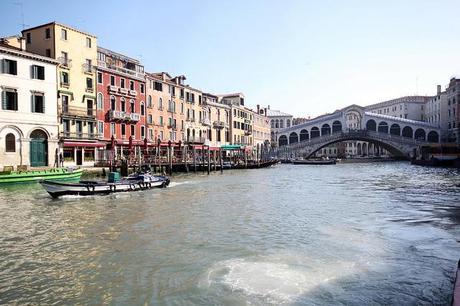 When you get tired of the high prices and calorific foods you can duck out under the middle arch and walk out onto the external balustraded footpath to admiring the houses on the canal, the detailed yet strong architectural details on the stone railings and watch vaporette and gondolas pass underneath and pop out from below. Sitting out here, licking gelato, you feel Venetian. Enjoying the sun, the fun and fabulous fares on offer.