Venice has some of the most unique, colourful and wonderfully design pastry windows. I have been to Paris and they, for the most part, are a little too uptight with their window designs. Everything tends to be a little too manicured for me. Although, I won't lie, it is delicious, life altering food found inside. But in Venice Pastry shops feel a little more like real pastry shops. Hand lettered signs hang in the window advertising the different varieties of food on offer.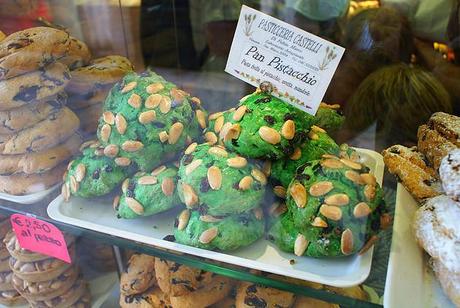 The one thing I always wish I did more of was photograph more every day things that later are really some of the most important things I remember from the trip. Sarah D. did a great job of doing some of this but there were so many things to see and sometimes my mouth was too full of delicious food to remember to take a picture of it before it was all gone. So thanks to some of my Flickr-mates for taking some pics of the magical food I discovered while in Venice.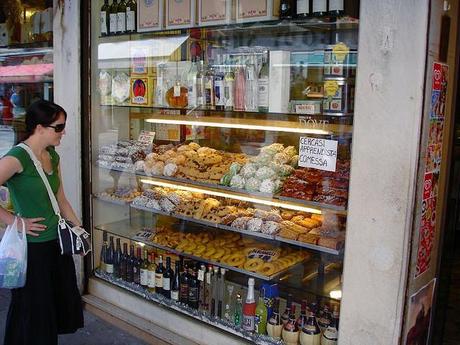 Everyone who knows me, know I adore color. Bright, shiny, vibrant, unique - COLOUR! While walking down the streets and canals of Venice, I kept coming upon this wonderous creation. It was a brightly green coloured - cookie shaped - meringue like - pistachio covered pastry. I had no idea what it was. The italian gave no clue but it looked like a dessert from what I could tell.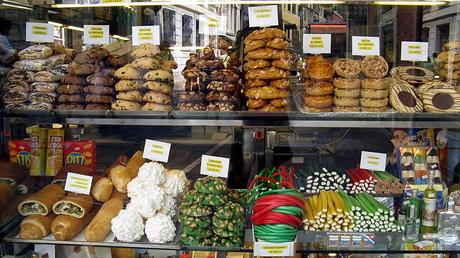 These buns were called Fisherman Buns since they stay fresh for a long time and could be taken out on long fishing trips. They are one pastry that is mainly found and originated in Venice since its proximity to the sea and its use for the fisherman who work there. The main ingredients in these buns are flours, sugar, raisins and eggs and these green ones are made with pistachios. When you bit into it, the first thing that happens is you realize that it is more like a macaroon then a cookie since it is very light and airy. The hard nuts inside provide contrast to the airy nature of sugar and eggs. Since we were all go-go-go I didn't have time to sit and enjoy one with tea but I think that would be its perfect mate.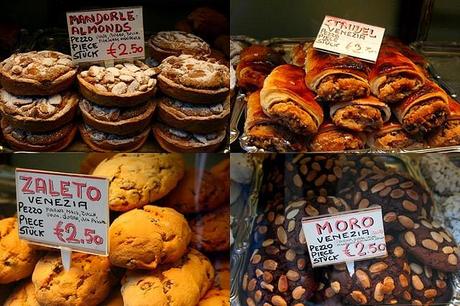 Here is a great recipe that I altered slightly to match the green pistachio ones I ate while I was in Venice;
 

Pane del Pescatore Recipe

  Ingredients:1kilo of flour (The original recipe calls for very fine yellow corn flower, but white flour is better) 5 eggs 400 grams of sugar 32 grams of baking powder 350 grams of butter  250 grams of raisins 200 grams of almonds 100 grams of pistachios  1 tsp pistachio extract  1/4 tsp green food colouring  Directions When the butter is at room temperature, start working it into the flour, adding the sugar little by little. add the yeast and the eggs. Mix all the ingredients coarsely helping yourself with a fork) then add the almonds, raisins and pine nuts. Continue to mix kneading thoroughly. Divide the dough into fairly large pieces, create your little buns roughly shaped like a half ball. You should obtain 40 to 45 biscuits. Now it's time to bake! Set the oven to 200 Celsius. When hot, put the Pane del Pescatore buns in and leave for 15 to 20 minutes, or until you see they start changing color. The dough must preserve a quite clear color to remain soft to the bite. This recipe was adapted from Experience Tuscany