New to little Indiana? Subscribe for free to my RSS feed. Thanks for stopping by!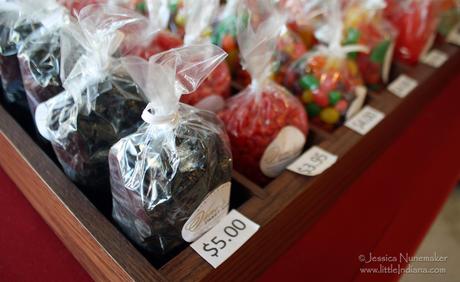 Veni's Sweet Shop: Nappanee, Indiana
Nappanee, Indiana
Yes, Veni's Sweet Shop is as good as it sounds.
Veni's Chocolate Shop in Nappanee, Indiana
Nice and bright, this shop is so welcoming. Rows and rows of chocolates in all shapes, sizes, and flavors beg to be bought and eaten behind the shining glass.
I would be lying if I said I came out of Veni's Sweet Shop empty-handed!
But it's research, right? I mean, I don't really even have a choice in the matter. I owe it to all of you to tell it like it is.
Indiana Sweet Shop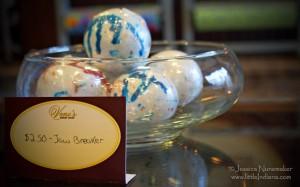 Veni's Sweet Shop: Nappanee, Indiana
After an agonizingly difficult decision, I ended up with Orange Creme, Vanilla Creme, and Mint Creme. My favorite flavors right here in little Indiana! Awesome.
Smooth and delicious–there's no additives, wax, or preservatives in these chocolatey bites of Heaven. You can definitely taste the difference. Fresh and fantastic.
At this Indiana candy store, the Orange Creme was my favorite!
Personally, I would love to do more research on Veni's Sweet Shop. Seriously. Name the day!
More Than a Chocolate Shop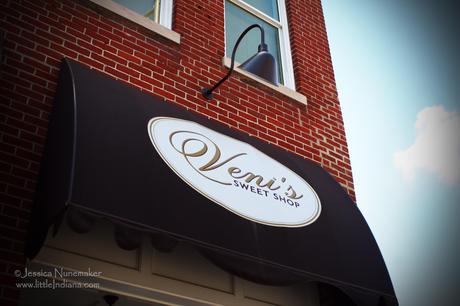 Veni's Sweet Shop: Nappanee, Indiana
This Elkhart County shop isn't only for those who need a Chocolate fix (though it certainly does the trick!).
There's a selection of nuts, candy, and even drinks–like an ice cream float or Hot Chocolate.
But more than that? I see Veni's Sweet Shop as one more reason to bypass the big box shops and to support local business. Oh, how sweet it is!
Go There
A sweet shop is just what Nappanee needed! I can't think of a better fit for this bustling Indiana town.
Find Veni's Sweet Shop images and other pictures in Indiana on my Flickr photostream.
Veni's Sweet Shop
101 West Market Street
Nappanee, Indiana 46550
574.773.4242

View Larger Map
little Indiana: Where to Stay, Play, and Eat in Small Towns in Indiana. Discovering Indiana's best small towns! Now get little Indiana on your Kindle.
Targeted. Relevant. Affordable! little Indiana advertising.