Venezuela, an oil-rich country of more than 33.22 million in South America, is on the brink of economic collapse.
The culprit? Years of socialism, especially the 15-year presidency (1998-2013) of Hugo Chávez — the dictator who was Sean Penn's best bud.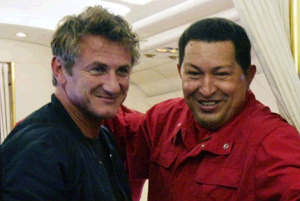 How bad is it in Venezuela?
Here are some bullets I've compiled from the Washington Post:
Instead of growing, Venezula's economy shrank 10% in 2015 and is expected to shrink an additional 6% in 2016, according to the International Monetary Fund.
Inflation is now 720%.
Venezuela is expected to default on its debt in the very near future. The country is basically bankrupt.
What brought Venezuela's economy to near-collapse, despite having the largest oil reserves in the world, is a combination of bad luck and worse policies:
Under Hugo Chávez, the government was generous with welfare, from two-cent gasoline to free housing.
But the spending was not matched by government revenue. Chávez turned the state-owned oil company from being professionally run to being barely run. People who knew what they were doing were replaced with people who were loyal to the regime. The state extracted profits from the oil company but skimped on investments to maintain the infrastructure and to blend or refine Venezuela's extra-heavy crude — neither of which is cheap — before it can be sold. As a result, Venezuela could not churn out as much oil as it used to — its oil production fell 25% between 1999 and 2013.
When the government ran out of money, it resorted to printing more money.
Then in mid-2014, oil prices started collapsing, which meant even less revenue.
So the government printed more money, which simply cheapened or devalued Venezuela's currency by 93% in the past two years.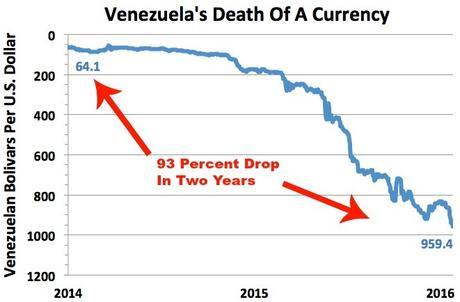 Source: dolartoday.com
The results are hyper-inflation (720%!), scarcity and rationing of food and goods, and long lines for even basic commodities. Lines are so bad the government has even started rationing those, kicking people out of line based on the last digit of their national ID card.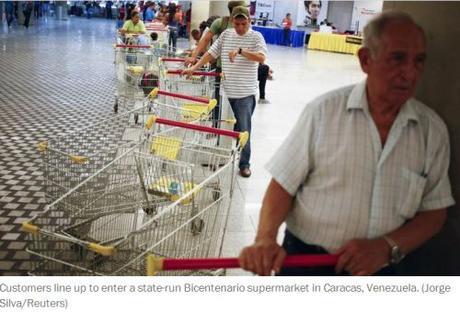 Beginning in February 2014, hundreds of thousands of Venezuelans have protested over high levels of criminal violence, inflation, and chronic scarcity of basic goods due to federal government policies.Those demonstrations and riots have resulted in 40 fatalities.
And it will only get worse, because Chávez's successor, socialist president Nicolás Maduro, has changed the law so the opposition-controlled National Assembly can't remove the central bank governor or appoint a new one. Maduro also picked someone who doesn't even believe there's such a thing as inflation to be the country's economic czar. New economic minister, the far-left Luis Salas, said: "When a person goes to a shop and finds that prices have gone up, they are not in the presence of 'inflation'." Instead, Salas insists, it's those "parasitic" capitalist businesses that are trying to push up profits as much as possible.
Matt O'Brien of the Washington Post dolefully concludes, "The only question now is whether Venezuela's government or economy will completely collapse first. The key word there is 'completely.' Both are well into their death throes."
Given the country's proximity to the United States, I predict that in addition to Cubans and Puerto Ricans, America's next swarm of illegal migrants and 'refugees' will come from Venezuela.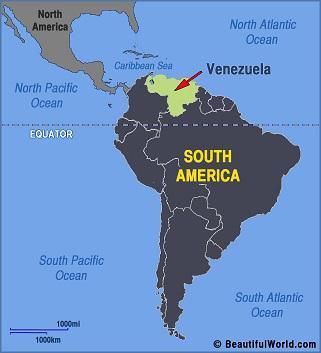 A quote attributed to Albert Einstein says that the definition of insanity is doing the same thing over and over, but expecting different results.
By that definition, liberals/Progressive/socialists are insane because they keep advocating and doing the same thing, while expecting socialist policies to work. Venezuela is simply the latest example of that lunacy.
~Eowyn