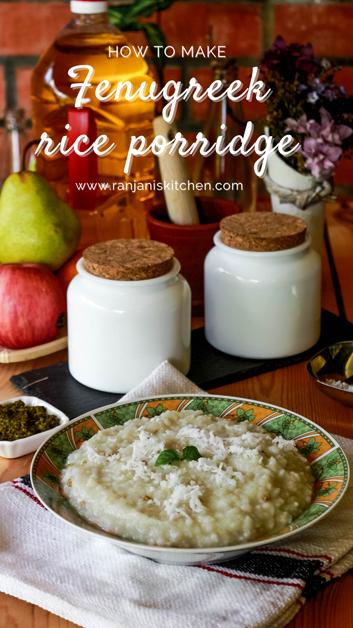 Vendhaya kanji | fenugreek rice porridge - soothing and comfort food and very light to have after fasting.
What is fenugreek rice porridge?
I would say its a porridge with medicinal values. Fenugreek and garlic in it gives you immunity and coconut milk heals stomach problems. I have read this vendhaya kanji during pregnancy and post pregnancy gives wonderful result. It is a one pot porridge. So easy to make you can done within 20 minutes.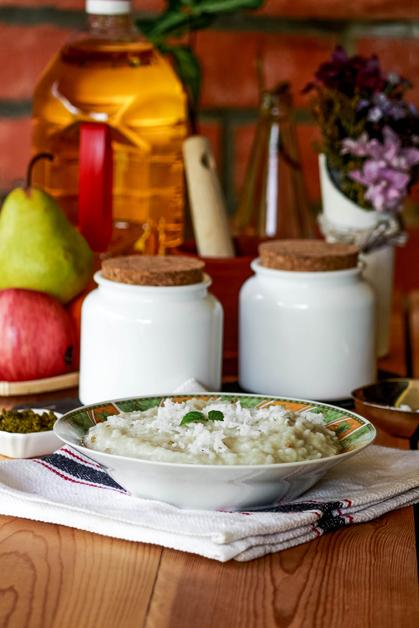 Is kanji good during pregnancy?
Yes any porridge is good during pregnancy. Some feel lack of appetite during pregnancy, so light weighted foods like porridge is good to have. It may be any nutritious porridge like health mix porridge or millets porridge or anything. But many recommends vendhaya kanji during pregnancy. So i also go with it.
Vendhaya kanji benefits:
Fenugreek rice porridge has a healing effect. It cures any ulcer especially mouth ulcer. And during fasting days, it is better to have the fenugreek porridge as first meal. Additionally it cures indigestion and high blood pressure.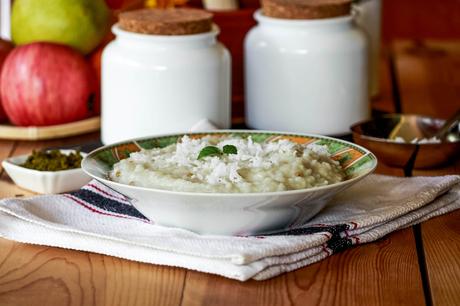 Variations:
Vendhaya kanji with coconut milk is optional. We can simply add water and consume. You can also some shredded coconut or chopped coconut pieces for better taste.
Serving suggestions:
Vendhaya kanji is good to have with any thuvayal. My personal favorite is paruppu thuvayal and vadagam thuvayal. We can also serve with pickle or pappad.
Porridge recipes:
Ingredients:
Vendhaya kanji youtube:
How to make fenugreek porridge?
In a pressure cooker,add 1 cup of rice, 1tbsp moong dal, 1 tbsp fenugreek seeds and 8 to 10 nos garlic flakes.
Rinse well for 2 to 3 times in plain water.
For 1 cup of rice, i have added 4 cups of water. Porridge should be mashy. So that i added 4 cups (1 :4 ratio)
Cover the cooker and pressure cook for 4 to 5 whistles.
Once the pressure releases, open the cooker and mash gently while it is hot.
Add 1 cup of coconut milk and mix.if you find the porridge is too thick, add some water to get the consistency of your taste.
Add salt finally and mix.
Serve with pickle or any thuvayal of your favorite.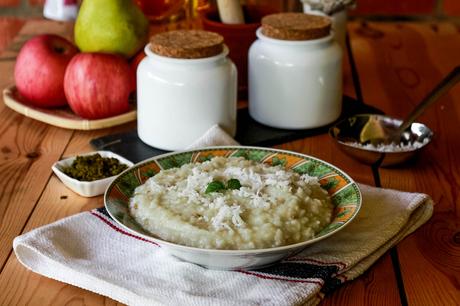 (Visited 71 times, 2 visits today)