Dalia or broken wheat is one of the most nutritious ingredient which doctors also recommend to eat... but hey who eats dalia, unless or until you are very sick and your mom makes it for you. Some of you may disagree with me but I am not a big fan of dalia.
   With a few mix and match of ingredients I made Vegetable Dalia idli and guess what it did change my opinion, yes it was yum :)
    It is a quick recipe and it is healthy too!!! What more we want from a recipe, it is a great combination of taste and health.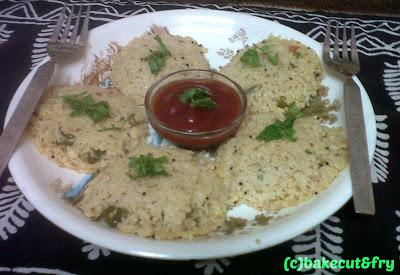 Servings : 4 persons
Preparation time : 10 mins  
Resting time : 30 mins
Cooking time : 15 mins 
Ingredients :
Broken wheat (dalia) : 3/4 cup
Semolina (Sooji) : 1/4 cup
Fresh yogurt (dahi) : 1 cup
Water : 1 cup
Green chilli (finely chopped) : 1
Ginger (finely chopped) : 1/2 tsp
Capsicum (finely chopped) : 1 medium
Tomato (diced) : 1 medium
Salt : to taste
Fruit salt (Eno) : 1/4 tsp
For tempering (tadka)  :
Oil :  2 tsp
Red chilli powder : 1/2 tsp
Curry leaves (roughly chopped) : 5-6 leaves
Mustard seeds : 1/2 tsp
Method :
1. In a mixing bowl take broken wheat (dalia), add semolina (sooji), yogurt, green chillies, ginger, capsicum, tomato, salt and water. Mix them well.
2. For the tempering : Take oil in a small frying pan, add mustard seeds, when splutter, add curry leaves and red chilli powder. 
3. Put the tempering in the mixture (step#1). Rest this batter for about 30 mins.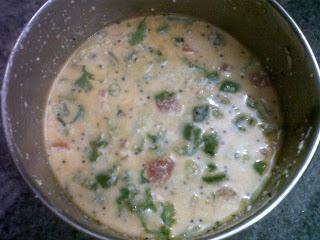 4. Grease the idli moulds with oil. 
5. When you are about to pour the batter in the moulds, just before that add fruit salt (eno) and mix it well.
6. Pour a spoonful of batter into the moulds.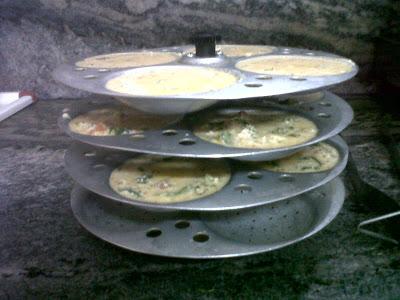 7. Steam idlis on high flame for about 15 mins.
8. Serve hot with chutney or ketchup.