Spaghetti, Bruschetta, Potatoes, Pizza, even Toast ….. there are SO many times I've sent people to my recipes that include this simple Vegan Parmesan.  
I'd say it's high time it has its own…..wouldn't you?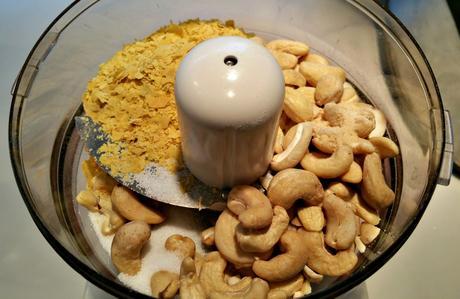 Vegan Parmesan | Brand New Vegan
Sure you can actually BUY vegan parmesan in the stores.  But why would you when you can easily make your own from just 4 simple ingredients?
Yep four – count 'em…..
Cashews
Nutritional Yeast
Garlic Powder
Salt
Easy huh?  Throw them into your favorite food processor or chopper and grind away.
I store mine in a recycled Parmesan Cheese container….yeah those green ones…..you know – with the word KRAFT on it?
Perfect container wouldn't you say? 
I ALWAYS have some of this on hand as my wife absolutely LOVES the stuff.
Now you can enjoy it too.  


Save
Print
Vegan Parmesan
Prep time:  5 mins
Total time:  5 mins
Serves: 16 servings
Serving size: 1 Tbs
Calories: 11
Fat: 1g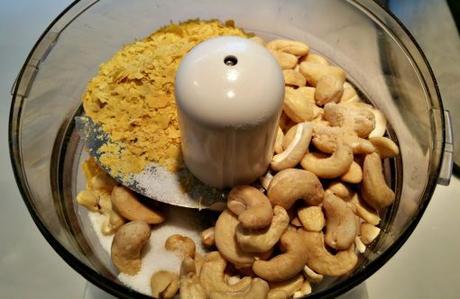 Ingredients
¾ cup Raw Cashews
3 Tbs Nutritional Yeast
¾ tsp Salt
¼ tsp Garlic Powder
Instructions
Add all ingredients to food processor or chopper and grind to desired consistency.
3.5.3208