Growing up in Indiana, we never had Hoppin John for New Year's. We usually had sauerkraut and weiners instead

. So today I'm getting back to my Southern roots and making a big batch of Vegan Instant Pot Hoppin John.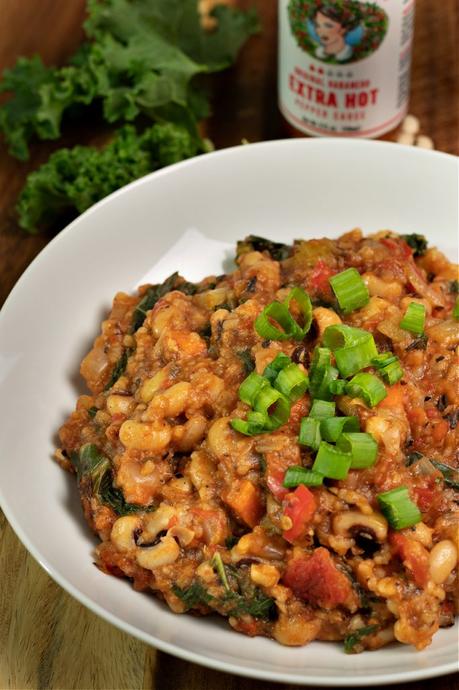 Hoppin John, for those of you who have never heard of it, is a meal made popular in the southern part of the United States. Being from Kentucky, it's strange my mom never made it, or at least that I remember. For some reason, she always made sauerkraut and weiners….ugh. And fried at that.
Hoppin John is simply smoked pork, black-eyed peas, and rice, and first appeared in a Carolina Cookbook back in 1847.
Who was this John person, and why was he hopping?
How did this recipe end up being a popular New Year's Day meal?
And what's so lucky about it?
I honestly have no idea. I know the black-eyes peas are supposed to represent 'coins', and collard greens were added to resemble "cash". And even the cornbread was said to represent 'gold'. So apparently, this recipe was meant to bring financial luck.
Not sure how true that is, but I DO know it's healthy with lots of protein, fiber, and of course all that amazing Dr. Esselstyn nitric-oxide from the greens.
As I mentioned, in the south, it is typically served with cornbread, and while I did not make any yesterday, you can find my recipe for a delicious Vegan, Oil-Free Cornbread right here.
This was totally a last-minute decision and honestly an impromptu 'throw-together' kind of meal, but it came out really good I think. So even though it's a few days late, I still hope you enjoy it.
Happy New Year!
Vegan Instant Pot Hoppin John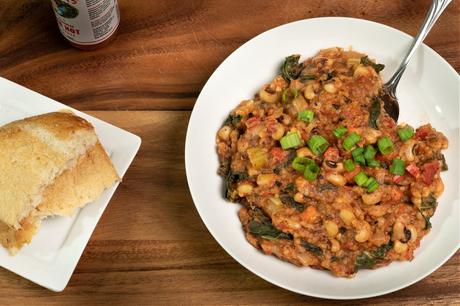 New Year's Hoppin' John | Brand New Vegan
As the name implies, this is an Instant Pot recipe. If you still don't have one yet – they ARE handy in that they take the whole "soaking the beans all night" part of cooking dried legumes completely out of the equation. Instead, you can have a dish like this, or say a big pot of Soup Beans ready in about an hour.
I'll leave my affiliate link below in case you are interested. As an Amazon Affiliate, I do make a few pennies from every purchase but at no extra cost to you.
The prep for this recipe couldn't be simpler.
Dice an onion, a few ribs of celery, and a carrot (or 2) and add them to your pot. Toss in some minced garlic, your broth, and the water.
Then rinse your rice and your black-eyed peas and add them as well.
Finally, add 2 cans of your favorite diced tomatoes (I like fire-roasted) and all the seasonings.
Don't add your greens at this point. Wait until after your beans have cooked and you have removed the lid. The heat of the soup will be enough to wilt them. Speaking of greens, I used kale but you can use collards, mustard, swiss chard, whatever greens you like.
Cook on manual, using the high-pressure setting, for about 20 minutes, then let it sit after it's finished for another 10-15 minutes before carefully removing any remaining pressure.
Carefully remove the lid, add your greens, and I like to stir in a tablespoon (or 2) of balsamic vinegar. It really adds to the flavor.
Stir and serve.
Easy, simple, tasty, and cheap too!
Here's wishing all of you a very prosperous and HEALTHY 2022!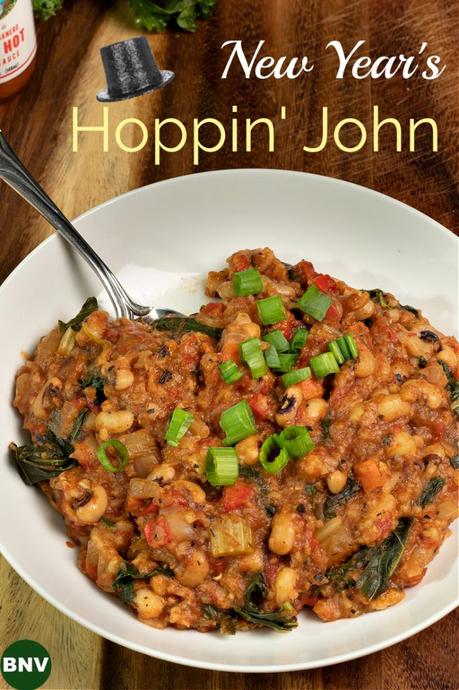 Print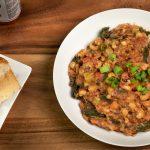 Vegan Instant Pot Hoppin John
Author:

Brand New Vegan

Prep Time:

15 min

Cook Time:

45 min

Total Time:

1 hour

Yield:

8 -10 servings

Category:

Beans, Holidays

Method:

Instant Pot

Cuisine:

American

Diet:

Vegan
Print Recipe
Pin Recipe
---
Description
Growing up in Indiana, we never had Hoppin John for New Year's. We usually had sauerkraut and weiners instead

. So today I'm getting back to my Southern roots and making a big batch of Vegan Instant Pot Hoppin John.
---
Ingredients
1

onion

2

ribs celery

1

carrot

3

cloves minced garlic

2 cups

dried black-eyed peas

1 cup

rice (I used white)

2

cans fire-roasted tomatoes (

15oz

ea)

4 cups

low sodium vegetable broth

1 cup

water

2 tsp

dried thyme

1 tsp

onion powder

1 tsp

garlic powder

1 tsp

smoked paprika

1

bay leaf

1/2

bunch kale

1 tablespoon

balsamic vinegar
hot sauce to taste
---
Instructions
Dice onion, carrot, and celery and add to instant pot
Rinse black-eyed peas and rice, and add to instant pot
Add tomatoes, broth, and water
Add the garlic and spices
Stir to mix well and attach lid.  Seal. 
Cook on manual for 20 minutes
Allow steam to vent naturally for 15 min then carefully release any remaining pressure
Remove the tough ribs from the kale and shred the leaves
Stir kale into the beans and add balsamic to flavor
Taste for seasoning
---
Notes
Tips and Donations Are ALWAYS Welcome
Keywords: hoppin john, New Years
Did you make this recipe?
Tag @brandnewvegan on Instagram and hashtag it #brandnewvegan