We were craving a breakfast dinner the other night, so I grabbed some hash browns, made some tofu eggs, and created this. I call it a Vegan Hash Brown Omelette.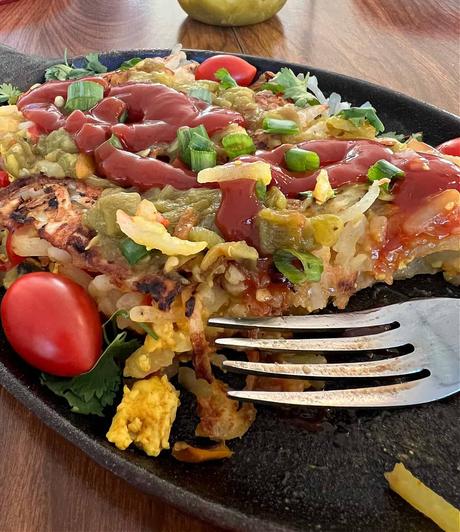 I guess it's more of a hash brown sandwich, but whatever you want to call it, it was pretty darn tasty and very filling. And of course, you can customize this a million different ways.
I used a bag of hash browns, some tofu to make the eggs, a little leftover cheese sauce, some sauteed veggies, and a few mushrooms.
Plus I cooked it on my George Foreman grill, using it like a panini press, but you can just as easily make this on a griddle.
Don't like tofu? Leave it out, or maybe try my other recipe for making vegan eggs using chickpea flour. Don't feel like cooking another recipe? If you're not too concerned with processed foods there is a product called Just Egg in the stores that I've heard is pretty good.
Same with the cheese sauce, if you don't already have some of mine in the fridge (I always do), leave it out or use something different. It's all up to you because I know sometimes you just want a quick bite to eat after a long day with the kids or at the office.
But if you want to make this the way I did - let's carry on!
Vegan Hash Brown Omelette Ingredients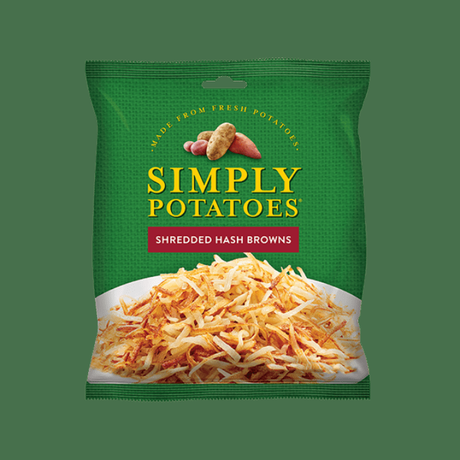 These are what I use for Vegan Hash Browns, and they are in the refrigerated cooler section of your grocery store. There is also another brand called Mr. Dells that is frozen and only has 'potatoes' on its ingredient list.
And yes, you can absolutely shred your own potatoes for this, but I like the convenience of already having them ready to go.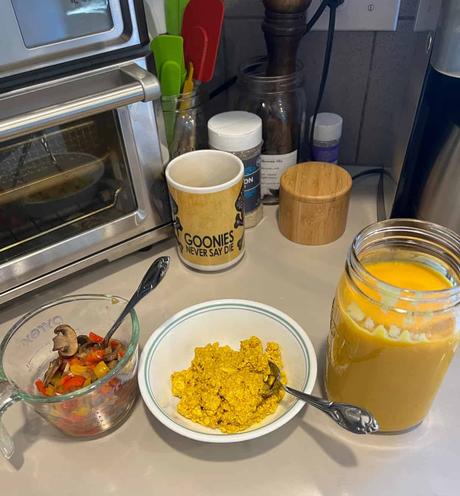 Veggies
Use whatever veggies you like, but for mine, I sauteed a little onion, red & yellow bell pepper, and a few portobello mushrooms. I had about 1 cup after they had all softened. I sauteed them in a little veggie broth with a pinch of salt. That's it.
Tofu Eggs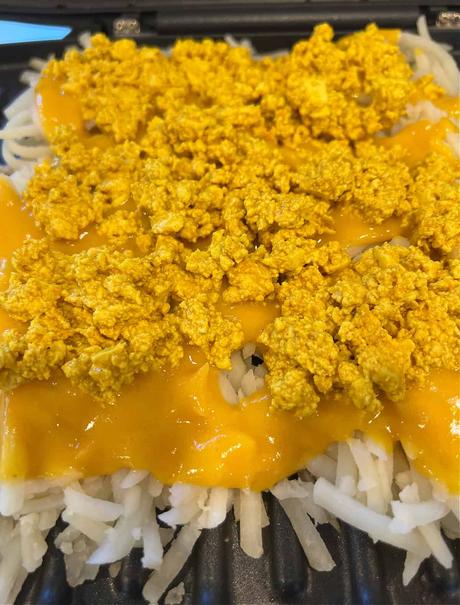 You will only need half of a 12oz package of extra-firm tofu for 1 package of Simply Potatoes. Press the water out, and then crumble it up into the same skillet you sauteed the veggies in.
Whisk all the dry ingredients into ¼ cup of plant milk (I like oat milk) and pour this into the skillet too, stirring constantly over med heat until your "eggs" have the consistency you like.
Tumeric is the key ingredient that will give your eggs their yellow color, and the Indian black salt will give them their familiar 'eggy' flavor. If you don't have the Indian black salt (also called Kala Namak) - no worries it will still be good, but if you ever get the opportunity to try it one day - I think you'll be surprised.
I'll include an affiliate link and I will make a few pennies as an Amazon affiliate if you buy any.
Vegan Cheese
The cheese sauce is kind of like the glue that holds this whole thing together. As I mentioned, I usually have my cheese sauce in the fridge, but if you aren't opposed to store-bought, Violife, Field Roast, and Miyokos are all pretty popular brands. Just sandwich a few slices between the hash browns as you're cooking and they should melt nicely.
Cooking the Vegan Omelette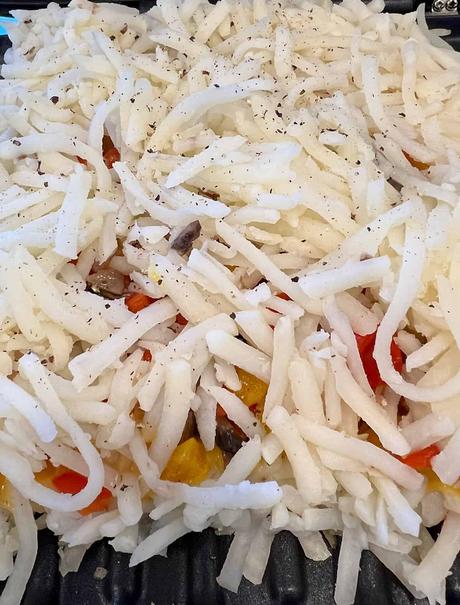 The bags of simply potatoes are 20oz in size, so after preheating your George Foreman or Panini Press, carefully spread half a bag (I think I weighed it as 279g) on your grill into a rectangular shape.
Then lay down a thin layer of cheese sauce on top of your potatoes
Then spread your tofu eggs evenly on top of that
Then spread your sauteed veggies evenly on top of the eggs
Then cover all of it with the last half of your potatoes
And close the lid - cook until browned - about 10-15 minutes but watch closely!
If you are doing this on a griddle - I would spread the entire bag of potatoes out to cook and only spread the cheese, tofu, etc. on half of it - so you can easily fold the other half over making the 'omelet'.
This recipe can (and probably will) get messy, but if you don't need to take pictures as I do, who cares right? As long as it all gets cooked and it tastes good - that's all that matters. The tofu and the veggies are already cooked, right?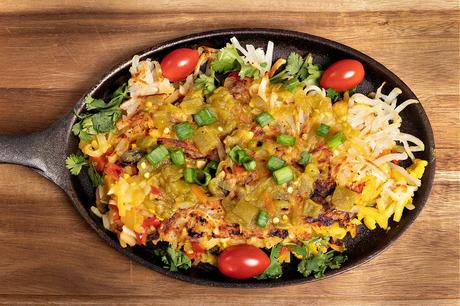 It's just browning the potatoes that can be a trick. If all else fails - layer them on a sheet pan and air fry or roast in your oven!
And finally, garnish your beautiful creation with whatever you like. I chose Hatch green chile, green onion tops, a little cilantro, and a few cherry tomatoes.
I hope you enjoy this recipe and as always, let me know in the comments how it turned out.
Until next time!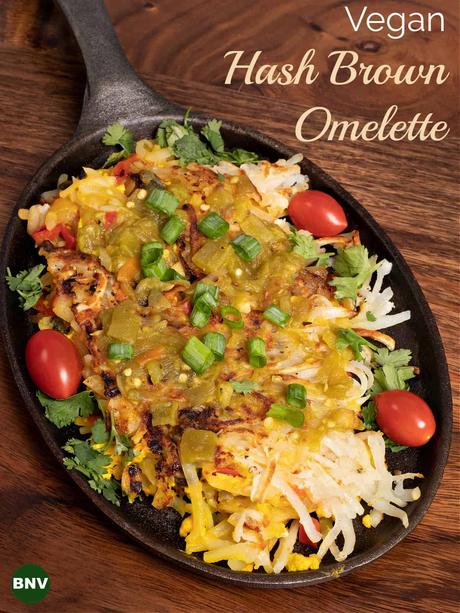 Print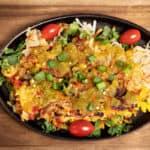 Vegan Hash Brown Recipe
Author:

Chuck Underwood

Prep Time:

45 min

Cook Time:

10 min

Total Time:

55 minutes

Yield:

2 -4 servings

Category:

Potatoes, Breakfast

Method:

Griddle

Cuisine:

American

Diet:

Vegan
Print Recipe
Pin Recipe
---
Description
We were craving a breakfast dinner the other night, so I grabbed some hash browns, made some tofu eggs, and this is what I created. I call it a Vegan Hash Brown Omelette. 
---
Ingredients
Units
20 oz

bag Simply Potatoes®
Veggies
¼

cup

white onion

¼

cup

red bell pepper

¼

cup

yellow bell pepper

¼

cup

sliced mushrooms
Tofu Eggs
6

oz

extra firm tofu

¼

cup

oat milk

1

Tbs nutritional yeast

¼ tsp

tumeric

¼ tsp

onion powder

¼ tsp

garlic powder

¼ tsp

smoked paprika

¼ tsp

kala namak black salt
Cheese
---
Instructions
Cheese
Prepare cheese sauce (if using)
Veggies
Finely chop veggies and saute in water/broth until softened
Set aside
Tofu
Press tofu to remove as much moisture as you can
Crumble into skillet and cook gently on med heat
Add seasonings to milk and stir into tofu
Cook to desired consistency and set aside
Omelette
Spread half the bag of potatoes out evenly onto your grill or panini
If using a griddle, it may be easier to spread the entire bag out so you can fold your omelette
Spread a thin layer of cheese sauce
Spread the tofu eggs evenly
Spread the veggies evenly
Top with remaining potatoes (or fold over if using a griddle)
Cook until browned - about 10-15 min (watch carefully)
Serve with your choice of garnishes
---
Notes
Like This Recipe?  Tips & Donations Are Always Appreciated!  
Keywords: vegan hash brown
Did you make this recipe?
Tag @brandnewvegan on Instagram and hashtag it #brandnewvegan
¼¼½½¾¾⅓⅓⅔⅔⅕⅕⅖⅖⅗⅗⅘⅘⅙⅙⅚⅚⅛⅛⅜⅜⅝⅝⅞⅞