Here's another end-of-summer favorite, a thick, creamy, Vegan Corn Chowder with lots of potatoes and spicy Green Chiles.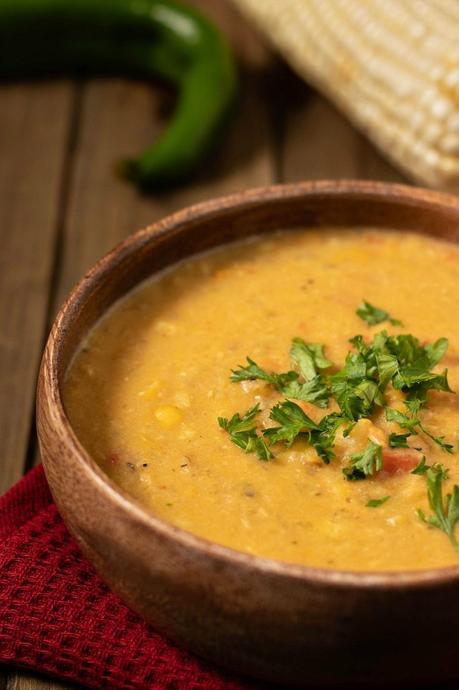 I had planned on making a Salsa for this week's recipe, but since I'm still recovering from dental work last week, something soft and easy to eat just made more sense.
And with the abundance of corn in all the markets right now, plus Hatch Chiles being roasted everywhere, why not marry to two into a thick creamy chowder? We'll thicken it with some cubed Russet Potatoes and make it super creamy by blending up some raw cashews.
Now to be honest, for the Green Chile, I cheated and used some of this Green Chile Salsa the good folks over at King's Chef Diner sent me to try. It was AMAZING in this chowder, and I provided the link above if you want to try it yourself.
But any Green Chile will work in this recipe. Not a fan of spicy heat? Use a couple of those 4oz cans you see in the store. A good Salsa Verde would probably work in this too, but read those labels if you're watching your sodium.
As I mentioned, I used cashews to make a cashew cream for this recipe. If you are allergic to nuts, or just want to avoid the extra fat, you could probably sub in your favorite plant milk instead, or maybe a little silken Tofu. Feel free to experiment, or just leave the cream out altogether.
I was very impressed with how this chowder turned out. Super sweet from the fresh corn, super-rich and creamy from the cashews, and with just a little bit of bite from the Green Chiles.
A perfect end-of-summer stew.
Hope you enjoy it as much as I did and with that said, let's make some Vegan Corn Chowder.
Vegan Corn Chowder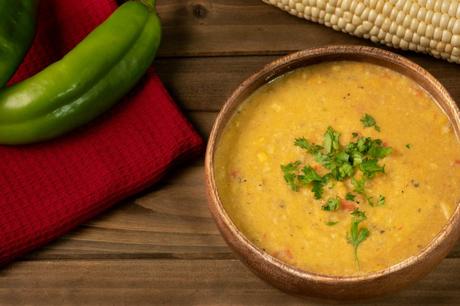 Vegan Corn Chowder | Brand New Vegan
I started by soaking 3/4 cup raw cashews in hot water. Give them at least an hour head start if you can. If you're in a hurry, you could microwave them in some water for a bit to soften them up.
Rinse and drain your cashews, then add them to a blender with 1 3/4 cup water and puree until smooth. This will make about 2 cups of Cashew Cream.
Next, I shucked about 3 ears of fresh, local corn. Then I used a knife and simply cut the kernels off the cob into a large bowl (they do go flying everywhere). You'll want about 3 cups total.
Add 2 cups of that corn and 1/2 cup of veg broth to your blender and puree until smooth. Set that aside, along with that last cup of whole corn, and let's move over to the stove.
Dice a large white onion and begin to saute in a large soup pan or dutch oven. I also diced up a Red Bell Pepper and added that too. When the veggies began to soften, I stirred in a few cloves of minced garlic.
For seasoning, I added some Mexican Oregano, Ground Cumin, and Smoked Paprika. Exact amounts will be in the recipe box below. Stir until the mix becomes very aromatic.
Now we can pour the corn puree into the pan, the remaining cup of whole corn, 1 1/2 cups of low-sodium veg broth, and 2 Russet Potatoes, cut into small cubes.
Stir to mix, increase the heat, and cover. Once it begins to boil, reduce the heat to low and let it simmer until the potatoes are cooked through, about 15 minutes. Stir occasionally.
When the potatoes are soft, we can add our chiles and cream. Again, I used 1 cup of Green Chile Salsa, but (2) 4oz cans of chopped Green Chile would work too. Stir the chiles and cream into the soup and stir well.
Taste for seasoning. Add salt and pepper if needed.
One final add, and this is completely optional but I loved the texture, I added a drained 15oz can of Fire Roasted Corn. Stir and simmer until the chowder thickens to the consistency you like.
Garnish with fresh parsley or cilantro. Serve with some crusty bread or maybe my Homemade Corn Tortillas.
Again, hope you enjoy, comment if you like it and be sure and tag me on Instagram. Until next week – stay cool and eat those veggies!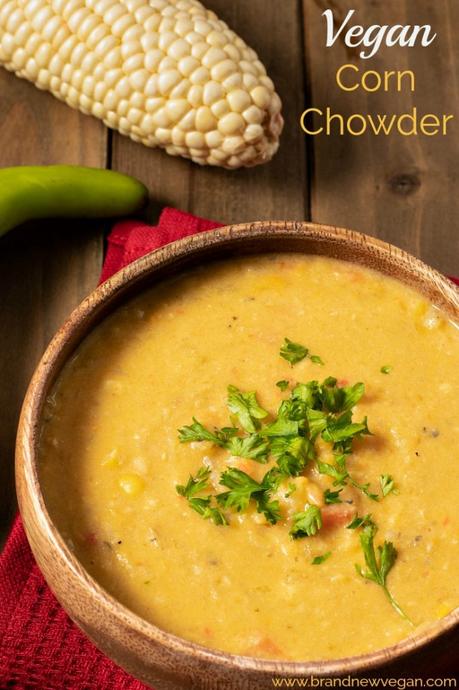 Print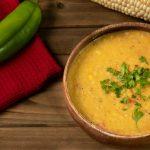 Vegan Corn Chowder
Author:

Brand New Vegan

Prep Time:

30 min

Cook Time:

15 min

Total Time:

45 minutes

Yield:

8 servings

Category:

Soup, Stew, Chowder

Method:

Stovetop, Blender

Cuisine:

Mexican, Vegan, American

Print
---
Description
Here's another end-of-summer favorite, a thick, creamy, Vegan Corn Chowder with lots of potatoes and spicy Green Chiles.
---
Ingredients
Cashew Cream
3/4 cup

raw cashews

1 3/4 cup

water
Corn Chowder
3

ears fresh corn, cut off the cob (

3 cup

s total)

2 cup

s low-sodium veg broth (divided)

1

white onion

1

red bell pepper

2

cloves minced garlic

1 tsp

mexican oregano

1/2 tsp

ground cumin

1/2 tsp

smoked paprika

2

russet potatoes, cubed

1 cup

green chile or salsa

15oz

can fire-roasted corn (optional)
cilantro or parsley for garnish
salt & pepper to taste
---
Instructions
Soak cashews in hot water for at least 1 hour – rinse and drain
Puree cashews in 1 3/4 cup water until smooth – set aside
Add 2 cups of fresh corn to a blender with 1/2 cup veg broth
Puree until smooth and set aside
Dice onion & red bell pepper and saute in a 2 Tbs water or broth until softened
Stir in minced garlic, oregano, cumin, and paprika – stir 30 sec until fragrant
Add corn puree, remaining cup of whole corn, the remaining 1 1/2 cups of broth, and cubed potatoes
Stir, cover, and increase heat to boiling.  Then reduce heat to low and simmer 15 min, stirring occasionaly
Once potatoes are softened, add green chile and 2 cups of cashew cream
Stir and taste for seasoning – add salt & pepper as needed
Stir in drained can of fire-roasted corn for more texture if desired (optional)
Simmer until thickened and serve
---
Notes
Keywords: vegan corn chowder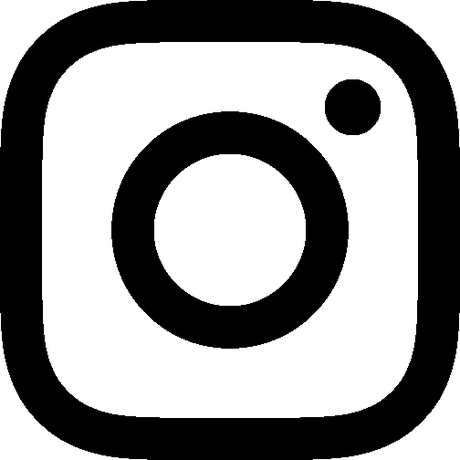 Did you make this recipe?
Tag @brandnewvegan on Instagram and hashtag it #brandnewvegan