What was your ONE item that was SO hard for you to give up?  Cheese?  Well….. for me it was BUTTER.  Vegan butter of course, otherwise known as margarine, or simply put….. a big rectangular stick of FAT.
But THIS!  This VEGAN CORN BUTTER….. Folks, this is a GAME CHANGER!!!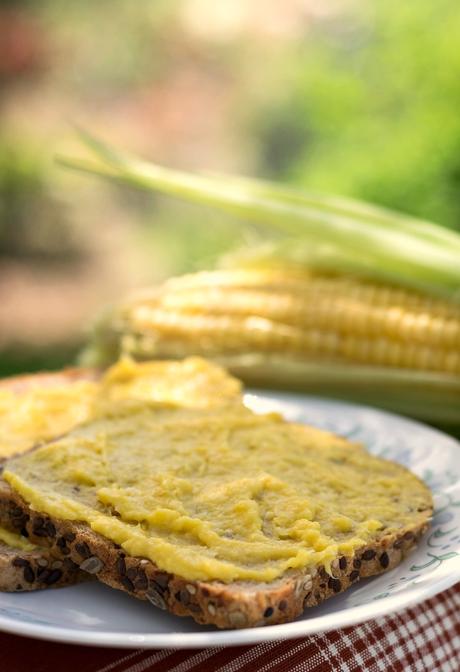 Ok – so obviously it's NOT butter, it's corn.
But it looks like butter.
And it spreads like butter.
And it's creamy like butter.
And with just a few spices…..it almost tastes like butter.
Well…. not exactly like butter, but GOOD nonetheless, and if it satisfies a CRAVING for something to spread on that biscuit or roll?
And it's completely fat-free?
Winner, winner, vegan dinner!
I wish I could take credit for this ingenious recipe but I can't.  So special thanks to Mary McDougall for posting her original recipe back in the October 2006 McDougall Newsletter.  Her original recipe calls for Corn Meal, so I also want to thank Vicki over at 100% Pure McDougall for the suggestion to use whole corn.
The recipe is super simple, super fast, and it tastes really good.
And believe me, my wife absolutely HATES corn…but she loves this recipe, so even if you're not a huge corn fan, I really think you're going to like this recipe too.
Vegan Corn Butter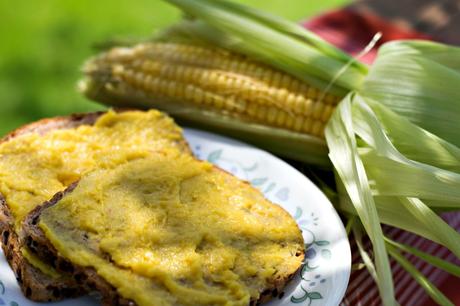 Vegan Corn Butter | Brand New Vegan
I used (2) 15oz cans of Del Monte Sweet Corn – No Salt Added.   Drain all the liquid from the cans and then plop the corn directly into your blender.  Add 1 Tbs of water, 3 tsp of Lemon Juice, 3/8 tsp salt, and 1/4 tsp garlic powder.
Blend on high until smooth and creamy.
Scape corn into a small pan and simmer on low heat until it's bubbly and it slightly thickens. Now, find something to spread it on and go to town, because it's CORN, not fat.
How's that for easy?
Feel free to adjust the seasoning to your own personal taste.  I've also been told that it DOES taste good on corn on the cob too, plus it allows whatever spices you like to use to stick to the corn.
GAME CHANGER…..what did I tell you?
Enjoy!

Vegan Corn Butter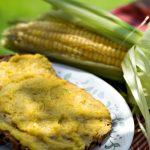 This Vegan Corn Butter changes EVERYTHING! Same creamy texture as butter, but without any of the fat! Perfect for that morning toast or muffin.
2 cans Sweet Corn, no salt added (15oz)
1 Tbs Water
3 tsp Lemon Juice
3/8 tsp Salt
1/4 tsp Garlic Powder
Drain liquid from cans of corn and add the drained corn directly to your blender. 

Add remaining ingredients and blend until smooth and creamy. 

Scrape into pan and simmer on loan heat until slightly thickened.