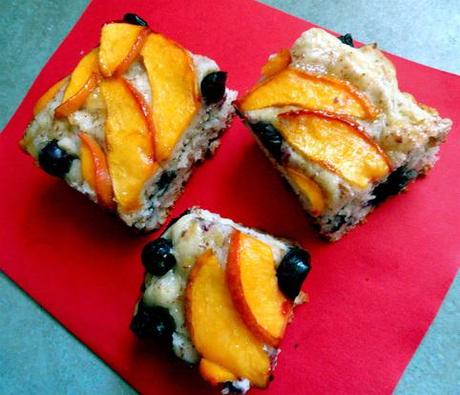 My husband and I spend Sunday afternoons at Whole Foods.


Yes, I really like this place.


Upstairs, overlooking the pizza makers and express cashiers, Ryan and I sit across from each other, laptop screens and feet touching.


I'm slurping on cereal I brought in a mason jar and Ryan's sipping on an Agua Fresca. With the two of us here, we can easily hop down

the stairs to grab some additional nourishment.


But when I look at the bakery case, overflowing with muffins, cookies, and donuts, I take a step back and say, "No, thanks."




While I like my sweets, I've been in the mood for more subtle fare lately. I want to take a bite of something and not register "SUGAR" before any other flavors or tastes light up my mind.




I'm working on my grandparent's 60th anniversary cake this week, and  goodness, wedding cakes require A LOT of sugar. When I'm dumping more of that granular

sweetener than flour into my mixing bowl, I know I'm making something decadent. But decadence isn't what I want every morning. In fact, I'd take more homelier eats almost any day of the week.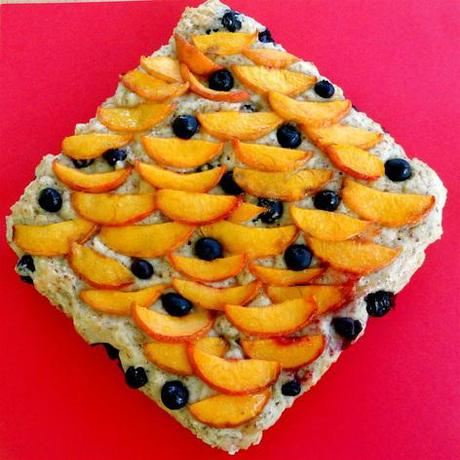 This vegan breakfast cake is a remedy for sugar overload.
Flax seed, agave nectar, fresh fruit and whole grain flour...you already feel better just reading the list!


The cake is moist, yet flavorful. I tasted berries not sugar, and I found myself wanting to come back for one more slice after finishing my hefty square. To make this taste even better, I spread warm jam over the top of my baked cake. My sweet friend Abby brought me a jar of an AMAZING nectarine jam last weekend, and I licked my spoon quite happily after scooping out the desired portion.




Ryan and I are going to be at Whole Foods for a bit longer. I'm going to try not to refill my coffee cup and get at least another round of edits completed on my short story.




I hope you guys are having a good start to your week. Monday is here, and there is so much to be done, seen, felt, and tasted. Enjoy it all!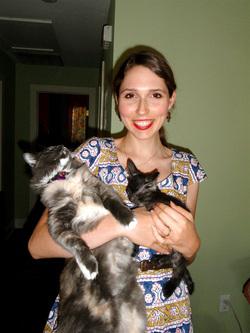 Vegan Breakfast Cake


2 cups white whole-wheat flour
4 teaspoons baking powder
1 teaspoon salt
½ teaspoon cinnamon
2 tablespoons flaxseed
6 tablespoons water
2/3 cup soy milk
1/3 cup agave nectar (or honey)
¼ cup vegetable oil
½ cup peach slices
¼ cup fresh berries
¼ cup slightly warmed jam
Preheat oven to 425 degrees Fahrenheit.
Grease an 8x8 inch baking pan.
In a small bowl, combine your flaxseed and water. Allow to sit for 5 minutes, or until slightly thickened.
In a large bowl, combine flour, baking powder, salt and cinnamon.
Pour in soy milk, nectar, oil, and flax seed mixture. Fold gently with a spatula until combined.
Scrape batter into prepared pan. Top with sliced peaches and berries. Bake in preheated over for 20-25 minutes, or until a toothpick inserted into the center comes out clean.
While still warm, brush warmed jam over the top of your cake. Allow to cool to room temperature before serving. Cake will keep at room temperature for 2-3 days. Slice and freeze remainder in zip-loc bags.


Always,




Monet


Anecdotes and Apple Cores