Veganuary is everywhere this year, and I'm low-key thrilled about it. So many people on my timeline are making positive big or small changes, rethinking their lifestyle, trying new recipes, getting excited, educating themselves, using their platforms to create awareness and give encouragement. I have a lot of vegans in my life and on my social media feeds, but I also have a lot of omnivores, and people who are somewhere in between. Vegan food and cooking is something I'm really passionate about, and one of my blog goals for 2018 is to write about it more, and share the recipes I like to make for my clan. Regardless of whether you're making changes to your diet or lifestyle this month, these American-style pancakes are fantastic and everyone should try them.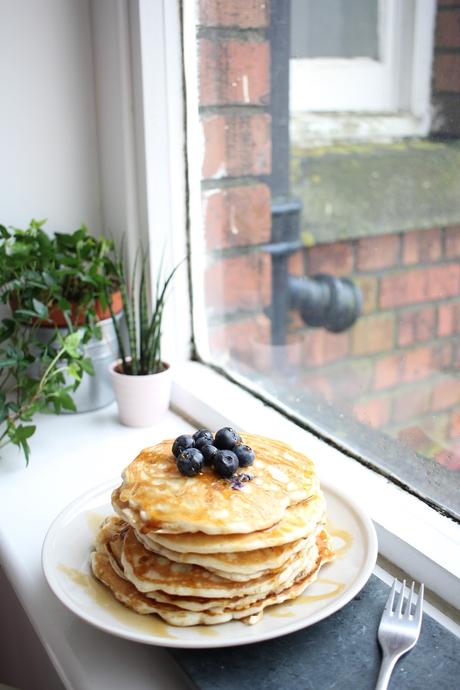 You really don't need cow's milk or eggs to bake incredible treats. Think of this recipe as a blank canvas for whatever you want to throw in, and if you're not in the mood for blueberries, just add whatever you like in their place; mashed up banana or strawberries, chocolate chips, walnuts or macadamias all work great. Here is all you will need for the basic blueberry pancakes. These quantities will give you more than enough for two people to have a generous stack each.
2 cups of plain flour; 2 tablespoons baking powder; 3 tablespoons sugar; 3 tablespoons coconut or vegetable oil; 2 cups soya milk or any nut milk you fancy; teaspoon of cinnamon; teaspoon of salt; a punnet of blueberries; pancake syrup or agave to serve.
In a large bowl, mix together the flour, sugar, salt, cinnamon, and baking powder. Add the nut milk and the oil and stir gently until everything is combined. Tip the blueberries into the batter and mix in softly (save a few for decoration afterwards!). Plop spoonfuls of batter onto a warmed, non-stick pan that has been lightly greased with a bit of the coconut or vegetable oil. Keep the temperature at a medium heat so you don't burn the batter. Cook until bubbles are forming on the pancake and the edges are going brown, then flip and cook the other side. Add a little more oil to the pan as needed. Cover in fresh blueberries and pancake syrup to serve!
If you try these out let me know what you think and what goodies you added to yours. I hope you're all having a wicked Veganuary, whatever changes you're making. Your efforts are important and I love you.