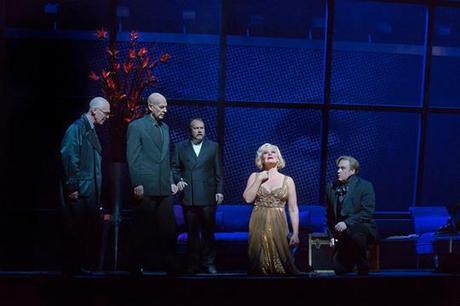 The plot of Janáček's Makropulos Case is driven by intrigues legal, historical, and--not least--sexual. The Met's current revival of the 1926 opera is powered by a performance of radiant intensity by Karita Mattila. Elijah Moshinsky's 1996 production is sleek and effective, with Art Deco lines to the claustrophobic lawyer's office, a self-satirizing sphinx backstage at the opera, and (seen above) a sleek apartment which dissolves in the denouement. Central to the production was the image of the diva, and the question of how she is seen by others and herself. 
Jiří Bělohlávek
led the Met orchestra in an account which seemed to emphasize romantic sweep and mysteriously shimmering detail. I speak (Really Shameful Confession) from a position of almost complete ignorance of the score, but I savored the brio and sensuality of the performance.
The evening, for me, was Mattila's; but it wouldn't have been the success it was without the strong contributions of the other singers. The role of Krista was sung by Emalie Savoy, who has a supple and pleasant soprano, with a darker timbre than strikes me as usual for the weight of her voice. I was impressed by her presence and handling of herself on stage. The development of her relationships with Marty, with Janek, and with her father added to the strength of the production in problematizing the eternal feminine. Matthew Plenk made a sympathetic and lyrically-sung Janek, impulsive, naively passionate, and vulnerable to those around him. I found Bernard Fitch's Hauk-Sendorf a disappointment. Fitch played Marty's former lover as a comic caricature, which garnered laughter and disruptive applause from quite a few in the audience, but failed to engage my sympathy or understanding.
The Albert of Richard Leech was consistently well-sung, and more hapless than menacing in characterization. Leech convincingly portrayed the insistency of Albert's desire, and his conviction that he must be successful in his suit. That Marty's refusal of this suit is construed as bad manners exposes both the cultural strength and moral weakness of this model of courtship. Johan Reuter was smooth and sinister as Jaroslav Prus, his singing elegant and expressive in his character's moments of both strength and weakness. The Kolenaty of Tom Fox was sharp and pragmatic, but affectionate with Krista, even overprotective of her (how the concern for female virtue in the abstract informed their father-daughter relationship was a nice detail of the production.) Fox sang strongly and with incisive delivery.
Karita Mattila, as Emilia Marty, was powerfully compelling from beginning to end. She seemed in excellent vocal form, and took unchallenged ownership of the stage and of the role. The character, necessarily enveloped in layers of mystique, was made by Mattila warm, likable, real, with a sense of humor as well as loads of sex appeal. Her vocal characterization was fearless, from quasi-conversational chest tones to her still-gorgeous high notes. Although I don't speak Czech, I couldn't help but be impressed by Mattila's expressive vocal coloring and phrasing. This was especially apparent in the manipulations of Act II. Dramatically, she fascinated, portraying Marty with an eccentricity which gradually becomes revealed as, or deteriorates into, a failing ability to hold on to who she is in the present. Is the entire opera her life flashing before her eyes? She
is
Eugenia who dances for her lover, the insulted Ellian Macgregor, the frightened girl Elina, given enormous power... And at last, she reconciles all these histories. And as the image of the diva burns, there is the suggestion that Marty has recaptured her own humanity at last.
Curtain call photos: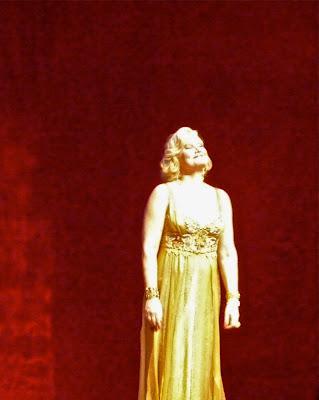 Karita Mattila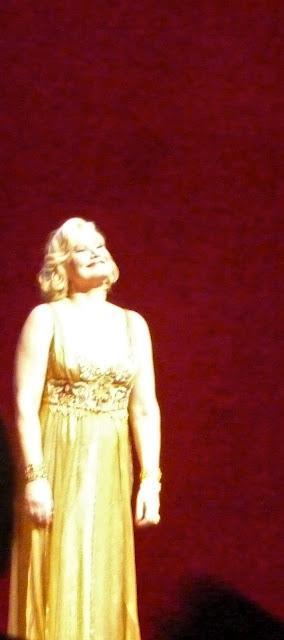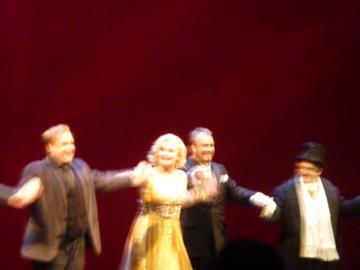 Leech, Mattila, Reuter, Fitch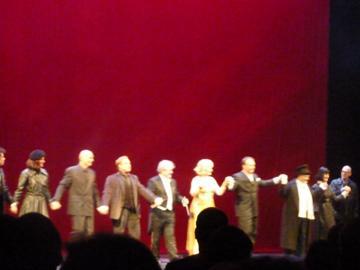 Cast, conductor, standing ovation