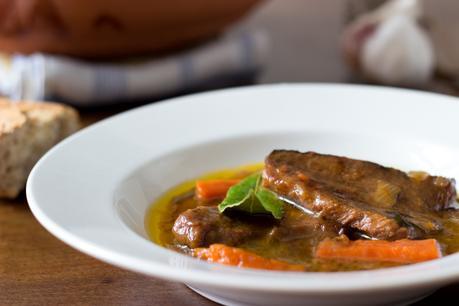 ENG | Whole Kitchen in its Salty Proposal for the month of February invites us to prepare a classic of the French cuisine: Boeuf Bourguignon. However, I added a few changes making Veal with Mistela Muscat.
The Boeuf Bourguignon, native to the area of Burgundy (France), is a stew made ​​with Charolais ox and Burgundy wine. However, due to the difficulty of finding these ingredients in Valencia, I decided to replace them with stewing veal and wine with designation of origin Valencia, Mistela Moscatel (muscat).
The Mistela Moscatel is elaborated with Moscatel of Alexandria. It's a traditional product of Valencia strongly rooted with our Mediterranean culture, as it rightly points this typical sentence "Muscat dies of grief if it do not see the sea". A good website which explains in detail its history is the ACE Journal of Enology.
Ingredients:
½ kilo of stewing veal
350ml Mistela Muscat or sweet wine instead.
1 carrot
1 medium onion
1 clove garlic
1 bay leaf
A few sprigs of parsley
Fresh thyme
1 tomato
A tablespoon flour
Extra virgin olive oil
Salt and pepper
Preparation:
First marinate the ingredients with Mistela, for it, put it in a bowl the veal, the carrot cut into pieces, minced onion, peeled garlic clove, parsley sprigs, the bay leaf, thyme and the Mistela Moscatel or the sweet wine. Cover with clingfilm and leave it overnight in the fridge.
Past the night, separate the veal from the vegetables of the bowl and strain the mistela, reserve.
Fry the veal for about 5 minutes in a clay casserole with the olive oil covering the entire bottom of the pot. Add the vegetables and fry for about 10 minutes. Grate the tomato and add it too, along with the sweet wine. Add salt and pepper and let simmer for about 2 ½ hours or until the veal is tender.
Finally, if you see that there are much broth add the flour, the amount of flour you add depends on how thick you want it. Enjoy your meal!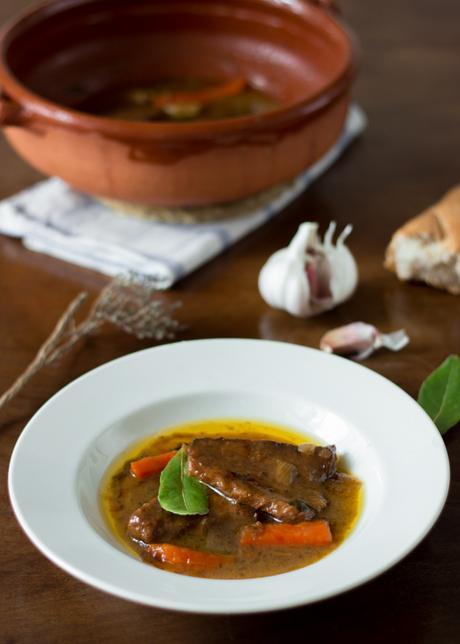 ESP | Whole Kitchen en su Propuesta Salada para el mes de Febrero nos invita a preparar un clásico de la cocina Francesa: Boeuf Bourguignon. Sin embargo, he añadido unos pequeños cambios convirtiéndolo en Ternera a la Mistela de Moscatel.
El Boeuf Bourguignon, plato originario de la región de Borgoña (Francia), es un guiso elaborado a partir de buey de la raza Charolais y vino de Borgoña. No obstante, debido a la dificultad de encontrar estos ingredientes en mi zona, he decidido remplazarlos por ternera para guisar y un vino con denominación de origen de Valencia, Mistela de Moscatel.
La Mistela de Moscatel es elaborada, como indica su propio nombre a partir de uvas Moscatel Alejandría. Es un producto tradicional de Valencia arraigado fuertemente a nuestra cultura mediterránea, pues como indica acertadamente ésta típica frase "el moscatel muere de pena si no ve el mar". Una buena página web en donde se explica detalladamente su historia es la de la Revista ACE de Enología.
Ingredientes:
½ kilo de ternera para guisar
350ml de Mistela Moscatel o vino dulce, en su lugar.
1 zanahoria
1 cebolla mediana
1 diente de ajo
1 hoja de laurel
Unas ramitas de perejil
Tomillo fresco
1 tomate
Una cucharada de harina
Aceite de oliva virgen extra
Sal y pimienta
Preparación:
En primer lugar marinaremos los ingredientes con la Mistela, para ello meteremos en un bol la ternera, la zanahoria cortada en varios trozos, la cebolla picada, el diente de ajo pelado, las ramitas de perejil, el laurel, el tomillo y la mistela. Lo taparemos con film y lo dejaremos toda una noche en la nevera.
Pasada la noche, separaremos la carne de las verduras del bol y colaremos la mistela, reservándola.
Freiremos en una olla de barro, con el aceite de oliva cubriendo toda la base de la olla, la ternera durante unos 5 minutos. Añadimos las verduras y sofreímos durante unos 10 minutos más. Rallamos el tomate y lo añadimos también, junto con la mistela. Salpimentaremos y lo dejaremos a fuego lento durante unas 2 horas y media o hasta que la carne esté blanda.
Finalmente, si vemos que tenemos mucho caldo añadimos la harina, la cantidad que echemos de harina dependerá de lo espeso que lo queramos. ¡Que aproveche!