Today I am super excited and happy to be co-hosting the Passion4 Fashion Linkup with UK fashion blogger Rachel the Hat!
If you haven't heard of Rachel (impossible) she is a mom and style blogger who has also recently launched her own online jewelry store, Yosa!  Soon enough I will be styling my very first Yosa purchase, a beautiful floral chain necklace (pictured on the left) that I bought because it reminded me of Sicily.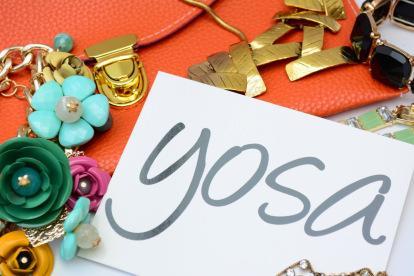 My mom is Sicilian, and my grandparents brought with them to Canada a few of their most treasured items from Sicily when they immigrated, included the most delicate porcelain vases with hand painted flowers all over them.  This necklace embodies the Sicily from the Dolce and Gabbana ads that I love so much,  of simple summer days and ultra femininity.
I buy things WAY in advance and am already planning my spring outfits around this necklace (I know I am totally disturbing!!) so keep your eyes open!
Variation of a Theme
Today I wanted to continue along the theme of my Fall "Capsule" wardrobe.  Yesterday I posted my fall essentials for moms and a while back I mentioned what to pack for a trip to Northern Europe in mid-August.
Copenhagen in August is like the autumn in italy (only colder!), and if you saw this image from Instagram, you know that I lived for two weeks out of a small carry on!  Proof that you don't need many clothes, to feel put together this season.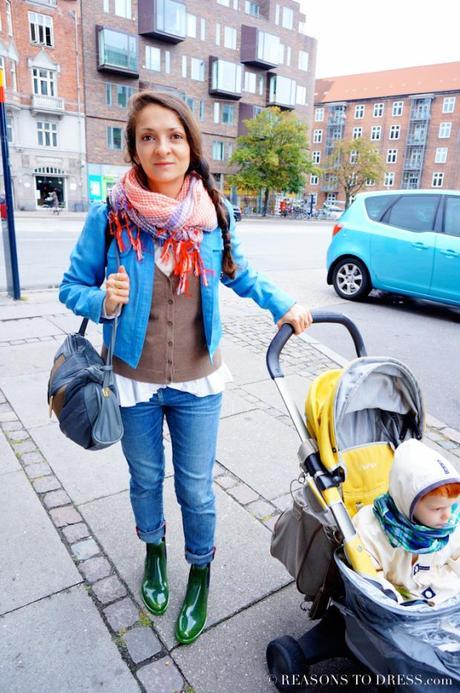 The Reason I Dressed
Copenhagen inspired me.
In general, going on vacation inspires me to be a little chic-er.  It's almost as though I represent all tourists everywhere, and have an obligation to NOT LOOK LIKE A TOURIST!    I have to admit that although I try I fail, my rain poncho and rain hat don't make for the best street style outfit, and I'm usually carrying 2 huge bags!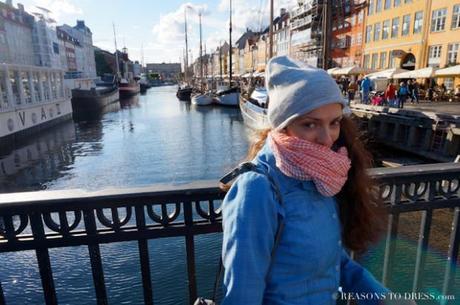 I haven't even begun to share about beautiful Copenhagen, with its large boulevards, world class museums, peaked roofs and brickwork. I would go back tomorrow (especially if someone else was paying….did I mention it is the most expensive city ever!?)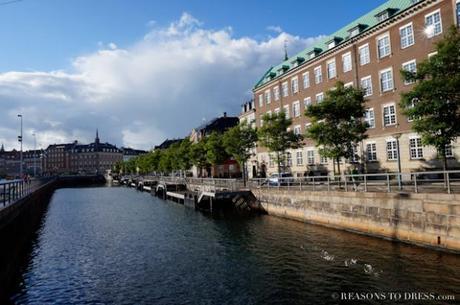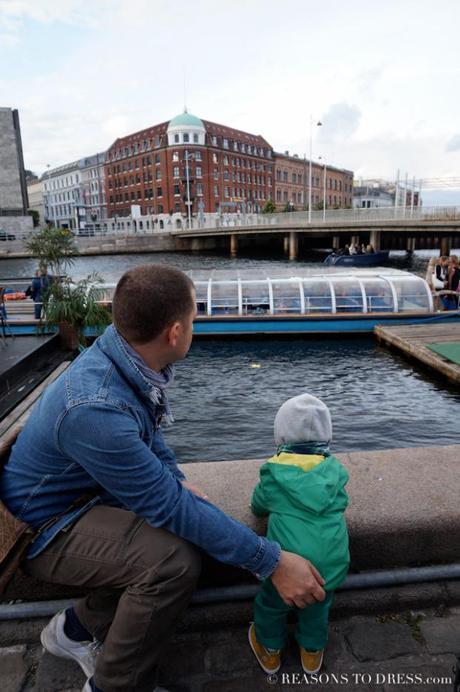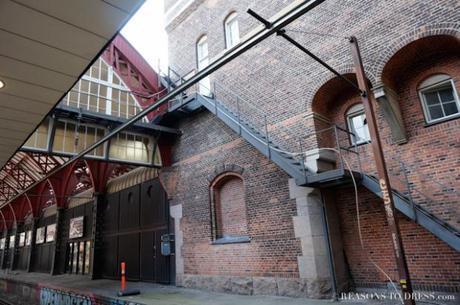 What I Wore
So the whole premise of living out of a carry-on for two weeks is trying to be as prepared and comfortable as possible, while looking your best and not the exactly same in every photo.  The biggest issue I ran into was not wearing ALL of my clothes at the same time! I am usually cold, so I would layer to stay warm and peel off a layer of clothes if I got too hot.
Here are two different outfits using the same basic elements:
Outfit 1: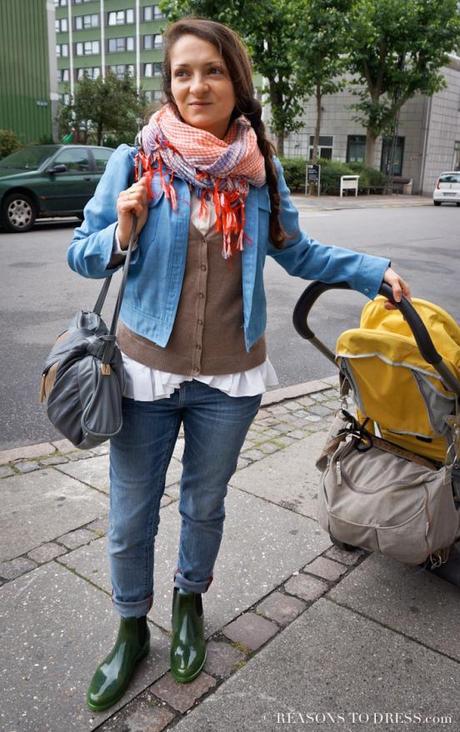 Outfit 2: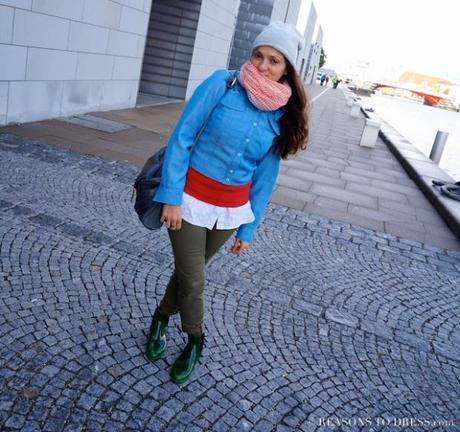 Basic items:
A big colourful scarf (Zara)
Jeans or green military skinny jeans
Chelsea Rain boots (read about why these are fall must haves here)
A slouchy touque (5 euro from H&M)
A peplum dress shirt or normal white dress shirt
A vintage chambray cropped jacket
Various cotton/wool blend pull overs and cardigans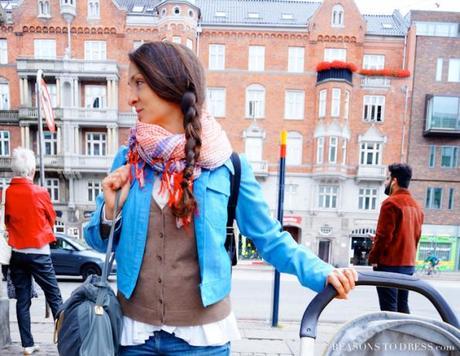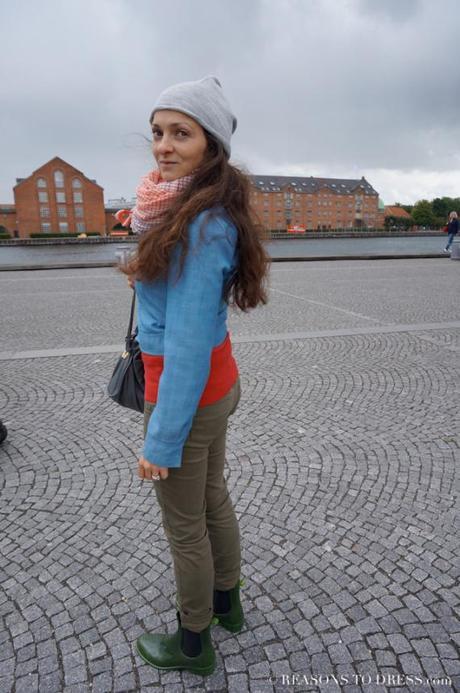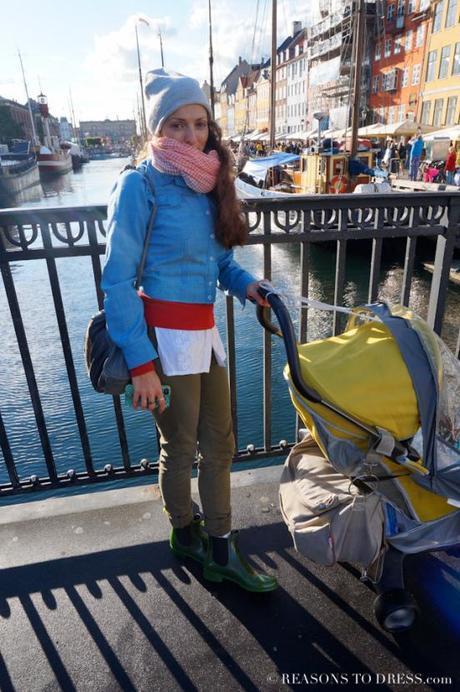 Start with a Carry On Luggage
The whole activity of living with such a reduced closet made me realize that I can get MANY looks with very little clothing.  One of my readers wrote me on facebook and asked if I could blog about what to do when your body changes and you realize that you no longer have clothes that are suited to you.  I have been thinking about this a lot and am working on a answer and will also feature a few of my favourite style bloggers that deal with dressing for your body type.
The idea of having "nothing" in your closet that fits or works for you anymore can be really daunting.  Many women, afraid of the investment of buying "all new clothes" and spending a ton of money, or not even knowing what to buy can become VERY OVERWHELMED.  I don't know how many times I have heard moms who are 15 lbs heavier than their pre-baby days say "I'm not buying ANYTHING until I loose 15 lbs".
They prefer to live in baggy clothes and ill fitting pants instead of seeking out clothes that complimented their new body, even for a temporary phase.  Part of my own personal advice to this dilemma is to start with a carry-on!
Take a carry-on and pack it with:
2 pairs of pants, 4 shirts, accessories like 2 hats and 2 scarves and a blazer and cardigan etc.  Pack it as though you were packing for a trip and begin to create as many outfit combinations as possible with a few key elements.  Add in what helps you pull a look together (perhaps a vest or earrings.
Stand in front of a mirror and use your camera to take a photo of each new variation that you create, no matter how small the variation (for example, even when you swap out the pants – that is a new outfit!!).
Time for you to link up your Passion4 Fashion!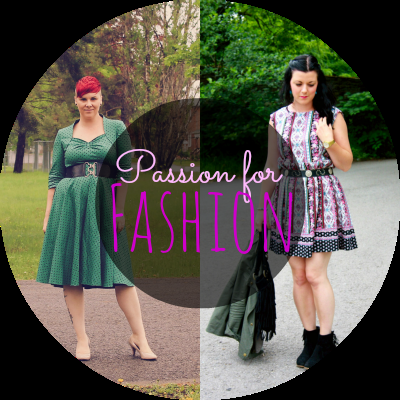 Fashion is for everyone. 
Whether you're single in the city or a stay at home mum from the country…
we all have a passion for fashion!
Anything fashion goes!
Link up your outfit posts, a fashion recap, a fashion wishlist, get your kids or hubby in on the fun… if you've got a passion for fashion, this is the place to be!
Celebrate your style with us every Friday!
We'll be pinning our favourite looks to our Passion for Fashion boards on Pinterest!
You can find the board HERE 
If you could link back to us via text link or button and help spread the 
Passion For Fashion word.
Then go visit, blog hop, follow and comment on all the fabulous ladies you are meeting!
An InLinkz Link-up