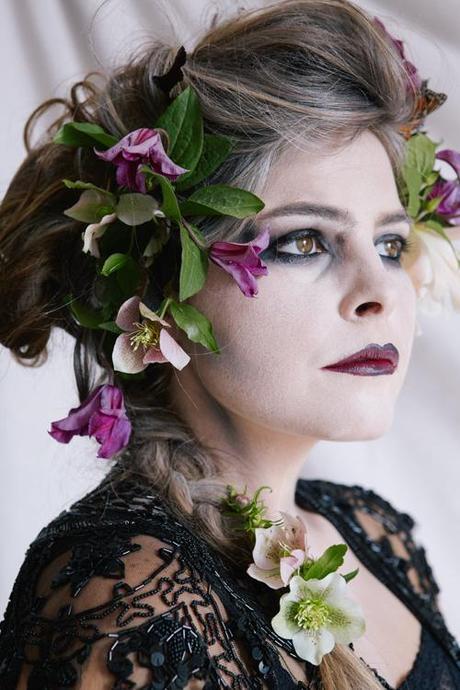 It's officially fall and us DIY bloggers capitalize  work really well with holidays and the only one we have to work with is Halloween so...let the ghoulish games begin! I've got some really great things in store for you over the next few weeks. I've collaborated with the talented photographer Alpha Smoot, who's frequently in town from Brooklyn, floral designer Sarah Winward, hair stylist Aubrey Nelson, prop master Mary Lee, and make-up artist Rubie Huber to bring you some gorgeous and simple Halloween costume and party ideas.
First up, we're going with a vanitas theme. You remember "vanitas" from art history? (Or am I the nerd girl art history major?) Raise yer hand if you know what I'm talking about! Since we here at Lars go for an "artful life" we thought we'd bring up those (painful?) college days and remind you of the 16th/17th century Dutch still lifes that often used morbid imagery like skulls, decaying flowers and fruits, clocks, blown out candles, to convey the brevity of life and nearness of death. Being one part creepy and one part beautiful, vanitas was the perfect theme for our first simple costume. 
Here's the recipe: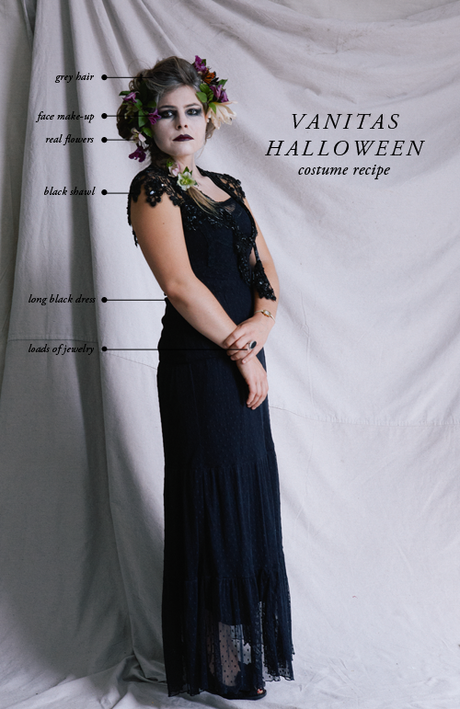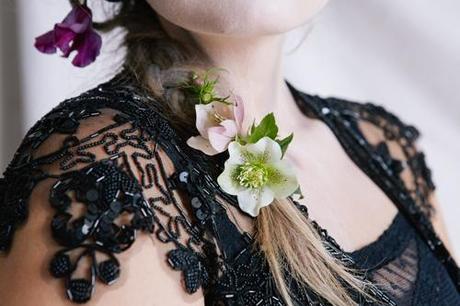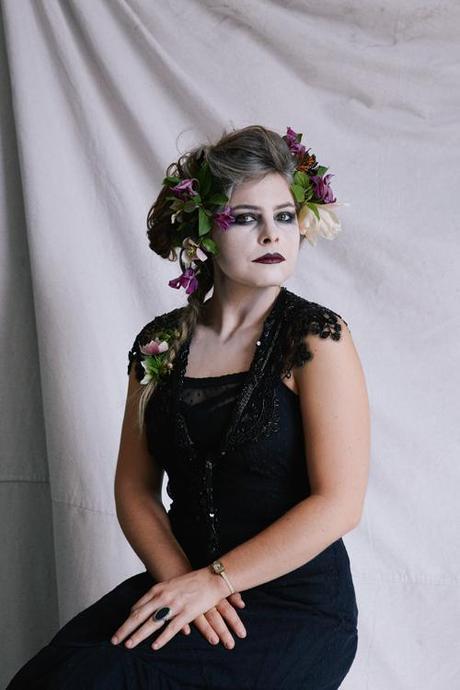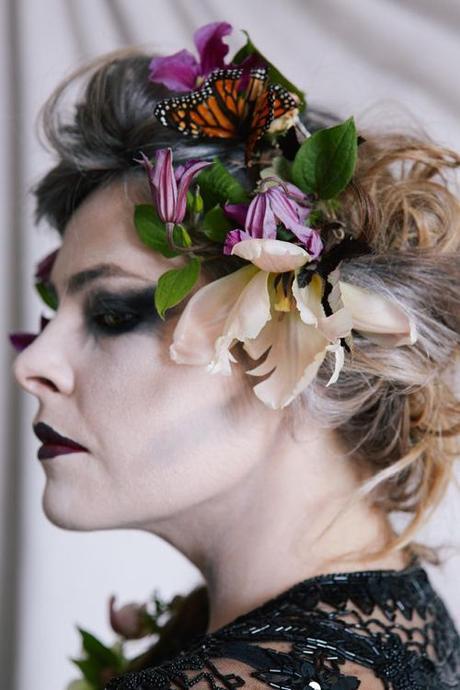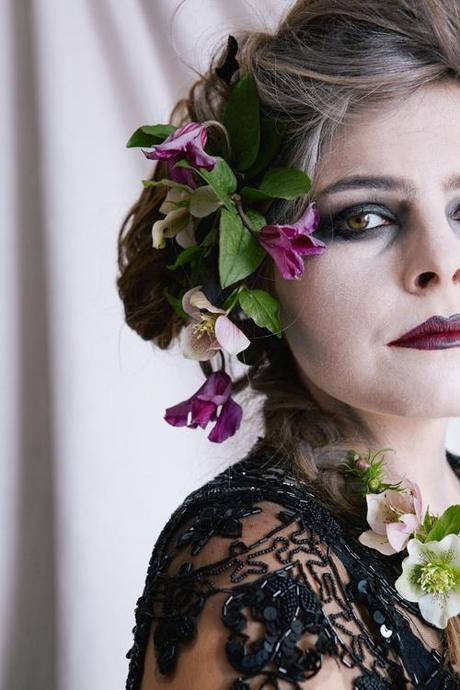 photography by Alpha Smoot
flowers by Sarah Winward
make up by Rubie Huber
hair by Aubrey Nelson
model and wardrobe by Kandyce Carroll of Ramblin Rose Cafe
additional wardrobe by Mary Lee
art directed by Brittany Jepsen

See how to get the make-up, hair, wardobe, flowers, below!

Vanitas make up by Rubie Huber
For the Vanitas we started with a pale base. I mixed Mehron Fantasy FX with Revlon Photoready Airbrush foundation because I wanted it pale but also creamy.  Blend the two together on the back of your hand and apply with a make up sponge.
To add dimension and contour to the face I used Mehron Fantasy FX in gray.  Blend it on the back of your hand and using either your fingers or a large round brush, lightly swipe then blend it under the cheekbones and jawline and around the edges of the face and collar bones.  Just follow all the natural hollows to create a ghostly gaunt feel. If you don't want it so intense then just use a smokey gray eyeshadow.
For the eyes  you can use any thick, black smudg-eable eyeliner. You can go cheap on this one, I used ELF Studio Kohl Eyeliner  which is very black, and smudge-able.  
Line the eyes making sure you get in the waterline, and then smudge up into the lid and a little underneath. I like to smudge into the inner corner up and down the nose to add a tiny bit of contour.  
I wanted the Lips to be super dark and even black.  So I lined them with black eyeliner, then filled them with the darkest lipstick I could find.  Smudge them together to blacken the lipstick even more and cover with a gloss.  
To set everything, lightly brush the face with a translucent powder.  I don't like spending money on expensive versions of this, so I make my own with cornstarch and a tiny bit of baby powder.  It works great and costs close to nothing! 
Vanitas flowers by Sarah Winward
Sarah inserted hellebores and clematis into Kandyce's gorgeous mane.
Vanitas costume
Mary Lee provided a vintage beaded shawl and Kandyce Carroll used on of her existing black dresses to create the costume.